Whether you are an experienced seller with years of experience under your belt or just a newbie starting, marketing is very important. Not only does it help you increase sales, but it also improves traffic and engagement as well. While having a great organic ranking helps in this regard, running Amazon Sponsored products is something you can't overlook.
Amazon sponsored products allow you to reach more targeted people who might be interested in buying your products. So if you want to showcase your listings to an array of potential customers, running Amazon Sponsored products is essential.
Because sponsored ads integrate well with the look and layout of AMZ organic results, running Amazon Sponsored products is highly effective. As a matter of fact, many customers don't even realize that they are looking at an ad. As a result, more impressions are turned into clicks. And these clicks are then turned into actual product purchases.
If you are reading this article to know how to sponsor a product on Amazon, you are on the right track. To help you out, we'll discuss not only how to sponsor a product on Amazon. More importantly, we'll also discuss the importance and benefits of running Amazon Sponsored product ads. Hopefully, at the end of this article, sellers will be better informed about how to use this marketing feature from AMZ.
What Are Amazon Sponsored Products?
As a seller, one of the most important things for the survival of your business is getting traffic. Traffic is what makes your world go round. With higher traffic comes more impressions and possible conversions from customers. It is the lifeline of any e-commerce business that thrives on online marketing.
One of the most effective ways of gaining traffic is by running ad campaigns. And when it comes to advertisements, AMZ has its in-house ad platform also known as Amazon Sponsored Ads. Amazon Sponsored Products is one of the four types of AMZ Sponsored Ads available to sellers.
Sponsored Products are the usual ads that customers see on Amazon. They look like individual product listings and can appear within shopping result pages or detailed product pages. If you are a third-party seller on Amazon, this is usually the option that is available to you.
Because Sponsored Products are generated from your existing product listings, running these ads isn't too complicated. All you have to do is choose the product you want to promote, choose the keywords that will trigger the ads, and finally choose what kind of match you want to use (exact, broad, or phrase)
Sponsored Products use CPC as their ad model. With this model, sellers can bid the maximum amount that they are willing to pay for a click. When a visitor or a shopper clicks the ads for one of the seller's products, that is only the time when the bid is honored. The more competitive the bids are, the higher the chances of the ads being displayed when they match the customer's search query.
Why Are Amazon Sponsored Products Effective?
Because sponsored product listings look almost the same as organic search results, more customers are enticed to click on them. Some customers won't even know the difference between an organic search result and a sponsored product listing. This is an advantage that makes the AMZN Sponsored Products effective in showcasing the most relevant products to customers.
Who Are Eligible To Use Sponsored Products?
The Amazon Sponsored products are accessible to professional sellers, vendors, KDP (Kindle Direct Publishing) Authors, book vendors, and agencies. To become eligible for the advertising platform, the product you are promoting must be in one of the non-restricted categories.
Related: A Guide To Amazon Restricted Categories
Why Should Sellers Run Amazon Sponsored Products Ads?
There are several reasons why a seller might want to run sponsored advertisements. And we have specified the three most common reasons below:
To Get Discovered
The first reason to run an ad campaign is obviously to get discovered. Advertising can boost the visibility of brands and products, which can lead to sales. And because AMZ integrates its ads with organic search results very well, visibility is greatly improved. Sponsored product ads can appear within shopping listings, product pages, and search results. 
To Increase Sales
Many shoppers go to AMZ not only to compare and research products. Most people go there to browse, but they are also ready to buy. They have already decided on the things they need to purchase. They just need a little push toward your product. And what's the best way to push your product in front of these people who are ready to make a purchase? Advertisements! With a well-targeted ad, you can quickly convert a visitor into a customer and increase your sales.

Control Marketing Costs
When you use Pay Per Click marketing, you will be able to see all the data on your advertising costs. You will also be able to see your ROAS (return on ad spent) so you can make better decisions regarding your expenditures. You can turn off ads that are not doing well and focus on the ones that do.
Unlike print or display media advertising (on television) where you don't have concrete numerical data to back it up, AMZ sponsored ads can give you this option. And because you have total control over your marketing costs, you can be more efficient when it comes to spending ad money.
Track Your Success
Scalability and expansion are some of the most important reasons why running ads is important for e-commerce sellers. But the ability to track your success and see your progress is also invaluable. With AMZ, you can see and track all of the essential information about your ad campaigns. With this, you can make data-driven decisions that will ultimately lead you to success.
Amazon Sponsored Products vs Other Sponsored Ads
Apart from Sponsored Products, there are 3 other Sponsored ad types on Amazon. These are
Sponsored Brands
Sponsored Display
Amazon Stores
Depending on what kind of entrepreneur you are on AMZ, you can maximize your views and traffic by making the most out of these different options. Let's talk a look at how Sponsored Products differ from other Sponsored Ad types.
Sponsored Products vs Sponsored Brands
Just like third-party sellers, brand owners can also run ad campaigns for their brands. This is where Sponsored Brands come in. AMZ brands can use creative ways to get their ad to appear in several relevant Amazon shopping results. This is one of the best ways for brand owners to get the audience to engage with their brands with customer headings, logos, headlines, images, and even videos.
The difference between AMZN Sponsored Products vs Sponsored Brands is that brands have more options available to them. For example, Sponsored Brands can use a custom logo and banner on their ads. This isn't available for Sponsored Products. Also, if you aren't a brand owner, you can't use Sponsored Brands too. You need to be registered in the AMZN Brand Registry before you can start running Sponsored Brands.
With Sponsored Brands, brand owners can direct traffic to their custom stores. When a customer clicks on a brand's custom banner or logo, they will get redirected to the brand's AMZ store. Similarly, when a customer clicks on the products or categories that are placed within AMZ's search query results, the customer will be redirected to the brand's product pages.
Just like Sponsored Products, Sponsored Brands also uses CPC as their ad model. Thus, brands only pay for their ad placements once customers click on one of their ads. This allows brand owners to create more exposure and awareness around their brand name.
Sponsored Brands are accessible only to sellers who have enrolled themselves in the Amazon Brand Registry. Other business owners such as vendors and agencies are also allowed to use this ad platform model.
Related: How To Sign Up For Amazon Brand Registry
Sponsored Products vs Sponsored Display
Sponsored Display lets vendors and brand owners engage and inspire customers throughout their shopping experience. This is achieved through entertaining, self-serving, targeted, and programmatic display advertisements.
One big difference between Sponsored Products and Sponsored Display is how the ads are displayed. While Amazon Sponsored Products and Sponsored Brands use keyword queries to target customers, Sponsored Display is different. It uses AMZ's audience demographics information to target and retarget audiences based on their shopping behavior. And because these customers have already viewed your product or similar products, the conversion rate is often higher.
In Sponsored Products, a customer needs to type a keyword query first before the ads can be triggered. With Sponsored Display, the ads are shown based on the behavior of the customer. If the customer keeps on browsing for "dog beds" for example, the Sponsored Display ads will retarget this behavior and show more products related to the "dog bed" niche.
Just like Sponsored Brands, Sponsored Display is available only to sellers who are enrolled in the Amazon Brand Registry. Book vendors, product vendors, and agencies are also accepted.
Sponsored Products vs Amazon Stores
With Amazon stores, vendors, professional sellers, and agencies can create a custom landing page where they can display all their product offerings. This immersive experience is where store owners can introduce their brand's mission and vision to their audiences.
An Amazon Store looks like a standalone e-commerce website, similar to what a Shopify store looks like. You can customize these stores easily through predesigned, drag-and-drop tile templates. This makes creating a store so much easier, even for those without coding or developer experience.
According to AMZ, stores with 3 or more pages have almost 80% dwell times and 30% higher sales attributed to store visits. Stores that are updated within the past 3 months also have 20% more repeat visitors compared to normal seller product pages.
The difference between Amazon Stores is that they are standalone platforms where brands, vendors, and sellers can showcase all of their products. Sponsored Products, on the other hand, are an advertising method to get customers to visit your product pages.
How To Get Started With Amazon Sponsored Products?
Ready to start your first AMZN Sponsored Product campaign? Here are the steps that you need to follow to create your first product advertisement.
Log in to AMZ Seller Central
The first step is to log in to your AMZ Seller Central account. After logging in, click on the 'Advertising' tab then Campaign Manager. This will let you choose the campaign type that you want to run.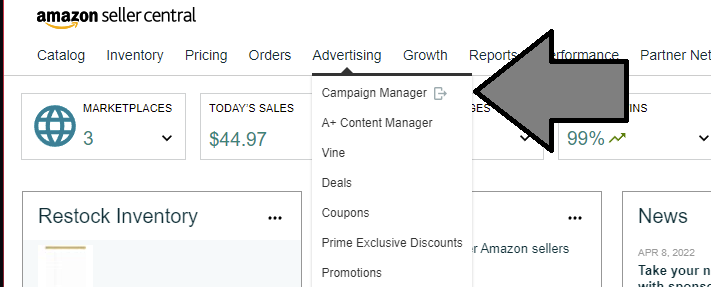 Start creating your first campaign
Now is the time to create your first campaign, which can take as little as 5 minutes. To create a Sponsored Product campaign, you need to first choose the products that you want to advertise, choose between "automatic" or "manual" targeting, and decide on how much you want to bid per click.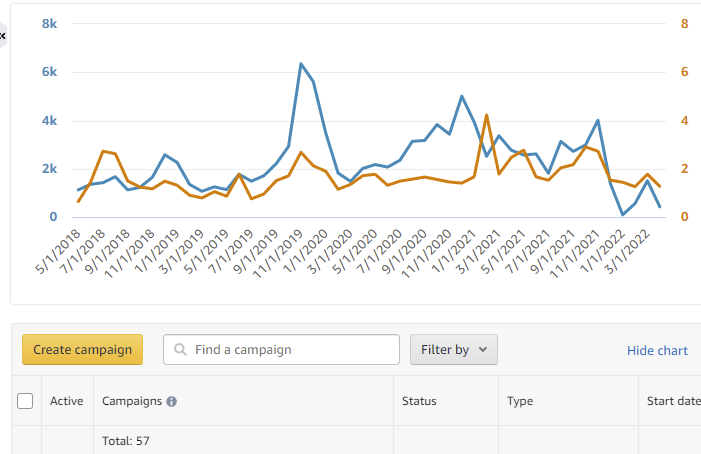 Once you click "Create Campaign", you will be given options to choose from. Choose Sponsored Products to start promoting your products to shoppers through keyword triggers.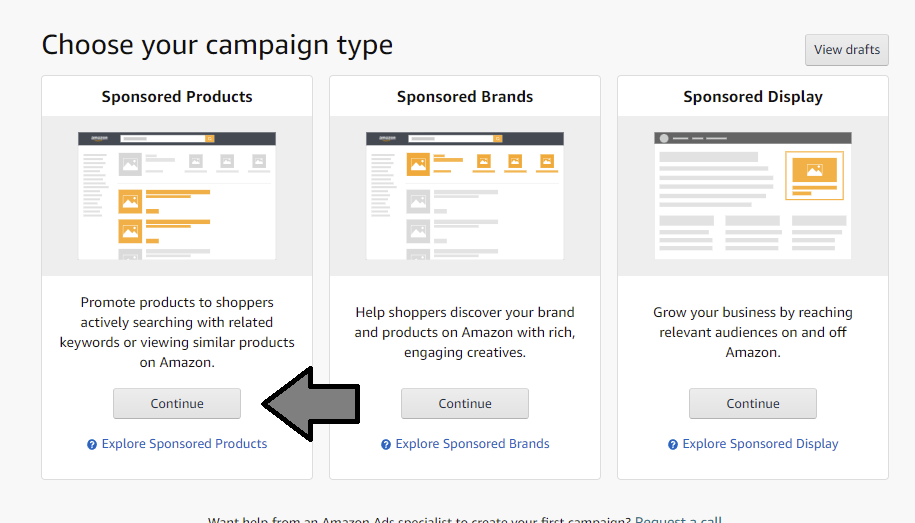 Next, you can add your Campaign Name and choose a portfolio of products you want to promote. You can set the Start and End date of your campaign, as well as the daily budget.
Optimize Your Campaigns
After launching your campaigns, the next step is to optimize them for maximum efficiency. Since most sponsored ads are cost-per-click, you only get charged when a customer clicks them. So make sure that you have informative titles that tell the customers about what you are selling. Having awesome images can help in the conversion rates too.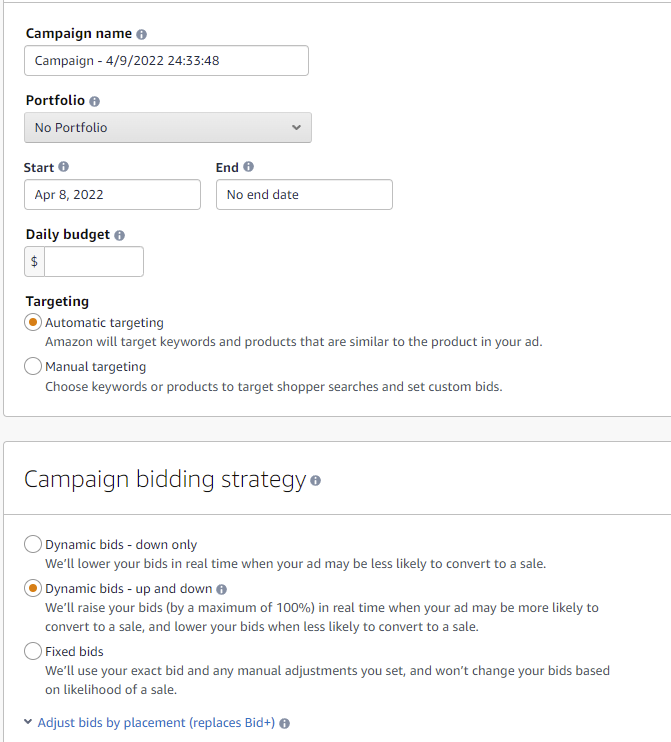 Automatic targeting means that AMZN will target the keywords and products that are similar to the products in your ad. Manual targeting means you will be the ones to choose the keywords or products that will trigger your ads.
Campaign bidding strategy is how you want to bid per click. Dynamic bids mean that your bids might go up or down (depending on your chosen setting), which can result in more views but also higher costs. Fixed bids mean that you will make a manual adjustment and AMZN won't change your bids in real-time.

Choose Products To Advertise
Now that you have adjusted the initial settings, the next step is to choose the products to advertise. You can manually choose the products you want to add. You can also enter or upload a list to make it easier if you are running ads on hundreds of products.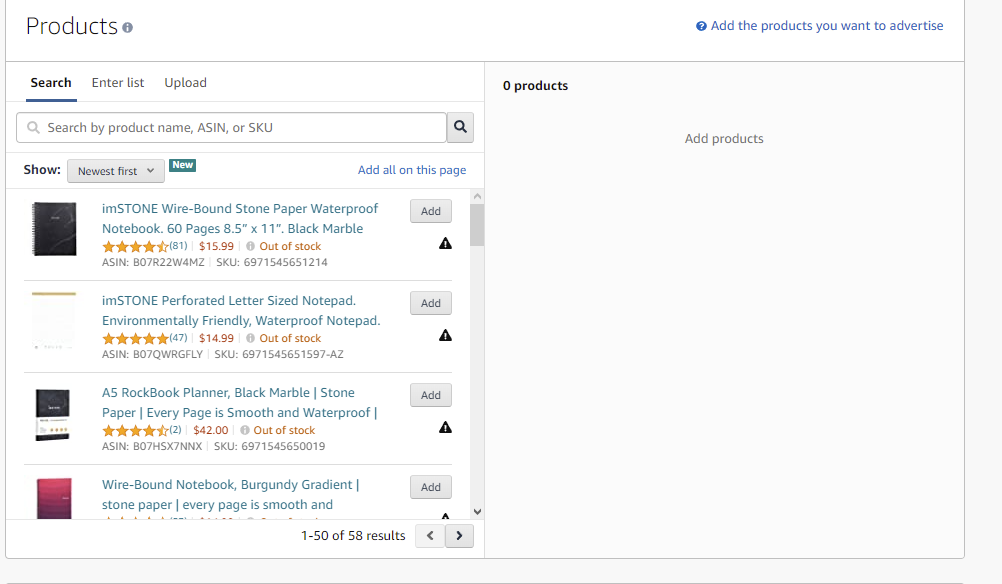 Finally, you can optimize your campaigns even more by adding "negative keywords" to remove or filter unwanted traffic. For example, you can add the negative keyword "free" or "discounted". This simple act will stop your ads from appearing to people who are looking to get free products by using the keywords "free" or "discounted".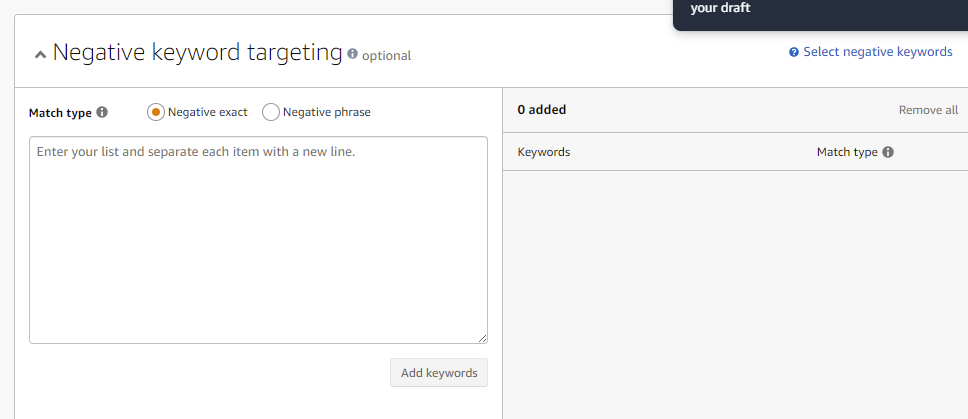 You will be able to track and see your campaign stats and progress in your AMZ Seller Account. Study your impressions, clicks, CTR (click-through rates), and other essential data to optimize your campaigns. An efficient campaign allows you to earn more money than what you are spending. This is the goal of running Amazon Sponsored Products.
Conclusion
Running Amazon Sponsored Products is one of the most efficient ways to help AMZ business owners increase their exposure. By running targeted ads on customers that are ready to buy, sellers, brands, vendors, and agencies can increase their sales.
Amazon Sponsored Products can help business owners get discovered, increase sales and control their marketing costs. Through AMZ Seller Central, business owners have access to an in-house platform that provides tracking for all of the advertising campaigns. This is one of the best reasons to choose AMZ as your platform of choice as a business owner.
When it comes to running AMZN ads, finding the best keywords to target is essential. Choosing relevant keywords can lower your cost per click, improve your sales, and increase your return on ad spend. Zonbase is a software suite that can help you find the best keywords for your PPC campaigns. With the Zonbase Keyword Tool, finding relevant keywords for SEO and PPC can be accomplished with just a few clicks of your button.
Want to learn more about Zonbase and how it can help you improve your Amazon sponsored products ads? Sign up for a free trial of Zonbase today and learn more about its powerful tools.