Choosing the right Amazon niche is one of the first things that you have to do as an Amazon seller. With so many products and categories to choose from, it can be quite difficult to pick the one that resonates with you. 
When it comes to choosing a niche, many factors come into play. Sometimes, it's not enough that the product or niche that you choose is profitable. This is where beginners and newbie sellers often make mistakes.
In this article, we will discuss the different ways of choosing the right niche. We will take into consideration different factors such as fulfillment methods, product source, and difficulties in product acquisition.
We'll also discuss strategies and software tools to help you find the least competitive Amazon product categories. Hopefully, this article can guide you and make it easier for you to find profitable products to sell on AMZN.
Related: Best Amazon Product Finder Tool
What Is An Amazon Niche?
Before we delve deep into choosing products and categories, we should first define an Amazon niche. By definition, a "niche" is a smaller representation of a bigger segment or subdivision. It could focus on particular interests, demographics, location, beliefs, and other criteria. In layman's terms, it can also be referred to as a "submarket".
Let us have an example. If we have a market segment of "dog owners", then an example of a niche would be "Siberian husky owners" or "German Shepherd owners". The former is the whole representative of the target market segment. The latter are examples of niches that exist within the bigger market segment.
Similarly, if we have a bigger market segment called "phone owners", then examples of niches would be "Blackberry owners" or "Nokia 3210 owners".
Related: How to Sell on Amazon FBA For Beginners
Why Is Having A Niche Important For Sellers?
So why is a niche important for sellers anyway? Well, think about it this way. If you are a restaurant owner, would you rather sell anything you can cook, or focus on a specific cuisine such as Thai, Japanese, or Chinese? If you are a game developer, would you develop games on all consoles, or focus on either Playstation or X-Box?
The answer is simple. Niches are much more targeted segments and sections of any general population. Because they are smaller and more concise, they are also much more refined and predictable regarding what they want.

Niches Are More Profitable
If you try to sell basketball shoes to a large group of people with no specific niche, how many would be willing to buy them? The answer is probably not many. Not all people are into basketball, and not many will spend money to buy shoes that they won't use.
However, if you try to sell basketball shoes to a group of basketball players and basketball enthusiasts, you are more likely to make a large number of sales. Because your audience is already "niche" and targeted, they are much more likely to engage with something they can relate to. Hence, they can be more profitable to sell compared to the general population.
Niches Are Less Competitive
Another reason why targeting niches is important for sellers is that there is less competition. If you are selling a generic item, you'll be more likely to be pushed away by big brands spending millions on their marketing efforts. You won't have the machinery to compete against them.
But if you are selling a niche item and targeting a smaller group of people, you can fly under the radar. You can avoid competing with behemoth brands and start carving your piece of the pie. The competition you'll face when selling a niche item isn't as fierce as what you'd get if you sell an available product.
Niches Have Engaged and Loyal Customers
Niches are just like small towns. Everybody knows each other. And because everyone knows each other, they are more likely to support the businesses that cater to them.
Similarly, a niche is more likely to have engaged and loyal customers who keep returning for more. This is especially true if you are catering to a small niche that doesn't have a lot of businesses providing them with the products they need.
Having a niche is like carving your little space in the heart of the AMZN community. This can be a great thing for new sellers who are too intimidated to start selling in large, competitive categories.
Is Going For A Niche Product Better For AMZN Beginners?
First-time AMZN sellers usually don't have enough experience yet to dive in the water with the big fishes confidently. And understandably so. According to eDesk, there are over 10 million sellers on AMZN worldwide as of 2021 (Source: eDesk). This means that you are competing in a cutthroat environment where the chance of survival is slim if you don't make the right decisions.
Without experience, it could be very easy to make the wrong decision when choosing what products to sell. And selling the wrong ones can drain your capital and sink your business to the ground. If you sell an item with little demand and high competition, you won't be able to recoup your investments.
For example, if you try to go for an item such as "Adidas basketball shoes", it would be near impossible for you to rank high for it. Even with exact search engine optimization skills, you won't be able to compete against Adidas itself. And if you can't compete with Adidas, what chance do you have against the company's authorized dealers?
Yes, you can sell Adidas basketball shoes on Amazon, but it is doubtful that you will make a living out of it unless you can secure an exclusive distributor contract, which is also very unlikely to happen if you are just a newbie third-party seller on AMZN.
Instead of selling Adidas basketball shoes, why don't you try selling something like a shoe cleaner instead? People who purchase basketball shoes will need something to clean their expensive shoes. It is a different demand that needs to be filled, and Adidas isn't in the business of shoe cleaners. This is where you come in and fill the demand.
Going for niches is better for beginners because of the low competition. Aside from that, you can be sure that your product is well-targeted to the community of people you are selling to.
Related: Amazon Marketplaces Guide for Beginners.
8 Tips On How To Choose The Perfect Amazon Niche and Product
Ready to know the 8 tips for choosing the perfect niche and product for your business? We'll discuss them below:
Tip #1 – Check out the market competition
This is probably one of the most important things to do before selling in any niche on Amazon. If you want to make sales, your goal should be selling in niches that have high market demand and low competition. This makes it easy for you to sell your products quickly and get more conversions from your ads.
Avoid going into a saturated marketplace especially if you do not intend to sell private-label products. Selling private-label products can help increase your chances of outranking your competitors, however, you should not completely rely on this.
Tip # 2 – Choose a product with good profit margins
The whole reason why you are selling on AMZN is to make money. So when choosing a niche item, you should always go for those with good profit margins. You must look at other sellers on the platform and check how much they sell their products. This will give you an idea of whether selling your niche product is worth it or not.
When it comes to finding products with good profit margins, Zonbase has one of the best Amazon niche-finder tools. This is called the Zonbase Chrome Extension tool, and it helps sellers discover Amazon FBA product ideas. It also helps sellers measure the profitability of a product with just a click of a button.
One of the best features of Zonbase is its profit estimator. All you have to do is fill in the blanks with your estimated selling price, target ROI (return on investment), and estimated selling fees, and watch it work its magic.
With the Zonbase Chrome Extension tool, finding a product with a good profit margin can be done during the initial research phase. This will allow you to have enough information to make data-driven decisions for your business.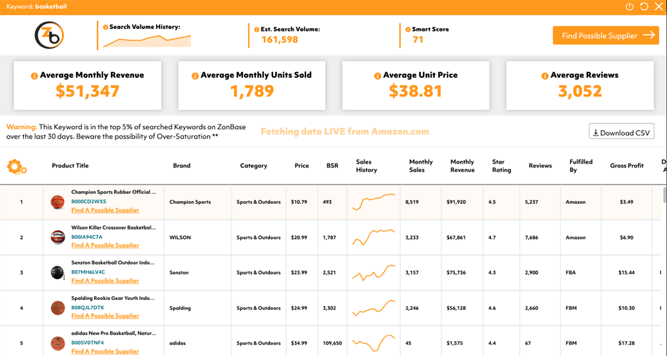 If you are interested in seeing what Zonbase can do, click this link to sign up for a free trial.
Tip # 3 – Check Youtube if there are lots of videos on the niche product
One of the easiest ways to check if you are selling an already saturated item is to check Youtube. If you are selling something with lots of videos talking about it, that isn't a niche product anymore. An item isn't going to be in the least competitive Amazon product categories if it has lots of videos on Youtube promoting it.
Competition is one of the most important factors when choosing your product. And one of the best ways to check for the competition is not only by checking AMZN. You have got to check other huge content websites such as Youtube as well.
Tip # 4 – Dimension and Weight are important
When it comes to shipping, handling, and delivery of items, dimension and weight play a big role. Oddly shaped, heavy, bulky products will cost a lot more to ship and will take away some of your profits, When choosing the perfect product, pay attention to the product dimension and weight so you won't have to pay extra for shipping and handling.

Tip # 5 – Choose an FBA-friendly niche product
When choosing the right Amazon niche product for you, there are many things to consider. More importantly, you should ask yourself if you are going to use FBA (Fulfillment by Amazon) or FBM (Fulfillment by Merchant).
FBA means that AMZN will be the one fulfilling your customers' orders. When a customer makes an order, AMZN will be the one to pick, pack, wrap, handle, and ship the product to your customers. FBM means the sellers will be the ones doing their fulfillment, which is how it is normally done on e-commerce websites.
If you decide to use the services of AMZN through FBA, you will have an easier time fulfilling orders. However, there are also certain limitations and restrictions when it comes to products that are accepted in FBA. So if you are choosing a niche product, make sure that you take into consideration FBA Prohibited Products too. That is if you plan to use FBA in the future.
Related: Amazon FBA Calculator For Beginners
Tip # 6 – Visit Reddit and other niche communities
Reddit is a website where different "subcategories" of a population are allowed to create their little communities. And guess what? This is also the perfect place to hunt for niche communities where you can sell your products, too.
Many niche product ideas come directly from niche communities. They directly tell you what they want, and you can feel the demand just by lurking in these communities. Because Reddit is where these niche communities are encouraged, you can use this to your advantage. Visit Reddit to research products that have high demand in their niche communities.
Tip #7 – Check for sponsored products ads
If you're toying with the idea of selling in a particular niche, one way to find out if there's a good demand for your prospective product is to run an Amazon search using a relevant keyword. Check through the search results to see if there are sponsored product ads. If there are, it would be safe to assume that there is significant market demand and sellers are generating revenue from their ads.
Tip #8 – Avoid going seasonal
Now, this is mandatory. If you want to be in a seasonal niche and sell a seasonal product such as Christmas decorations or costumes, you are free to do so. However, please consider that a seasonal product can only make the bulk of its sales during a certain season. If you are selling Christmas costumes, for example, don't expect to make the same number of sales in July or August.
When choosing the right items to sell, avoid going for seasonal products. Selling seasonal products can severely limit when and where you can sell. And your business might not make profits during the off-season.
How to Identify a Profitable Niche Product
Picking a great niche is only one part of the struggle, the next phase involves finding a profitable product that allows you to make sales easily. There are many product options to choose from, so you have to be very careful to avoid picking an unprofitable product option. Being in a good niche does not necessarily guarantee the profitability of a product. So, here are a few things to keep in mind when trying to identify a profitable product option.
Demand: It goes without saying that product demand is one of the most important things to look out for before selling any product on Amazon. Search for products with at least 300 monthly sales, or 10 sales per day which will result in a decent baseline.
Can be sold between $10 – $70: Avoid selling products that fall on either pricing extreme. Stay away from products that are too expensive, but also avoid selling products that are likely to come off as cheap. The $10-70 range is a safe price range. Also, try as much as possible to choose products that you can sell for at least four times more than the cost price.
Small and lightweight: If you want to save money on shipping or storage (if you use FBA), avoid selling large and heavy products. This is because Amazon typically charges shipping and storage fees based on product dimensions. So, the best thing to do is to sell products that are not bigger than 18" x 14" x 8" and weigh less than 5lbs.
Fewer Reviews: Another way to identify products that have good demand but low competition is to check out the number of reviews. If the products in a certain niche all have more than 300-400 reviews, try not to sell them. Choose products that have a low number of reviews, preferably between 50 – 200 reviews.
One of the best strategies for choosing profitable products is to use Amazon product research software. With software, you can uncover untapped product options and unsaturated markets to sell in. ZonBase offers an extensive suite of tools to help you with product research and niche analysis. Using ZonBase tools, you can find thousands of product options that align with the criteria outlined above.
Related: Sellers Guide to Choosing the Top Product Categories
Zonbase – The Best Software To Find The Perfect Amazon Niche Product
When it comes to finding the best Amazon product, Zonbase has the perfect set of tools. Its product research software, Zonresearch, is a dedicated Amazon niche finder for products with high demand but low competition.
To use Zonresearch, all you have to do is select the categories that you are interested in. You can also use filters to narrow down your results even further.
For example, if you want a niche product that doesn't have a lot of competition, you can use filters to display only those products with a low number of reviews. A low number of reviews could mean that there aren't many sellers and products in that niche. This could be an indication of a product or category that isn't saturated with competition yet.
You can filter results via revenue, price, sales per month, gross profits, and even product weight. All of these features make researching the perfect Amazon product so much easier. With just a few clicks of a button, you are all set!
You can try out ZonResearch and all other ZonBase tools for free when you sign up for a free trial of the software.
Conclusion
Choosing the right products to sell is difficult, especially if you start as a seller. There are many different factors to consider when it comes to making a decision. Hopefully, the points and tips shared in this article were able to help you in deciding how to choose and find a profitable Amazon niche product.
If you want a one-click solution to finding the best products to sell on Amazon, Zonbase is the perfect software tool for you. From product research to validation, Zonbase can help guide you so you won't make mistakes in choosing what to sell.