Passive income has become increasingly popular over the last couple of years. I mean, who doesn't want to earn money while sleeping? Isn't that the dream for most people?
It might sound too good to be true, but earning passive income is totally achievable for the average person.
How? Through Amazon.
With AMZ, earning passive income is no longer just a dream. Read on to find out how to make passive income on Amazon.
What is Amazon Passive Income?
Basically, passive income—also known as "unearned income"—is revenue that can be made in a manner that does not require much effort on the recipients' parts. The money is generated passively, whether from limited partnerships, rental properties, or any other business investments in which the earner does not play an active role.
In our day and age, there are many methods to generate income, such as leasing a property or developing a blog.
While most passive income ideas require a lot of work to begin with, eventually you can earn money with little or no effort.
Can You Earn Amazon Passive Income on Amazon?
The short answer is yes. With the growing popularity of e-commerce, AMZ is leading the pack—accounting for over 55% of the U.S. e-commerce market. Compared to other e-commerce sites, Amazon is a great place for individuals to start earning. With its multiple fulfillment methods to choose from, Amazon's ease of fulfilling orders can't be beaten by any other platform. Additionally, AMZ has multiple systems to let sellers participate minimally in the selling process.
However, like most passive income ventures, setting up an e-commerce store will require some effort initially. The amount of work you have to put in ranges depending on your fulfillment and product supply method. 
Ways to Make Amazon Passive Income in 2023
People often feel that selling products online is the only way to make passive income on Amazon. Although that is the most popular way to earn Amazon passive income, there are other ways to make money on Amazon without selling products. We'll show you how to make money on Amazon without selling products, but first, let's take a look at the different Amazon business models for selling products online.

How to Make Passive Income on Amazon By Selling Products Online
Retail Arbitrage
Retail arbitrage is basically just reselling products on Amazon. The goal of retail arbitrage is to find discounted products at retail stores and sell them on Amazon for a profit. Sellers who wish to use retail arbitrage can usually profit off clearance sections or even regular-priced items to mark up. 
However, the disadvantage of this method is that it can be time-consuming and difficult to find profitable deals. Along with that, some brands can report your business for counterfeit or intellectual property claims.
Wholesale
Wholesale is the process of contacting suppliers to bulk purchase the products you want to sell. Since you are buying the items in bulk from the manufacturer, you can usually get them at a discounted rate, also known as wholesale price. You can then sell the product at the retail price on AMZN, earning a good profit margin.
Selling wholesale is a very profitable and consistent income stream. However, finding the right wholesale supplier to work with can take a long time and a lot of effort. You would have to spend a lot of time researching and testing product samples before finding a reliable supplier with quality items. Also, you would have to buy in large quantities, meaning wholesale has a higher start-up cost than other methods.
Amazon Handmade
Selling handmade or handcrafted items on Amazon is also one of the ways to make good money online. Creatives and artisans who would like to reach a larger audience can leverage the Amazon marketplace. This business model does not require a lot of capital, you only need to ensure that your products are 100% handcrafted.
Private Labeling
It is also possible to create and sell your products on Amazon, and this model is known as private labeling. This is a much more complex business model that requires a lot more time and effort than the other methods, making it not right for those looking for a passive income stream. However, when done correctly, you will own the exclusive rights to sell this product, thus limiting the competition. 
Amazon Dropshipping
Like the other business models, dropshipping also involves selling products on Amazon, however, it follows a different approach. Dropshipping does not require you to purchase products in bulk and hold inventory, instead, you can have your supplier or manufacturer ship the order directly to the customer. In other words, when a buyer makes an order, you pay for it, and the supplier ships to them directly. Dropshippers sell the manufacturer's products at a markup, allowing them to have a significant profit margin. 
Dropshipping is used by many Amazon sellers as it allows them to have a large and potentially infinite amount of stock at a time while still keeping a great profit margin. Aliexpress, Taobao, and Alibaba are some of the most popular websites to dropship from.
How to Make Amazon Passive Income Without Selling Products Online
Publish Books on Amazon KDP
Amazon KDP or Kindle Direct Publishing is Amazon's platform for authors. With Amazon KDP, you can self-publish your own eBooks or paperback books without incurring any publishing costs. You not only get to publish your eBooks, but you also get to make money from them.
Publishing books on Amazon KDP will come in handy for people who want to monetize their knowledge without incurring any upfront costs. Selling digital products is one of the best ways to make passive income online in 2023, and Amazon KDP provides a great platform for that. The platform allows you to publish and sell your books to Amazon's existing customer base and earn royalties that can amount to up to 70%.
Become an Amazon Affiliate
Another way to make money on Amazon without selling products is to become an Amazon affiliate or associate. You won't have to sell any products, you only have to market Amazon's products on your platforms; some people do this by creating blog posts or social media content. Affiliate marketing works really well for people who have a solid online presence and an audience to sell to. You earn a commission on every sale that Amazon makes through your affiliate link.
The commission is not a lot, it typically ranges from 2% – 6% but if you want to make money from your online audience without directly selling products, this is a good option. You can simply post product reviews online alongside your affiliate links and that will do the trick.
Check out this post to learn more about the Amazon affiliate program.
5 Steps to Start Selling Products for Amazon Passive Income 
Now that we told you about all the ways you can make Amazon passive income, it's time to get your Amazon business started. You can start selling on Amazon by following the simple steps outlined below.
1. Determine a Product to Sell
Using research tools, you can easily evaluate products to sell on AMZ. With ZonBase's ZonResearch tool, you can use a wide range of filters to find profitable product opportunities that match your criteria.
Down below, we go over how you can find unique and profitable products in a few simple steps.
Go to the ZonBase website.
Sign in. If you don't have an account yet, you can join our 7-day free trial. Just fill out the information to start
Under the 'Product Research' tab, hit 'ZonResearch.'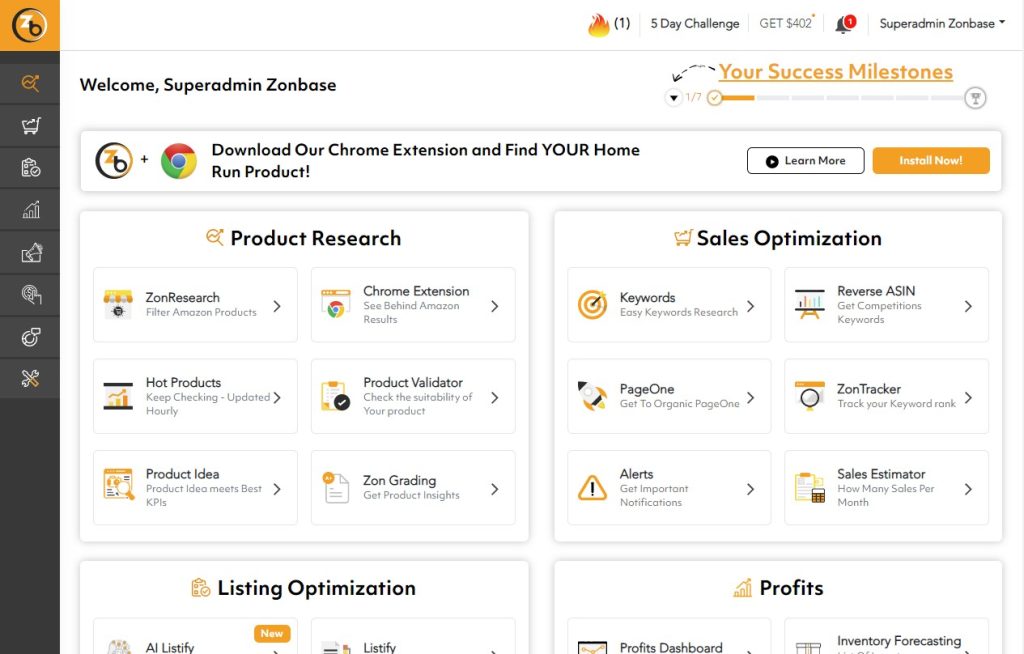 Set your product criteria under the 'Product' tab. Our database has many search filters—such as minimum/maximum price, product category, and average star rating—that you can use to find products that meet your specific requirements. You can also select 'Base Hit' under the 'Select a Preset…' dropdown menu to instantly select the most profitable categories and filters.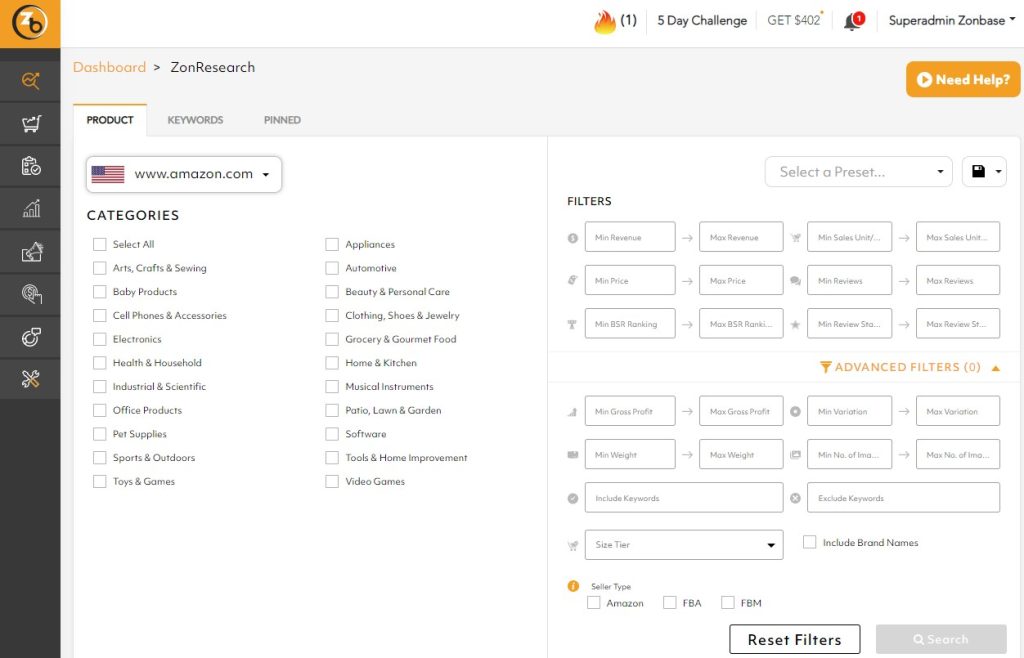 Find products. Click 'Search' to find products that meet your specifications.
View data. You can now view all the relevant data on those products, including price, monthly sales number, and monthly revenue. You can also click to view the listing on Amazon or even find a possible supplier.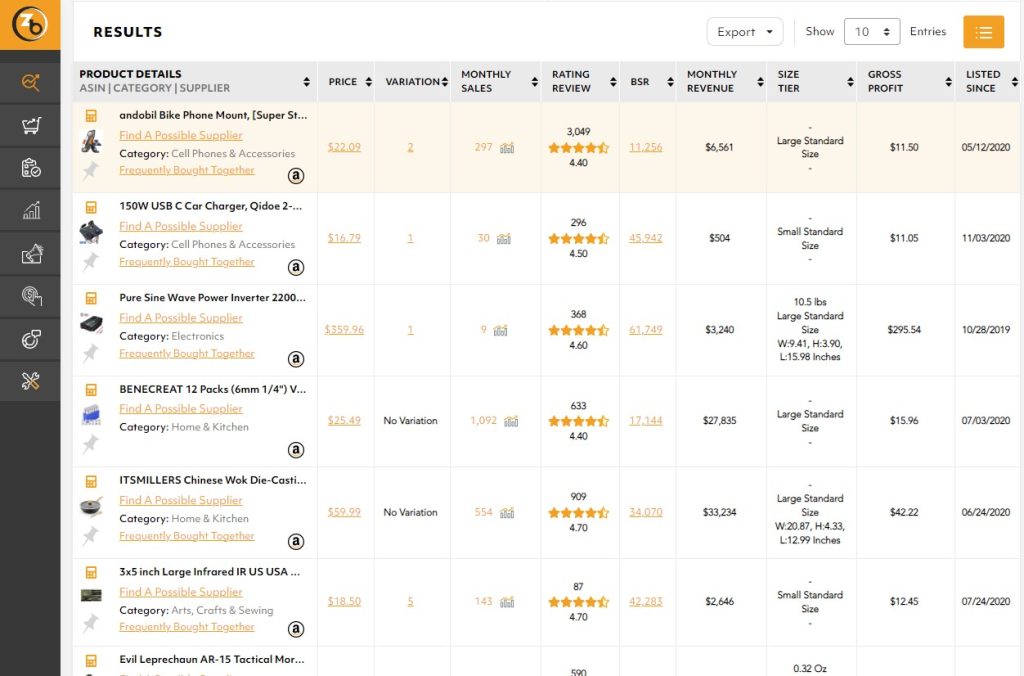 2. Create Your Amazon Seller Account
To start selling on AMZ, you need an Amazon Seller Central account.
Visit the Amazon seller website.
Click 'See pricing'. Don't click the orange 'Sign up' button! If you do, you will be redirected to the registration page for professional sellers. Instead, select 'See pricing' in the 'Make money' box, which will give you access to both individual and professional account options.
Choose between an individual or professional seller account. You should get a professional account if you sell more than 40 products a month. A professional account costs $39.99, while an individual account costs $0.99 per item sold. If you are selling on Amazon as a hobby, you can probably make do with an individual account. Otherwise, we recommend getting a professional account to help you scale your business.
Complete the registration process. Once you click 'Create New account', you will have to provide personal details such as your name and address. You will also have to make necessary decisions regarding your business location, type, and the marketplace you want to sell on.
Related: How to Create an Amazon Seller Account & Registration: Ultimate Guide For 2022
3. Set Up Your Amazon Storefront
This step is optional and not necessary to start making money on Amazon, but we definitely think it is useful to accelerate the process of generating money.
An Amazon storefront makes it simpler for customers to navigate your Amazon store and products. You can decorate your storefront with images, videos, and text to showcase your products and brand in an appealing way.
You must be part of the Amazon Brand Registry program to have an Amazon storefront. In order to start registering your brand, your business must have an active brand trademark. Once you obtain that, you can submit the Amazon Brand Registry application. If your business meets all the criteria, Amazon will approve you for the program and you'll gain access to tools to create your storefront and promote your brand.
Related: Amazon Brand Registry: Protecting Your Business in 2022
4. Sell Using Amazon FBA
One of the main factors of earning income is selling using Amazon FBA. While it isn't the only way you can make money passively on the e-commerce site, it certainly makes the start-up much quicker.
Using Amazon FBA, sellers can leverage Amazon's vast pool of resources and receive help in every step of the process. From shipping to customer service, you, as a seller, would barely have to lift a finger to manage your business.
Along with that, Amazon FBA gives your brand Amazon Prime eligibility. With 1 in 3 Americans having an Amazon Prime subscription, the free two-day shipping is often a large factor in customers' purchasing decisions, thus giving your business more sales.
Related: How To Sell On Amazon FBA for beginners: 7 Helpful Tips
5. Constantly Monitor and Optimize Your Business
Now that you have determined your profitable product, made a Seller account, set up your AMZ storefront, and signed up to sell using FBA, you are at the last step of your income journey.
From here on out, you can wait and watch your income grow. While you may not have to do much going forward, you should still track your sales performance and optimize your business when necessary.
A handy feature to effortlessly monitor your sales is ZonBase's Profits Tool. The Profits Tool helps sellers keep track of their Amazon business's key financial statistics, such as sales, costs, revenue, inventory, and more. With the information accessible to you, it is easier than ever for you to target and improve aspects of your business.
Amazon Fulfillment Methods
So how do you fulfill your orders when you start selling on Amazon? Amazon offers two order fulfillment options – Fulfillment by Amazon and Fulfillment by Merchant. We'll tell you all about them in this section.
Fulfillment by Amazon (FBA)
Fulfillment by Amazon is probably the best way to run an Amazon business. Amazon FBA is a service where AMZN fulfills orders for you, letting you take advantage of its storage warehouses and shipping services. 
For this process, all you have to do is ship your items to Amazon, and they will do all the heavy lifting of shipping them to your customers when the products sell.
Because you do not have to worry about sending your products to buyers daily, all you would have to do is focus on finding products to sell, making it a pretty easy source of income.
To begin your FBA journey, you have to start with determining a profitable product to sell. A great tool to help you with this process is ZonBase's Hot Products feature, where you get to view data on the top 100 Most Gifted products with under 30 reviews and an increasing sales trend. This should help you successfully choose a winning product to sell on AMZ.
After, you let AMZ know what products you plan on selling, and they will give you shipping labels to ship your items to their warehouse.
Then, you must box everything up and head to the post office. From there, AMZ will receive, store, and ship everything out when the time comes, making it one of the best Amazon passive income opportunities.
Related: All About Fulfillment By Amazon – What You Need to Know
Fulfillment by Merchant (FBM)
Sometimes referred to as Amazon Merchant Fulfilled Network (MFN), FBM is where sellers ship their products to buyers themselves.
With FBM, you don't get access to the AMZ warehouse or the other efficient and useful FBA features above. This fulfillment method involves sellers storing their stock, packing and shipping orders, and dealing with all customer service inquiries and returns. Essentially, Amazon is just your listing venue, and everything else is done by you.
Selling on FBM is comparable to selling on eBay or any other e-commerce platform. Whenever an order comes in, you have a given amount of time to ship it out.
While selling on FBM can be profitable, we do not recommend it as a way to earn passive income. Unless you hire people to do all the work of packing, shipping, and dealing with customer inquiries, you will have to be very involved in the day-to-day operations of the business.
Since fewer fees are involved, your profit margins tend to be higher selling with FBM than FBA. But, having to figure out inventory storage and do all the heavy handling yourself, FBA is the more popular fulfillment option. 
Related: Amazon FBM: Why You May Want To Use It Now

Conclusion
With the booming growth of Amazon, earning passive income is no longer just a dream. While it does require some effort to start up, the initial time and money you put in is just an investment for you to live carefree in the future. If you want to earn passive income on Amazon, you must be willing to make the initial investment by investing in product research and keyword research tools to increase your chances of success.
To quickly and easily make your business a consistent source of income, we recommend using ZonBase to maximize your profits and efficiency. ZonBase gives sellers a wide range of tools to help manage their AMZ stores—such as listing optimization, keyword research, and product assessment features. With ZonBase, earning Amazon passive income is as easy as pie!
Ready to start earning big bucks on Amazon? Start your free trial today!