Research is a vital part of running an Amazon business. Any seller worth their salt knows that you have to research profitable products, reliable suppliers, and high-converting keywords before starting an Amazon business. And research does not end after you have launched a product; it is a continuous process. But there's a component of research that is often overlooked — and that's Amazon seller competitor analysis.
Nearly 2 million small and mid-sized businesses are third-party sellers on Amazon marketplaces across the globe. So, if you sell on Amazon or intend to, you can be certain that many of those sellers already sell products similar to yours. In other words, you'll be competing with thousands of sellers for a piece of the pie. Without the right strategy, you'll only be left with crumbs. If you want to succeed in this fiercely competitive marketplace, you need to know how other sellers are running their businesses.
In this article, we'll cover the top strategies for Amazon seller competitor analysis so that you can start dominating the market.
Let's dive in.
What is Seller Competitor Analysis?
Amazon seller competitor analysis is the process of researching your competitors and using the insights gained to your advantage. This involves analyzing their pricing strategy, their product listings, keywords they rank for, their branding and marketing efforts, and so on.
The goal is to find out what makes them successful, learn from their mistakes, and use this information to improve your business strategies.
Why Do I Need an Amazon Seller Competitor Analysis?
Many sellers know that they have competitors but don't think it's necessary to keep up with them. Besides, sellers already have many tasks to grapple with and may be unable to find time for competitor analysis.
But if you're serious about growing your business, analyzing your competitors is not an option. Carrying out an Amazon seller competitor analysis will help you:
Spot potential gaps in the market that your business can fill
Determine if a product idea is worth pursuing during the research stage
Identify weaknesses in your product listings and how to improve upon them
Maintain competitive pricing for your products
Discover how to distinguish your products from competitor products
Now that you know the benefits of analyzing your competitors' business, how do you know who exactly you're competing against?

Amazon Seller Competitor Analysis: Finding Your Competitors
There are over 2.5 million sellers on Amazon, and the competition is stiff. One way to beat the competition is to find profitable products and come up with other strategies. However, the journey to building a successful business does not start and end with finding profitable products.
To secure a sizeable chunk of the Amazon pie, you'll have to compete for your share. And how do you do that without checking out your competitor's product and marketing strategies? Again, the place of an Amazon seller competitor analysis cannot be overemphasized.
So, you'll have to find your competitors and check them out to see what they're doing right and what you can improve on. To find your competitors, start by conducting an Amazon search for your product ideas. You can begin by typing in a bucket keyword and seeing what comes up in the search results. For a broad keyword, competition will be fierce, but as you narrow down your search, the number of direct competitors will reduce. These last sets of competitors are the ones you should target.
For instance, you intend to sell shoe racks on Amazon. Of course, there are many different types of shoe racks already listed on Amazon. You have 3-tier stackable, 4-tier expandable and adjustable, and under-bed shoe storage or rack. Now, let's assume what you want to sell is a 4-tier shoe rack. A broad search for "shoe rack" will produce the following results.
As expected, we find a wide range of shoe racks to choose from. Although all of these shoe rack sellers are technically competitors, the goal is to target long-tail, niched-down keywords that are far more unique to your actual product. Now, we'll look for a 4-tier shoe rack.
The majority of these search results show 4-tier shoe racks only — instead of over 20 different types of shoe racks. The products in the search results for this exact keyword are the major competitors you should target.
How to Carry Out Competitor Analysis
The first step to conducting an Amazon seller competitor analysis is to analyze your competitor product listings. The goal is to spot their strengths and weaknesses and develop new ways to outrank them. So, here are a few tips to help you analyze your competitors.
Identify the keywords you want to rank for
If you want to succeed on AMZN, you must be intentional about developing effective strategies for visibility. And it is impossible to gain visibility on Amazon if your listings are not well-optimized. Keywords play a major role in listing optimization, so you must focus on keyword research. Try as much as possible to target keywords that your audience is most likely to use when searching for your product.
You can carry out keyword research manually, but it's best to use keyword research software. Wondering why? There are thousands of keyword phrases, and you definitely can't rank for them. So, you'll have to choose from these keywords and then target the best ones for your store. Of course, trying to do this manually will be time-consuming, stressful, and overwhelming. Hence, the need for effective keyword research tools.
Using the ZonBase Reverse ASIN tool, you can get into the behind-the-scenes of your competitors' listings. Here's how the Reverse ASIN tool can help you uncover the keywords that your competitors already rank for.
Open the Reverse ASIN tool and enter the basic details
Run an Amazon search to copy the Product URLs for at least three competitor listings. Then, paste them into the Reverse ASIN tool.
The results show your product rank and competitor rank on the search results page for different keywords. You can also see the monthly search volume, smart score, frequently used words, and word frequency.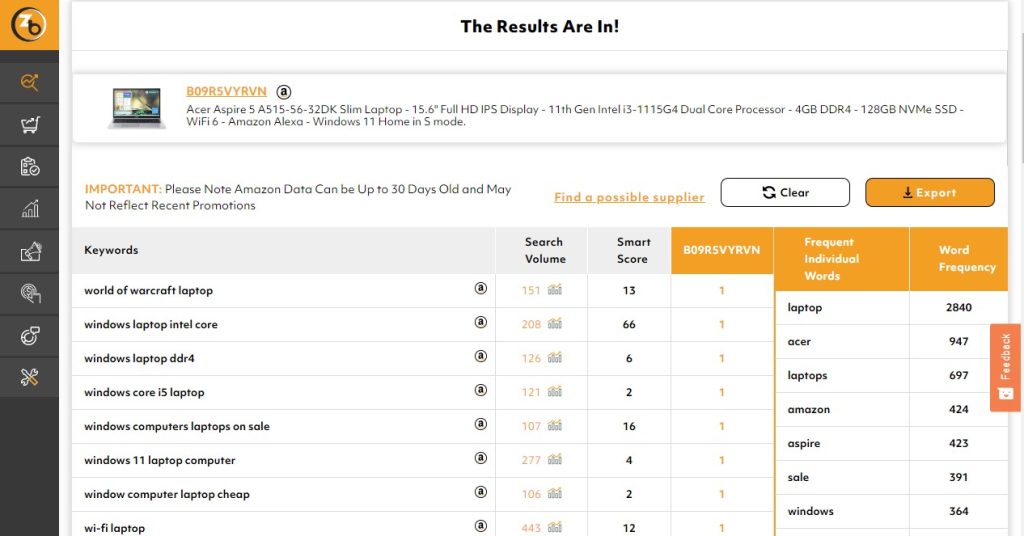 Carry out a survey of the market
The next step is to search for your primary keywords. This will assist you in gaining a better understanding of the major players in your product category. After a few searches, you'll see which businesses are now dominating your product market.
Only look at the first and second pages of results for your important keywords and note any trends you notice, such as terms that frequently appear in titles, the main images, the average number of product reviews, and who dominates the sponsored advertising. This will assist you in determining the competitors and providing insight into how you might position yourself.
Go through the search results page and look for ways to make your listing stand out. This way, you increase your chances of getting noticed by buyers. Although this may not make them go ahead to buy from you, it does give you an edge over other listings, especially those that look very similar. Here are a few things to look out for when trying to make your listings unique:
Titles
Your title should be optimized for two purposes: to inform the buyer about your product and to help the algorithm fix your listing where it belongs. So, when you survey the search results page, take notice of the keyword phrases used in the title by your top competitors.
Is there anything you could add or delete to improve the title of your product? Are your competitors omitting important product information your customers would like to see at first glance? These are some things to consider while crafting a compelling product title.
Images
Images are a significant selling element. Because a buyer cannot touch, feel, or see a product before purchasing it, you must ensure that your listing has the highest-quality product images and infographics possible.
Examine the main photos of each of your competitors in the search results below. In what ways to make your main image stand out in search results? Do things differently and find better ways to make your images unique.
Descriptions
Your descriptions are the next important part of your listings, and of course, you should bring your A-game. Ensure your product descriptions are clear and detailed, but not too long. Please pay attention to how your competitors write their descriptions. How would you describe the tone? What traits and advantages do they emphasize? What information is lacking that would be beneficial? Also, use relevant keywords and bullet points in your descriptions. Avoid using too many filler words, and keep your descriptions straight to the point, so you don't bore buyers.
Reviews and Ratings
What are customers saying about the products of your competitors? What are the objects' sources of suffering for them? What aspects of their purchases do they enjoy?
Use customer reviews to identify flaws in your competitor's product and listing. If a review says the item has wrong or missing information, you'll know to offer accurate and complete product information in your listing.
How can your product assist a customer in resolving a problem with a competitor's product? This is an excellent time to highlight the advantages of purchasing your product, so be sure to include that information.
Listing optimization is not a walk in the park, but with the right software, you can ace listing optimization. With ZonBase's Listify tool, you can spy on your competitors' listings and take cues from their listing elements. Without ZonBase, your seller competitor analysis is incomplete. With ZonBase's keyword and listing optimization tools, you can generate relevant keywords for your listings and then imitate your competitors' listing strategies.
Here's a faster way to research keywords and optimize your listings
Go to the ZonBase Listify tool and provide all the basic details, like product URL and keywords. Once this is done, a list of relevant keywords will come up. Of course, using these keywords in your listings will improve your conversions.
Under the Listing Analysis section, you can see all the technical analyses of the product listing you have chosen as your reference.
Scroll down to the listing optimization section. You'll see a breakdown of your competitors' titles, descriptions, and bullet points there. You can then create your listings using this insight.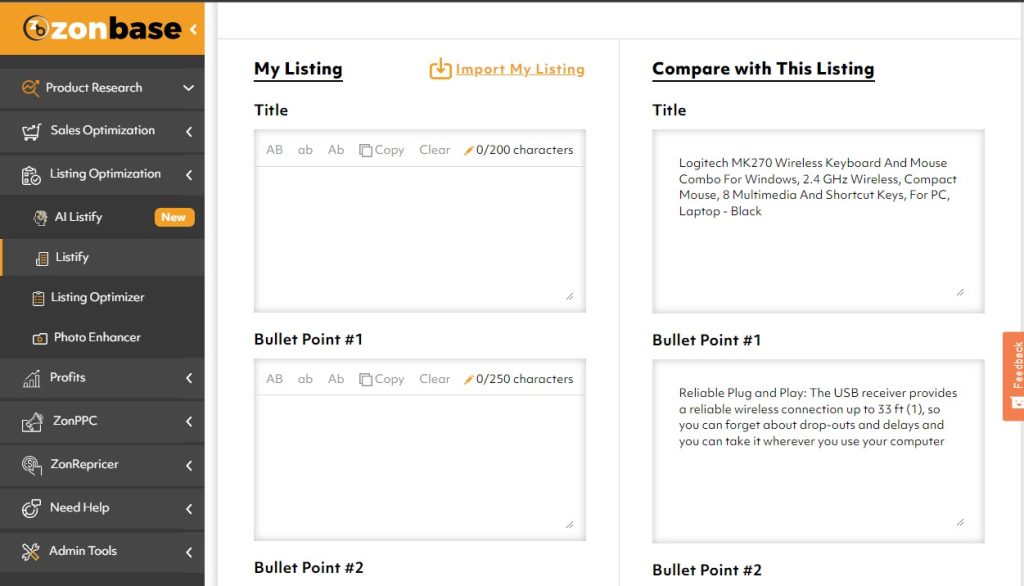 Don't want to get involved in all this work? You can outsource your listing optimization needs to our team of experts when you sign up for our Listing optimizer service.
Keep an eye on your competitors' pricing.
Pricing plays a major role in determining whether a customer purchases an item or not. Buyers almost always choose the less expensive product out of two similar products with similar review scores.
Since the goal is to earn reasonably, you must fix favorable prices. To secure a space for yourself on AMZN, you must understand the market's price history. If the price of the goods you're selling or interested in constantly selling changes, it may not be a good market for you. The easiest way to stay on top of price changes is to use a price tracker.
Keep tabs on your competition's monthly sales.
Following your competitors' sales will give you a decent idea of how much inventory they're holding and how much profit they're earning. It also tells you whether or not the niche or market in question is healthy.
You don't want to invest in a declining market or experiencing low demand. Tracking your sales makes it easier for you to develop strategies to scale your business. Launching a product that no one wants to buy is the last thing you want to do.
Wondering how to track competitor sales? You can use the ZonBase sales estimator tool to check out previous sales history and sales trends of potential products. So, here's an easy way to see previous sales trends for any product:
Just run a search on AMZN for the product you want to track, then copy the product ASIN.
Next, open ZonBase's sales estimator tool, choose your marketplace, paste the product ASIN you copied, then click on "Calculate sales."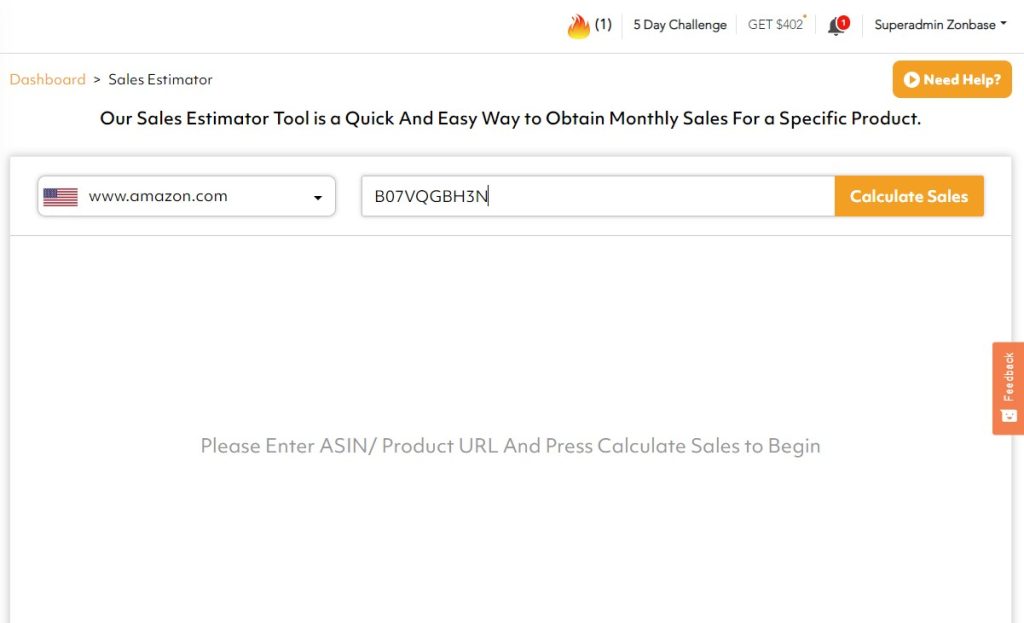 Voila! All the sales information you need is at your fingertips.
Check out your competitors' marketing strategies
You can learn a lot by looking at how your competitors market their products. Their marketing strategies determine how much sales they make, so you must take cues from them. The best way to beat a competitor is to check their strategies and improve them. Observe their listings, descriptions, copy, images, and packaging designs. What kind of ads do they usually run? What off-Amazon advertising methods do they use?
Here are some questions to ask yourself:
How do they use social media?
What is their customer base like?
What platforms do they use?
What is their posting frequency?
What is their engagement rate?

Use the Q&A feature to find your customers' pain points
Use the Q&A feature to discover the important details that your competitors were unable to find in your competitors' listings. Then, spice up your listings with these details using bullet points. Remember that the more time a consumer spends researching a product, the longer it takes to make a decision. So, try to cover as much ground as possible and convince potential buyers in the shortest time possible.
Make a list of the frequently asked questions and include the answers in your bullet points and explanation. For instance, if you see a question like "How do I maintain this hair?" in your competitors' listings, you can provide the answer to this question in your description.
To find the questions, simply scroll to the end of the listing.
How ZonBase Can Help You Succeed on Amazon
As you can already tell, keyword research and listing optimization are integral parts of every Amazon business. And if you carry out an Amazon seller competitor analysis without executing these tasks, However, these tasks can be automated using Amazon software like ZonBase.
ZonBase is the best Amazon seller tool for competitive analysis and market research. The software offers a Reverse ASIN tool that allows you to run a reverse search on your competitor's product ASINs. Using this tool, you'll see what keywords they're using and ranking for. It also offers keyword research and tracking tool, ZonTracker, that allows you to monitor the performance of your keywords so you can improve your strategies.
Apart from the Reverse ASIN and ZonTracker tools, ZB also offers a sales estimator to help track your competitors' prices and sales trends. You can explore these tools for free when you sign up for the 7-day free trial.
Final Words
If you want to grow your business on AMZN, you'll have to take Amazon seller competitor analysis seriously. You can learn how to track competitor sales on Amazon if you don't already know how to. Also, use the tips in this article to effectively analyze your competitors and grow your business.