With more than 300 million registered users in 2021 alone, the Amazon statistics don't lie. The website is possibly the biggest online B2C (business-to-consumer) marketplace in the world today. And with the pandemic only shifting people's buying habits towards online shopping, you can only expect this number to grow.
Are you planning to sell on Amazon? If you are thinking of joining one of the biggest online marketplaces in the world, you need to be prepared. Gaining information about the AMZ marketplace is one of the best ways to get your feet wet before completely jumping in. And to help you out, here are some important Amazon statistics that you need to know before selling your products on Amazon. 
More people are shifting to online shopping
From 2014 up to 2021, the number of online shoppers has drastically increased. Back in 2016, only around 1.66 billion people around the world were expected to shop online. But in 2021, this number has jumped to around 2.14 billion. (Source: Statista). That means around 100 million people around the world have shifted to online shopping every year since 2016. And with the recent pandemic changing the way how people purchase their goods, this number is only going to increase. This is one of the most important Amazon statistics to pay attention to.
AMZ has around 300 million subscribers, 150 million of which are paying for Prime Membership. (Source: Amazon) This is one of the most essential statistics that you need to know. With almost 15% of the world's total online shopping population already registered, you can get a big chunk of the market share if you do well in your store.
Since more people are shopping online, you have to make sure that your listings are well-optimized for a friendly mobile viewing experience. This means providing better images and descriptions for your listings.

Alexa continues to improve exponentially
Alexa, the voice-controlled virtual assistant that is responsible for controlling some of the devices such as lights, speakers, and even home entertainment systems, has dramatically improved over the years. Since its inception, Alexa has acquired more than 30,000 additional skills that allow it to control over 4000 home devices. Alexa's ability to understand its native English Language has also drastically improved, allowing it to understand more complex instructions and commands. While this might not look like one of the most important Amazon statistics, this growth is not something to underestimate.
Most people who use the website are ready to buy
According to Big Commerce, almost 90% of people who head to the AMZ website are there to look for deals, product reviews, product availability, and product comparisons. So what does this Amazon stat mean for you as a third-party seller? Simple. People go to the website because they already made a conscious buying decision. They already have a product in mind, and they already know what they need. 
Most people are browsing only to look for a better deal available, or to see if there is another brand that they can compare it with. The typical customer is ready to buy. Your job as a third-party seller is to make sure that you close the sale by increasing your product listing's conversion rates. Since conversion and sales are two Amazon statistics that determine your income, this is something you should pay attention to.
Almost 33% of subscribers in the US are Prime Members
Prime membership in 2021 is around 150 million subscribers. This is almost half of the total active customers which is around 300 million. Out of these 150 million subscribers of Prime worldwide, around 95 million are Americans.
This means that a majority of Prime subscribers are Americans, so you need to revolve your products around things that most Americans love buying. Some of the bestselling products are in categories such as gaming, kitchen, cooking, and appliances. These are Amazon statistics that you should remember in case you start looking for profitable categories.
Prime Members are big spenders
Prime members often spend more than the usual customer. While most non-prime customers spend only around $100-500 every year, its Prime members spend somewhere close to around $1400 (Source: Statista)
So what do these Amazon statistics mean for your business? It means that you need to make sure that you can sell to Prime Members. This means that you might need to sign up for FBA (Fulfillment by Amazon) or qualify for Seller Fulfilled Prime.
Alexa isn't completely trusted by customers to buy products
Alexa might be one of the most innovative and highly popular creations that have been introduced. After all, who doesn't love a talking virtual assistant that can do everything for you – including shopping? 
But did you know that not too many people trust Alexa to purchase products for them? While there are more than 40 million people in the US alone who use Alexa devices, (Source: Safe At Last) only around 2% of them use Alexa to purchase products. The rest are just messing with Alexa or trying to see if it works as intended. While the Amazon statistics about Alexa's growth seem promising, actual sales conversion is still very low.
Millennials are its biggest audience
Yes, we have all heard about the bad reputation thrown around millennials. But did you know that when it comes to using new and emerging technologies, millennials are actually at the forefront? 
One of the most important Amazon statistics that you need to know about is audience demographics. And when it comes to using this as an online shopping tool of preference, millennials outnumber baby boomers and Gen Z by a ratio of almost 2 to 1. Millennials also love using Prime delivery services, making them a very important market to target. (Source: Statista)
AMZ is taking over the mom-and-pop and brick-and-mortar categories
In the past, people would usually go to their local mom-and-pop stores as well as the local hardware to look for things that they need in their homes. But in the last few years, the surge in some of the categories such as Home Improvement has shifted the shopping behavior of many customers. Add the recent pandemic into the equation, and now you find more people choosing to purchase online rather than visit their local stores. 
If you are planning to sell online, these are Amazon statistics that could become important when you start choosing what products to sell.
The most profitable day is not Black Friday
Unknown to many sellers, the most profitable day when it comes to selling volume is Amazon Prime Day and not Black Friday. Just in 2021 alone, around $11.2 billion worth of sales were generated by Prime Day, which is up 7.7% compared to 2020. (Source: Digital Commerce 360) So if you plan on stocking up your products, make sure you don't get your inventory sold out before Prime Day hits. 

Downtimes can cost you a lot of money
Did you know that back in 2013, the website was down for around 40 minutes and this mishap cost them around 5 million dollars? This is a loss of about $12,000 per minute, and this is an indicator of just how big they are. (And remember, this was from 2013 too. Imagine how much bigger it would be in 2021)
While you shouldn't worry too much about things that you cannot control such as website downtime, it is always a good thing to know that downtimes can cost you a lot of money as a seller. With this in mind, you should always monitor the things that you can control, such as making sure that your inventory is always filled and you don't run into zero-stock problems. 
Most third-party sellers on also sell on other platforms.
Have you ever heard of the saying "Don't put all of your eggs in one basket?" Sellers have heard of it too. Almost 80% of sellers have also started selling on other online platforms such as Etsy and eBay. With so many private label companies competing for the same spot in the SERP, diversifying and branching out on different selling platforms is the smart thing to do as a third-party seller.
AMZ's net revenue continues to rise
The total net sales in the first quarter of 2021 was 108.52 billion U.S dollars, surpassing its $75.45 billion sales in the first quarter of 2020. (Source: Statista)
Just in the first quarter of 2021 alone, the total net sales were around 109 billion US Dollars. This is a massive increase in comparison to the 2020 first-quarter sales which hit just under 75 billion US dollars. (Source: Statista)
This is proof that they are still growing at a rapid pace. And with the pandemic affecting the behavior of how people do their shopping, you now have a massive online shift of customers. This is something that you can take advantage of as a seller. 
There is an increase in the number of new sellers
The marketplace has around 6.4 million total sellers across the world. Among this number, around 1.5 million are active sellers while the rest are not selling any more products in their stores. (Source: Market Pulse)
But what makes this stat amazing is the fact that around 500,000 new sellers registered on the website in 2021 alone. This means that almost 33% of the active sellers today are new sellers, which means the marketplace is still on the rise even during the pandemic.
The website's customer trust rating is high
According to Feedvisor's Consumer Behavior Report, almost 89% of buyers trust AMZ to deliver their products in good, working condition. They also indicated that they are more likely to purchase products on AMZ than other online websites.
As a seller, this is one of the most important Amazon statistics to know. If the majority of people trust you, they are more likely to become repeat customers too. As a third-party seller, getting repeat customers is very important to create a sustainable and long-lasting eCommerce business.
The most popular product category
Out of hundreds of different product categories, the most popular is the Electronics category. According to a report by Feedvisor's Consumer Behavior, almost 44% of people in the US who bought on the website have also bought something from the Electronics category. This is followed by other popular categories such as shoes, clothing, jewelry, kitchen, and home improvement.
As a seller, this information is essential for you to decide on what products to sell.
The important factor that drives purchases on Amazon
By now, it should be clear that customers love shopping. But as a seller, one of the most important Amazon statistics to know is the factor that drives customer purchases. According to Statista, almost 82% of buyers said that price is the leading factor in their purchasing decision. This is followed by fast shipping time at 70%, and positive product reviews at 52%. Many customers also love the flexibility offered when it comes to returning products. 
If you are a third-party seller, having the ability to price your products profitably while still making an aggressive move on the competition is one of the most important things that you should do.

Zonbase: The best all-around tool for Amazon sellers
AMZ is the world's largest marketplace for online sellers, beating sites such as eBay and Walmart. This makes them a very lucrative platform for third-party sellers who are looking to build their stores online. However, not everyone has the expertise and knowledge to research the best products to sell. And choosing the wrong product can really impact your business, especially if you are just starting and you don't have much capital upfront.
Voted as the most accurate and best value software tool for sellers, Zonbase can help you choose the best products to sell. With over 13+ tools and services to help sellers discover essential product information such as competitor keywords, product sales, and potential revenue, Zonbase can help sellers make data-driven decisions. Not only that, but Zonbase can also help you improve your product listings to ensure that you are getting as much organic traffic as possible.
Here are some of the tools that Zonbase offers.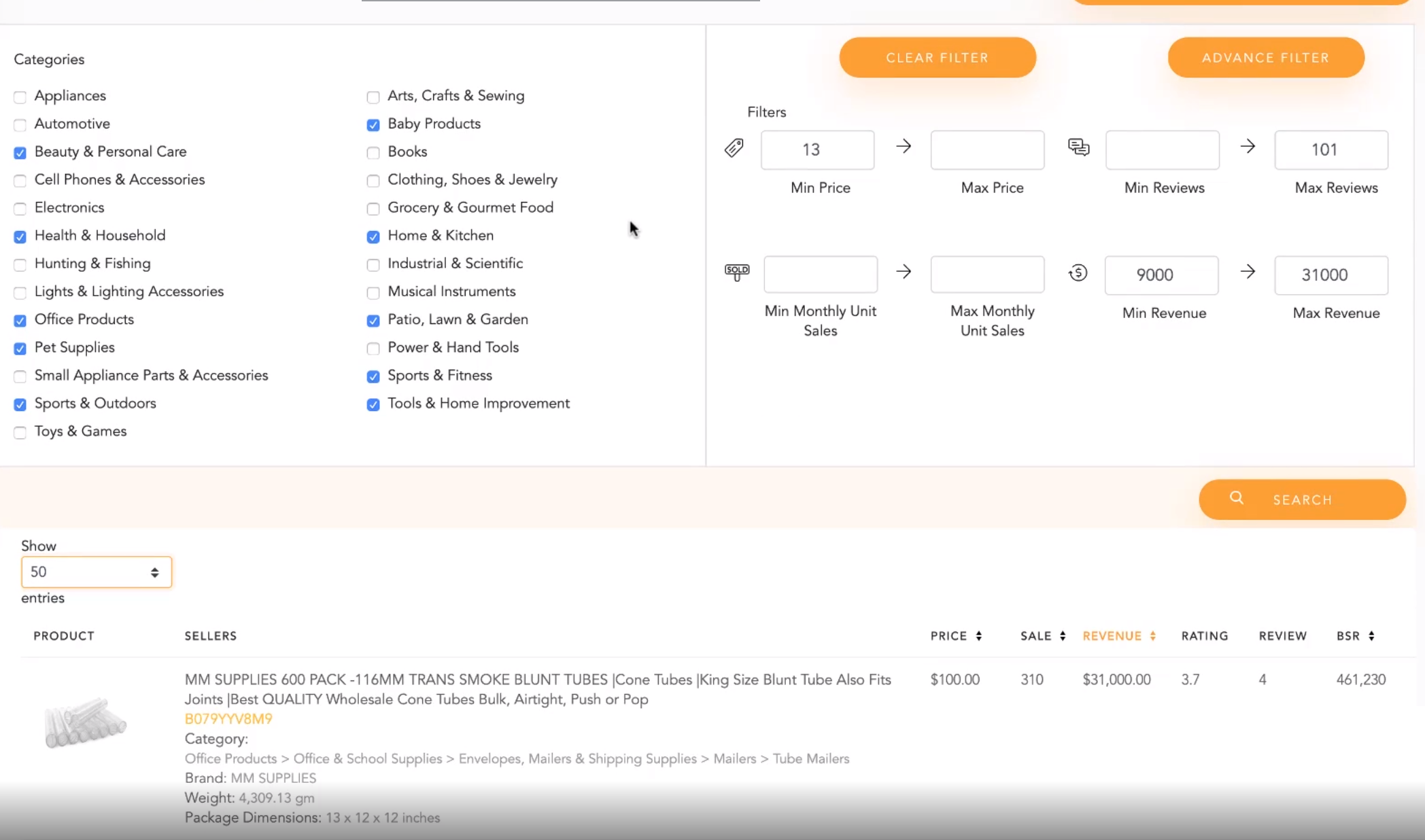 Zon Research
Zonresearch is a tool that allows you to find the bestselling products for a chosen category. With Zonresearch, you can choose a bunch of categories where you want to sell. Then you can add filters such as price, number of reviews, monthly unit sales, and monthly revenue. Zonresearch will dig deep inside Amazon's database to find the products that fall under your chosen categories and filters. With this, you'll have an idea about what products are good to sell and under which categories they belong.
Zonbase Keyword Research
With the Zonbase Keyword Research tool, you can easily see if a keyword related to your product has good potential or not. All you have to do is enter the keyword term and Zonbase will display the Smart Score for that particular keyword. A high Smart Score means that your product has a high demand, but lower competition. It will also show a seasonality indicator to give you an idea regarding when is the perfect month to sell this particular product.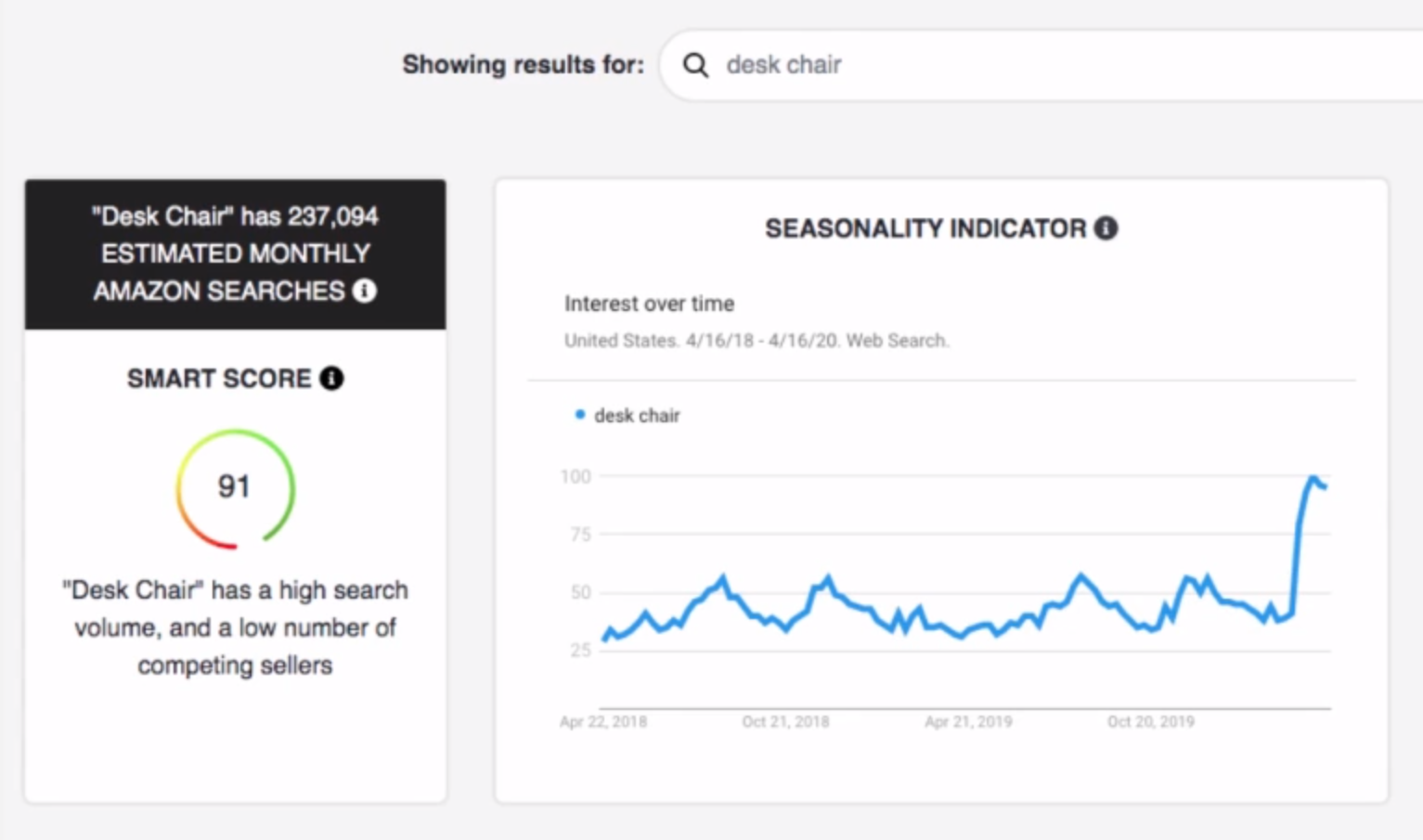 Zonresearch and Zonbase Keyword Tool are just two of the 13+ tools and services that Zonbase offers. Zonbase also has other tools and services that are strategically made to help sellers improve their store sales such as listing optimization and hot products recommendation.
As a seller, having access to a set of software tools that can help improve your store's sales and revenue is very important. Zonbase is voted as the number one most accurate, best value Amazon software tool on the market today. Having access to it will be very beneficial to any aspiring seller.
If you want to know more about Zonbase and how it can help you start building amazing Amazon stores that generate huge revenues, sign up for a free trial.