Selling products or services on Amazon is a viable way to make money online. This will remain so as long as the website continues to grow rapidly. There are two ways to earn on AMZ: be a seller or become an affiliate. Not everyone has what it takes to sell products. So, more people are trying to figure out how to become an Amazon affiliate. But without the right information, it may be difficult to dive into Amazon affiliate marketing.
Would you like to make money online? Don't have enough capital to start an Amz business? Here's your guide to earning passive income as an Amazon affiliate. Keep reading to find out how to become an Amazon affiliate.
What is Amazon Affiliate Program?
So what is Amazon Affiliate Program anyway? Also known as AMZ Associates, this program is the Amazon affiliate marketing program. If you aren't familiar with the term, affiliate marketing is the practice of promoting a company's different types of products for a commission.
In other words, you promote a brand's products or services and earn money if someone makes a purchase. This way, you will not have to create your products or services. You can earn money even if you don't sell anything through affiliate commissions. As long as you register your Amazon Affiliate Sign Up account, you can start promoting the billions of products sold on Amazon.
The Amazon Associates affiliate program is best for people who already have an established audience. For example, bloggers, website owners, content creators, etc. Through affiliate marketing, they can easily monetize their content and traffic.
How does the Amazon Affiliate Program Work?
Under this program, you promote products on AMZ's website to your audience. You do this through a unique product link given to you when you sign up for an Amazon Associate account. When prospective buyers click on the link, they are redirected to the AMZ website. If they buy the product within 24 hours, you earn a commission.
This Amazon affiliate earnings commission is a percentage of the product's price and depends on the kind of product purchased. In other words, the commission you earn varies depending on the product category.
If a buyer makes other purchases within 24 hours of clicking your link, you also earn. This is an interesting feature of the Amazon Associate affiliate program.
For instance, if you post a link to a backpack, Mr. A visits your website. If he clicks the link and adds the backpack to his cart. Then he decides to buy a paperback book and a wristwatch, you earn a commission on all three items.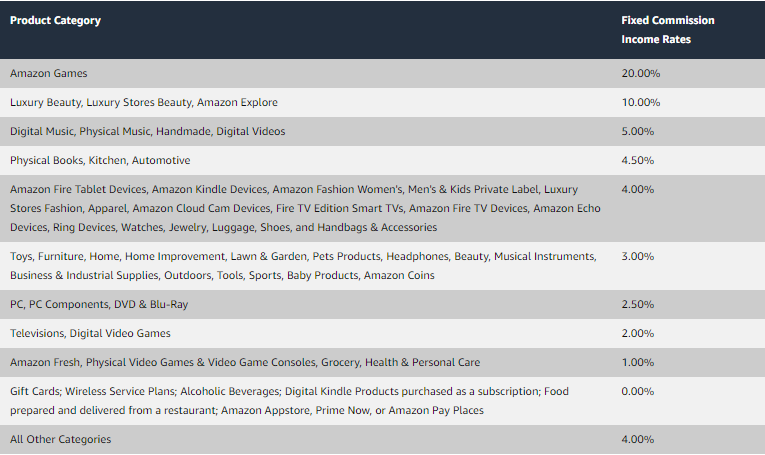 Your commission rate is not the only factor determining how much you earn as an associate. Your conversion rate is also a contributing factor. This discloses how many of your website visitors buy after clicking the link.
To calculate your conversion rate, divide the number of actual buyers by the total number of website visitors, and multiply by 100. That will be your estimated Amazon affiliate earnings.

Pros of Becoming an AMZ Associate
Now that you know how the Amazon Affiliate Marketing Program works, why should you join the platform? Here are some reasons:
Becoming an Associate is easy. All you need to do is sign up for an Amazon Associate account and fill an application in 5 minutes. You don't even have to pay a fee.
You can earn passive income without exerting a lot of time, effort, and resources.
Amz has a wide selection of products and services, affording you many options. You can choose to promote products that align with your passions and interests. For instance, mothers who have a blog can recommend baby care products or children's books.
As an Amz Associate, you can get your audience to buy a product from Amz. This is because it is a well-known and trusted brand.
The program allows for some flexibility in choosing what to promote and how to do so. You also have full control over your business and can truly be your boss. As long as you follow Amz's policies, of course.
Cons of Becoming an AMZ Associate
The commission rate for some product categories is too low to generate much profit. For instance, grocery products have a commission rate of 1%.
Amz lays down many rules and requirements in its Operating Agreement. Other program policies are also often updated. Failure to follow these requirements can lead to your account being banned.
If you don't have an existing website or an established following, here's what you'll have to do. Build one from scratch. And this can be time-consuming and exhausting.
The benefits of being an Amz Associate far outweigh the downsides. The program holds much potential to generate much income if you're willing to do the work. If you're ready to do the work, here's how to become an Amazon affiliate.
How to Become an Amazon Affiliate: Step-by-Step Guide
So now that we know the pros and cons of the program, the next question is quite obvious: How to become an Amazon affiliate? Here are the steps:
The first step is to go to https://affiliate-program.amazon.com/ and click on the yellow 'Sign Up' button. If you already have an account, you can log in with your details.
Next, fill in the required information under the provided tabs.
Account Information: Here, you will have to enter your name, address, and phone number.
Website and Mobile App List:
Under this tab, you will have to enter the website URLs or mobile applications that you intend to use. AMZ allows you to list up to 50 websites or mobile apps.
Here, you will put in your preferred Store ID. Also include information about the nature and purpose of your website content. In the drop-down menu, select the topic that best describes your website.
Next, answer the following questions
How do you drive traffic to your website and generate income from it? How do you build links? How many visitors do you get in a month?
3. Next, you will verify your identity by receiving a call from Amz and entering a 4-digit PIN. Afterward, your account will be all set up.
4. You will be given the option of entering your payment and tax information now or later.
5. Head on to your dashboard to begin creating affiliate links.
And that's it, you become an Associate. You will have to generate at least three sales within 180 days from when your account gets approved. If you don't, your account will be closed. That is how to become an Amazon affiliate.
If you don't have an amazon account already see our guide on creating a free amazon seller account.
Ways To Promote Your Amazon Affiliate Links
Now that you know how to become an Amazon affiliate, you wonder how to start making money as an associate. Making money as an associate is not a complicated process. Although you may not have to do much, earning as an associate is not automatic.
Once you have concluded the steps on how to become an Amazon affiliate, you will be assigned a link. Your earnings are dependent on how many people use your links. So you will need to promote your link.
After learning how to become an Amazon affiliate, sellers often struggle to promote their links.
Statistics show that:
About 68% of customers get their customers on social media
0.67% of Youtube videos include at least one affiliate URL
Here are a few ways to promote your affiliate links:
Blogging
This is one of the most popular methods used by affiliate marketers. You can't go wrong with promoting your links on blogs. You can decide to create a niche blog or put out diversified content.
If you run a general blog, you can focus on different products and times. A niche blog restricts you. So you can only promote products in whatever niche you decide to focus on.
There are many ways to promote your links on blogs.
Some of them include:
If you run a niche blog, choose a product in your niche and run a review on it. Buyers love to read reviews and recommendations before buying items. Be sure to include your link somewhere in the review.
Using this approach requires you to keep an eye on Amz's offers. For instance, Black Friday sales. Create content about selected products in a way that entities buyers. Include your link in the blog post, and you'll be on your way to making money.
Use the Amazon bestsellers list to discover the bestselling products on AMZ. Then run ads for these products and include your links.
Create helpful content to help buyers:
Buyers are always on the lookout for helpful tips. In other words, people are more likely to click your links if you create helpful content. If you are a tech guru, create content that helps professionals choose the right gadgets.
Use Social Media
How to become an amazon affiliate on Facebook
Everyone knows how easy it is to build an audience on social media. Promote your links by creating content or running ads on social media if you have a following. Promote your blog posts on your social media pages.
This way, you can reach more people and make more money. Be clear that the link is an affiliate link. Also, avoid spamming your page with ads. Don't always try to sell because no one wants to have you market products to them all the time.
How to become an amazon affiliate on Youtube
YouTube has an unbelievably large audience. You can put the platform to good use as a YouTuber if you include affiliate URLs in your videos. You can create tutorials, tours, and other visual content. These will help potential buyers decide to click your links.
Create an Email List
An email list is an essential tool for anyone who wants to make money online in 2023. Typical affiliate websites require people to enter their emails before accessing their products.
After getting customer emails, you can send promotional emails and helpful tips. Consider retargeting buyers who clicked on the link but didn't make a purchase.
How To Increase Your Income As An Affiliate
Boost your affiliate income with these extra tips.
Promote Similar Products:
Sellers use product bundling to make more sales. But this approach is not useful for only sellers; affiliate marketers can also use it. Consider pairing similar products together in a way that convinces buyers. Take advantage of the benefits of each product. Highlight the results that can be achieved when they are used together.
Check what other items your referrals are buying:
You can earn money as an affiliate. This is regardless of whether people purchase the item that you referred. You can view the items your traffic purchased through the Stats feature. Add the item to your product list if you haven't promoted it yet and if it fits your blog or website.
Keep an eye on your analytics:
Understand your audience. You will need to keep an eye on your data to do this. Pay attention to what your audience wants and what they are willing to pay for. This way, you can promote similar products and get more sales.

Guidelines and Requirements for the Associate Program
Being an associate is a great way to earn passively without running a business. But, you must follow AMZ's guidelines. So it is best to familiarize yourself with them before getting started. You may be banned if you do not follow the guidelines.
In most cases, the rules are in place to ensure ethical promotion. They also help ensure that associates do not take advantage of the system.
Amazon Affiliate program requirements
Keep the following rules in mind:
If you are eligible to earn from your recommendations, disclose this on your website.
Don't make false or misleading claims in your recommendations. Amazon may take legal action if you are suspected of engaging in suspicious activity.
Prices are often subject to change, so don't refer to them (with some exceptions).
Offline promotions, eBooks, and emails should not contain affiliate links for Amazon.
Do not shorten affiliate links. This is because Amazon wants its affiliates to be as transparent as possible.
You cannot have more than one account. Amazon does this to ensure that affiliates take this rule seriously. This way they can avoid being kicked off the platform.
Never copy Amazon reviews and claim them as your own.
Avoid offering incentives to make people click your links.
Do not use paid search placements. This refers to creating google ads or other search engine ads to promote your links. Social media ads are an exception.
Talking about price in your affiliate content can get you banned.
Include a privacy policy on your website.
Conclusion
If you have a blog, website, or email list, you can make money from your content through the AMZ Affiliate program. There are many affiliate programs out there, but AMZ is one of the largest and most profitable because of its brand reputation. Now that you know how to become an Amazon affiliate, earning money from commissions is possible.
Looking to further your knowledge when it comes to online selling? Don't turn down a helping hand, let us help you further your AMZ Selling knowledge below!