Some people have this common assumption that an Amazon business is a lucrative venture. But the notion that you can easily become a millionaire once you start your store may not always be true.
Several years back, when only a handful of people used to sell on the platform, this statement could be true. It was fairly easy to start and do business on AMZ back then because of the lack of competition. But nowadays, as an easy means of profitable income, is the Amazon FBA business still profitable? Let's find out in this article.
The Amazon FBA Business Dilemma
Today, issues such as oversaturated markets, high expectations of customers, rising expenses, and fulfillment costs make it harder to start an online business. Stiff competition from other eCommerce websites such as eBay can make it difficult to start, grow, and run a profitable business too.
To succeed, sellers need to have a clear understanding of what their realistic chances for success are. For that to happen, sellers need to have every step pre-planned and executed with accuracy, patience, and excellence.
Amazon delivered a record-breaking performance in 2022, with annual revenue up by 9.4% to $513.983 billion. These figures suggest that an Amazon eCommerce business can still be profitable in 2023.
And if you use the Amazon FBA model, you just need to know how to find the right market and products to target. The rest of it involves sending your products to Amazon fulfillment centers and letting AMZN handle the rest.
If you pick the right market and products to sell, you can still make a good amount of money. Starting an Amazon business is not a sprint, but a marathon. In the long run, slow and steady wins the game.
Now, you're probably asking "what percentage of Amazon sellers are successful"? According to Jungle Scout's state of the Amazon seller report for 2023, about 89% of sellers are profitable. But the real question is, how much do most Amazon sellers make? While this does not provide an exact prediction for how much you're likely to make, it can help you have an idea of what the current seller statistics are. So, here's a brief breakdown of how much most sellers make.
How Much Do Most Amazon FBA Sellers Make?
50% of Amazon sellers earn between $1000 – $25,000 in monthly sales. You can take this as the average revenue for most sellers.
Another 13% of sellers made between $25,000 – $250,000 in monthly sales.
Only about 22% of sellers made less than $500 in monthly sales
Source: Amazon Seller's Report
There are a lot of factors that influence how much money you can make from selling on Amazon, but the most important ones are your business model and the kind of product you choose.
If you want to make a significant amount of money from your business, you have to choose a business model that allows you to maximize your profit margins. You will also have to go a step further to choose a product that has high demand and low competition as this increases your chances of getting a good chunk of Amazon's revenue.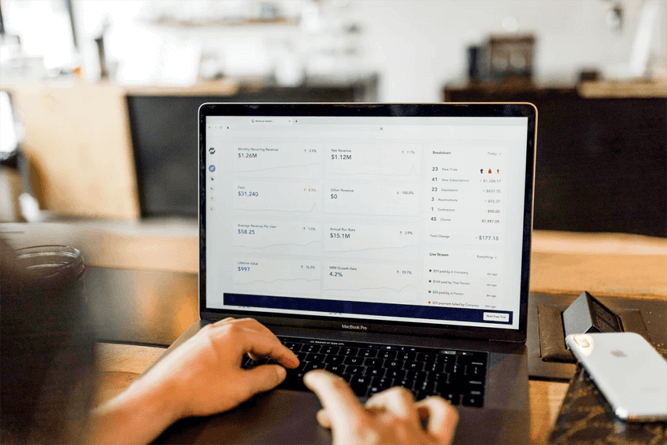 Types of Business Models
FBA is a type of fulfillment method offered by Amazon to its third-party sellers. Under this model, sellers simply employ the help of Amazon when it comes to fulfilling their customers' orders. As an FBA seller, all you need to do is choose what products to sell, buy the products, and send those products to an Amazon fulfillment center. Once a customer makes an order, AMZ will handle all the other details, such as storage, packing, shipping, customer support, and many more.
After choosing your fulfillment model, you should choose a suitable business model. Before you even start your first product listing and put up products on Amazon, you should decide what kind of seller you want to be. Below are some of the most common Amazon FBA business models employed by sellers:
Retail Arbitrage
In layman's terms, retail arbitrage is known as "reselling." It involves buying products at a hefty, discounted price and reselling them for a reasonable profit margin. Aspiring retail arbitrage sellers need to be resourceful in finding heavily discounted products from local online stores. If you are not good at finding deals in places such as Walmart and eBay, it can be hard to make a profit.
Wholesale
Wholesalers buy a lot of products in bulk and resell them for a larger share of profits. Because wholesale resellers directly deal with manufacturers, they can make certain arrangements to lower the prices for bulk orders. Compared to retail arbitrage, wholesale selling can net you more profits in the long run. However, you also need more capital since you will be buying thousands of items at once.
Private Label
This is one of the hardest yet most profitable ways of building an Amazon business. In private labeling, sellers contact manufacturers to create generic products for them. Once an agreement is made, the manufacturers will create the products for you. They will also add your own brand and logo to the products.
Selling private label products is not as complex as it sounds, although it does involve a lot of work. Here's how it works: A private-label seller looks for a bag manufacturer. The seller will order a thousand bags and ask the manufacturer to add the logo and brand name to each bag.
Once finished, the seller will then sell these generic bags under their brand. Customers will now associate these products with your logo, name, and branding. If you want to build your own brand on Amazon without having to worry about setting up your own site and building an audience, you should consider selling private-label products on Amazon.

Dropshipping
If you want to sell a lot of goods but don't want to keep your own inventory, dropshipping is the best option for you. In dropshipping, sellers forward their customers' orders directly to their manufacturers. When a customer orders a product, the seller forwards the order information to the manufacturer. The manufacturer accepts the order and ships the product straight to the customer.
However, the manufacturer will send the product under the seller's name so as not to confuse the buyer. By doing so, the seller can put a profit on top of the product and still make a sale without having a physical inventory. Most drop shippers import products from manufacturers abroad. You can find these manufacturers on websites such as Aliexpress.
How To Make The Most Of Your Amazon FBA Business?
Because of the huge influx of third-party sellers, Amazon is a highly competitive marketplace, and Amazon FBA is not always an easy option. Because Amazon FBA businesses are easy to start, this means you have a lot of competition to worry about.
This single factor should not affect your decision if you want to start an Amazon FBA Business though. You just have to be fiercely competitive and learn how to optimize your store. Also, ensure you constantly assess your business performance to make a nice profit. That's how you make your investments work.
Choose A Suitable Amazon Seller Account
There are two types of seller accounts and you could lose some money if you choose the wrong one. There's the individual seller account that is best suited for entrepreneurs who intend to sell less than 40 items monthly. In contrast, sellers who intend to sell more than 40 items monthly should go for the professional seller account.
The individual account costs $0.99 per sale while the professional account costs a fixed rate fee of about $39.99 monthly. If your plan is to run your business as a side hustle, you should consider going for the individual seller plan.
Do your research to find a profitable product
Your Amazon business is only as profitable as the product you sell. So, you need to search for winning products that have proven demand. See what products are selling best and can generate sales easily. Check out the best profit margins that you can make from these products. Look for a profitable product category, then select the best products in that category.
Consider the cost of the product and the fees that you need to pay to Amazon. Netting a respectable amount of profit margin is the key to your long-term profitability. However, you can start with a few products and expand your product line as you go along.
Amazon software like ZonBase can help you find product ideas. With Zonbase, you can access information about the hottest products on Amazon. You can also access other statistics such as cost calculators, competitor sales revenue, and many more. Of course, there is a fee involved in using this service. But considering the features that you can get in return, third-party seller tools such as Zonbase are great investments.
Here's how to use the ZonResearch tool to find the best-selling products in any product category.
Open the ZonResearch tool from your ZonBase dashboard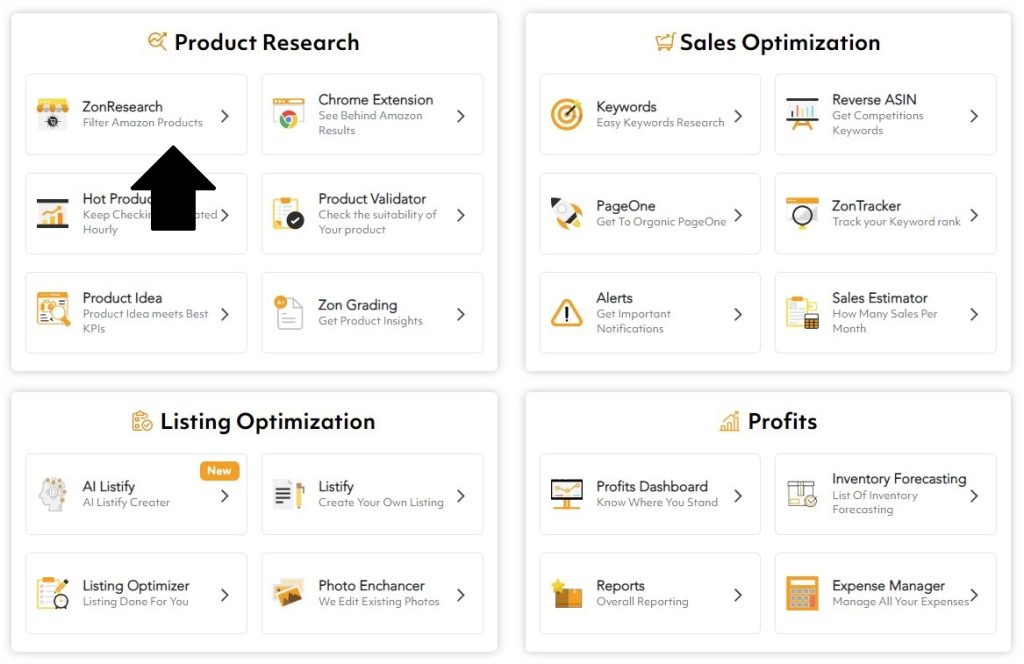 Choose your marketplace, select your preferred product categories, and set the filters based on your specifications.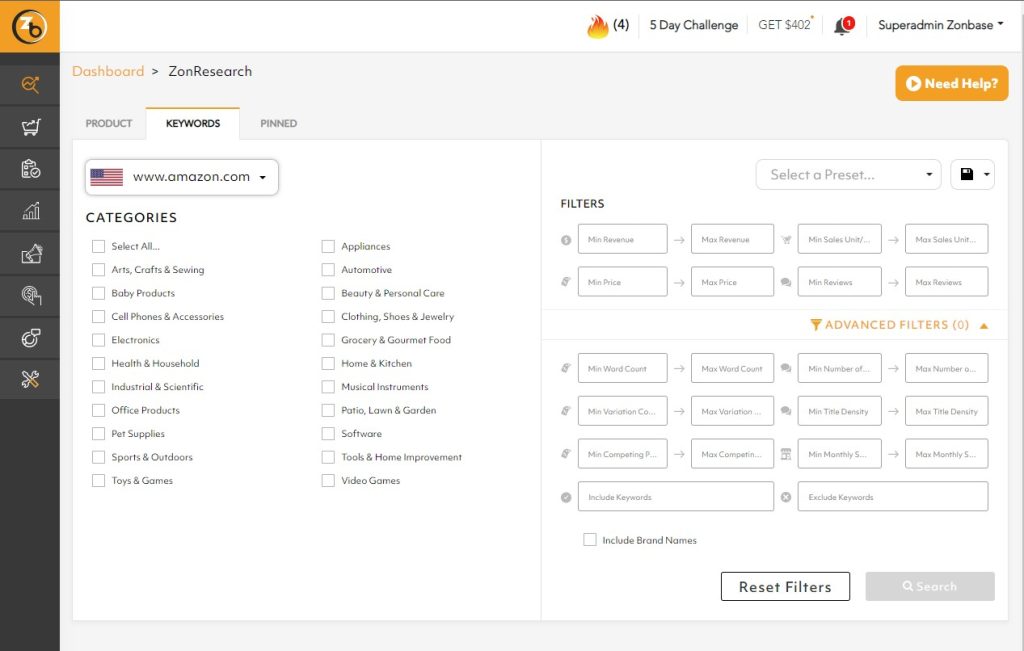 Click the "Search" button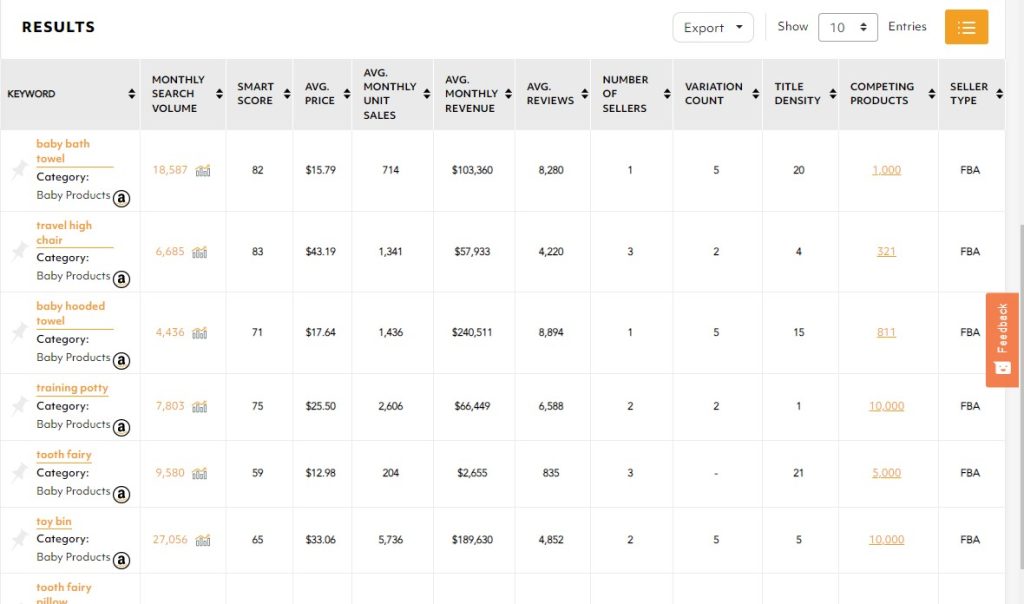 Once you click the search button, ZonResearch delves into Amazon's product catalog to bring you the best product options based on your specifications.
Not sure of the profitability of the options you got? Validate them with the Zon chrome extension. The ZonBase Chrome extension is a web app that allows you to run customized searches and validate your product ideas. Using this tool, you can sift through AM
Build your brand
Building your own brand is a way of figuring out what exactly your target audiences want. It requires your marketing decisions to be clear, smart, and always on target. You need to be customer-centric when you become a brand. From the initial stages of product listing to picture selection and product descriptions, you need to always have your customers in mind.
Do market research for your niche to determine the characteristics of your target market. Make deep connections with brand influencers and make your brand a representative of the group you are targeting. Over the years, Amazon has favored brand resellers over wholesalers.
They want a wholesome and customer-centric environment for their buyers, which is why they favor brands. AMZ even provides amenities such as the Amazon Brand Registry to help protect your brand and customers.
Get the Prime Badge
When you are buying on Amazon, you might notice some of the little badges above the product picture. Sometimes, these badges come with the words 'Amazon's Choice' or 'Best Seller' on them.
If you are a vendor, you need to focus on getting these badges on your product listings. These badges are instant visibility boosters and can increase your conversion rates. They provide a huge boost towards customer retention and attraction. Having a badge can be the difference between making a sale and losing one. Make it a priority to get these badges whenever you can.
Win the Buy Box
In AMZ, the same product can be sold by several sellers. To become a top seller, you should be the one that most customers click on and buy the products from. The Buy Box feature is where all of that competition happens.
You can see the Buy Box on the product detail page where you can add items to your shipping cart. When you are a seller who wins the Buy Box, your product gets added to the buyer's cart. This means that you can make a sale even without the customer landing on your listing page.
Not all of the vendors are eligible to win the Buy Box, though. And according to the way Amazon's algorithms function, winning the Buy Box requires a lot of factors and indicators. Try to provide customer service and attend to customer concerns promptly. This will increase your chances of getting quality reviews. Also, dedicate ample time to optimizing your listings as this can help to increase your conversion rates. This will help increase your chances of winning the buy box and edging out your competition.

Join Amazon Marketing Services (AMS)
This is the most important part of product selling and marketing your product. Through AMA, sellers can get their products in front of their buyers based on keywords, product search, and customer satisfaction.
There are a wide variety of marketing options, including sponsored brands, products, and displays. Although, in our opinion, the best way of advertising on AMZ for a new seller is through the Amazon sponsored ads
Don't make Amazon your competitor
Aside from being the largest online marketplace, Amazon itself owns some of the most popular selling brands like "Amazon Basics" and "Amazon Fresh". If you want to succeed in this platform, never compete with AMZ itself.
AMZ has the power of data collection and customer demand analysis at its fingertip. It can create any product and create volume sales to exploit the market. There's always a risk that they will push back the product you are selling and promote their listing. It's just an accepted fact that you can't compete with AMZ. When it comes to the economics of scale, product marketing, and product delivery, the house always wins.
Prioritize Customer Experience
Gaining visibility on Amazon is not so easy, so the best way to make sales is to ensure your customers come back. To do this, you should prioritize customer experience and ensure you provide the best service possible.
Excellent customer service increases your chances of getting great product reviews and making more sales. So, there's really no way to get the best out of your Amazon eCommerce business without providing great customer service and getting great product reviews.
FAQs
How long does it take to make money on Amazon FBA?
Success on Amazon is not predictable, it depends on how much capital, knowledge, and time you have when starting. If you acquire the basic knowledge required to grow your business and you make use of seller tools for product research, keyword research, listing optimization, and even advertising, you will be on a good path to making sales.
What is the best product to sell on Amazon?
There are several profitable product options to choose from, you only have to do your research before settling for one. You can use software like ZonBase, to uncover new product suggestions or validate your product ideas when you're stuck.
Related: Easiest Way to Find What to Sell on Amazon
Is Amazon too competitive?
Yes, the marketplace is competitive but with the right strategies you can definitely outrank your competitors. More people are joining the marketplace every year, which begs the question "Is Amazon FBA still worth it"? The answer to that is YES. That's why product research is important – it's the only way to increase your chances of standing out. Always choose products with high demand and low competition to increase your chances of sales.
Final Word: Can You Start an Amazon FBA Business and Be Profitable in 2023?
Most new sellers that enter the market replicate the exact methods and that 99.99% of other sellers do. Because of this, they end up getting fewer profits in a saturated market.
The fact that Amazon owns half of the US e-commerce market should be a game-changer for you. Over 3,700 people join the marketplace everyday. This should be enough to make you understand that you can start an Amazon FBA business and still be profitable. Yes, it is tough, but what business isn't? It's always possible to make your business succeed if you start today.
To edge your competition, you need an effective marketing strategy that the majority of sellers don't even know about. When you find a viable product idea, remember to factor in FBA fees when choosing your business model and fixing your product prices. And using powerful software to help you finish tasks such as product research and listing optimization can be a game-changer.
We at ZonBase can help make the task of selling smooth and easy. ZonBase is the perfect software suite for beginners who would love to build profitable Amazon businesses. With over 20+ tools and services, the Zonbase software suite is the hidden ace that you need in your hand. It provides effective tools for product research, keyword research, listing optimization, and inventory management, as well as a host of personalized services for your business.