Today, every eCommerce platform has to face direct competition with Amazon. With the growth of eCommerce, there has been an increase in the number of Amazon competitors.
Although Amazon is the largest player in the game, we cannot overlook its competitors.
In 2017, 34% of the US online market share was controlled by Amz alone. This figure is expected to rise to 50% by the end of 2021. The company makes its money from many sources and has achieved massive success in running its chain of businesses.
Still, giants like Netflix, Microsoft Azure, and Google Cloud are. These firms are the best in their respective fields and compete well with Amz. Before selling on AMZ, it is best to run an Amazon competitor analysis. This will help you weigh your options before settling for an online marketplace.
In this guide, we will learn about the top 7 Amazon competitors. These firms have built successful businesses despite being in the same industry. If you are looking to start an online business, you should read this to the end. Here's our list of the top 7 competitors to Amazon.
Related: Which Ecommerce Platform Is Best For Small Business?
Top 7 Amazon Competitors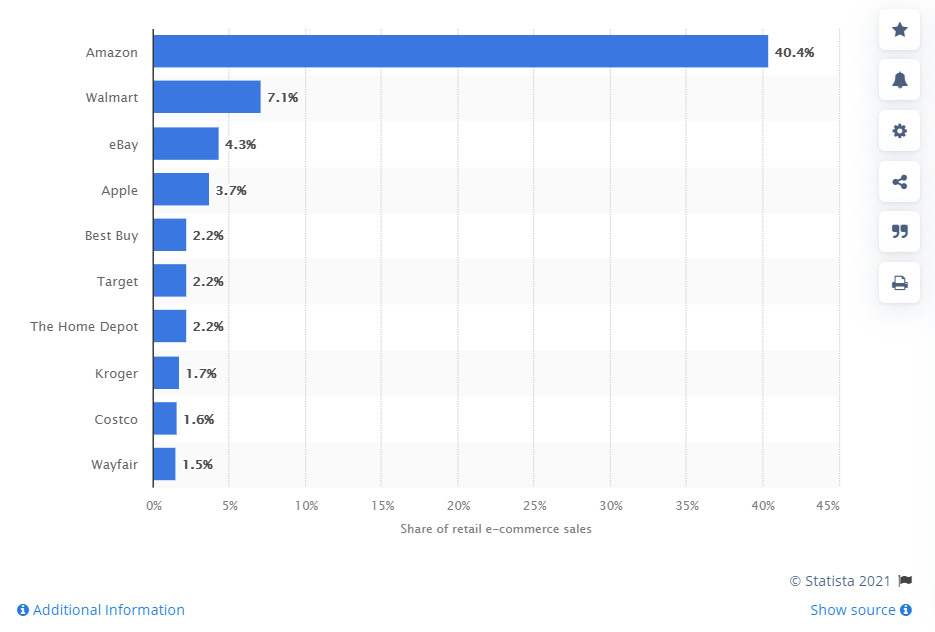 Amazon is the most popular online ecommerce platform. But, there is no industry without competition. These seven companies are the reason it is not in full control of the eCommerce market yet.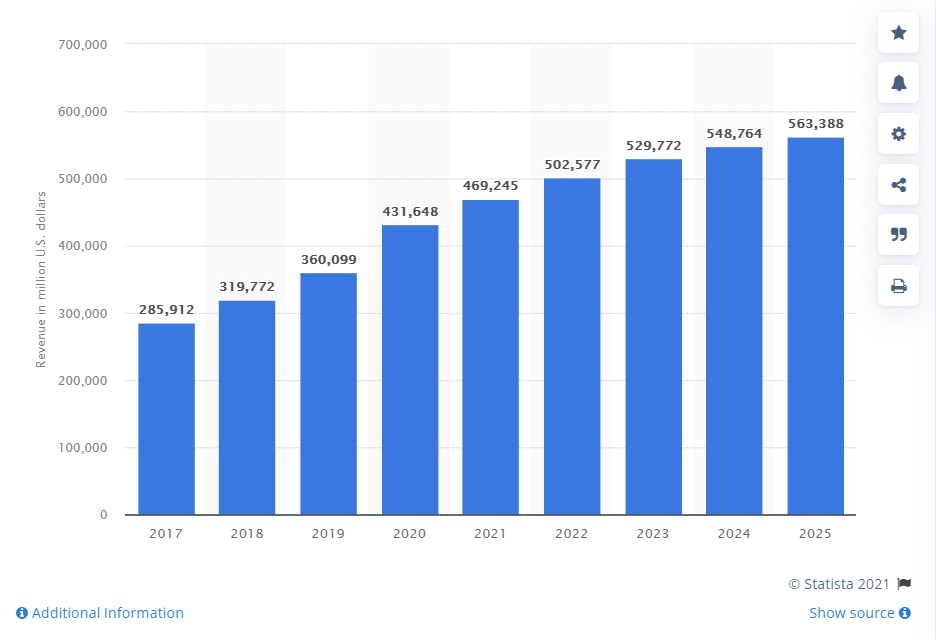 ECommerce is growing at an exponential rate. It is almost impossible to come up with an accurate estimation of how many online stores are there in the world. Assumptions and rough calculations show about 12-24 million eCommerce stores as of 2021.
The stores are racing to become the best online retailer by putting forth the best performance. The majority of them aim for Amazon's position. To retain its position as the most popular online retailer, Amz must maintain its outstanding performance.
These smaller stores may not pose a threat to Amazon individually, but collectively, they can bring the online giant down.
Amz sells almost everything you can think of. Nevertheless, some customers prefer to shop from stores focused on a specific niche. For instance, there are specific products like beard oils and cosmetics that customers prefer to buy from the company outlets. This category of customers will rather shop from ecommerce competitors (niche stores).
Here's a list of Amazon competitors to take note of:
Rakuten
Rakuten is a Japanese eCommerce company that operates based on eCommerce financial technology. The company's net revenue was 1.46 trillion Japanese Yen in the Financial Year 2020. It has about 10% of the total eCommerce retail share in Japan.
Rakuten has acquired other eCommerce companies like Buy.com, Priceminister, and Play.com. The firm is growing its marketing share. They've done this by venturing into the acquisition of other small-scale eCommerce companies. Hence, it is possible for it to catch up with Amz soon.

How Does Rakuten Work?

Rakuten receives a commission from stores for sending you their way. In other words, the firm gets a commission from stores when you make a buy. And instead of keeping it, they share it with you. This is more like a strategy because it creates a win-win situation for both parties.
Alibaba
It is impossible to run an Amazon competitor analysis without talking about Alibaba. Alibaba is a wholesale eCommerce giant from China. The firm boasts of a customer network spread almost everywhere in the world. Alibaba differs from Amz due to its business model.
Alibaba is split into three different businesses: Alibaba, Taobao, and Tmall. Alibaba is the largest of the three – A B2B online marketplace that is used by 755 million sellers worldwide. The other two are B2C platforms.
They are set up to help sellers buy their products in bulk from manufacturers.
Alibaba accounts for 58% of all online retail sales in China. In 2018, Alibaba sold $30.8 billion in products on "Singles Day," the Chinese version of Black Friday.
As a market leader in China, Alibaba has a strong international presence. Its B2B focus besides its B2C offerings also makes it one of the most popular eCommerce stores. Furthermore, any website that can rake in $30 billion in sales is definitely a threat to Amazon.
Walmart
Another big name on the list is Walmart. It is one of the biggest amazon e-commerce competitors based on its online presence and operation. In 2020, the company generated $514 billion in net revenue. Also, it has more than 11000 stores in 27 countries. This is one of Walmart's competitive advantages over Amazon.
Walmart's online stores are also behind Amz in the USA. Its customer base and international presence can pose a major threat to Amz. The firm's online sales have grown by over 40% every year. At this rate, you can expect this giant to steal even more customers from Amz in no time. Since covid has came around they have also benefited from their curbside pickup with their click and collect service for online shopping.
Flipkart
Flipkart is an India-based online retail giant. The firm is easily the largest online retail store in India.
Although it may not be so popular, the firm has grown its online presence in the last few years. As a result of Walmart's acquisition of 77% of Flipkart, the company's value soared to $22 billion.
Flipkart is one of the amazon e-commerce competitors in India and abroad. The online store boasts over 100 million registered customers.
It has a vast product niche ranging from electronics, fashion, household, etc. The store is one of the best places to shop online. This is due to its intuitive design, smooth mobile app, and easy return and replacement policy.
eBay
eBay is one of the most popular marketplaces for people to buy and sell used or brand-new goods. Over time, eBay has grown into a great place for customers to conduct B2C and C2C transactions.
Its auction style makes it a top choice for buyers, especially those who want to shop on a budget. Amazon does not allow buyers to bid for products, so this may be eBay's strategy for sales.
eBay's site traffic is almost double the site traffic of Walmart. By combining this with the huge variety of products it offers, eBay can compete with Amz.
NewEgg
Newegg is another powerful niche online marketplace. The firm deals with electronic products. Their products include laptops, TVs, mobile phones, computers, and cameras. It provides products at affordable rates for the customers.
Newegg poses a significant threat to Amz. This is due to its status as the most successful electronic product retailer.
JD
JD, also known as Jingdong is a china-based online store. The store competes with Alibaba's third business line – Tmall.
JD.com offers a wide selection of products at a low price. A second reason why it competes with Alibaba is that it has a "buy in bulk" section. This company focuses on B2C within China, Alibaba is to B2B businesses in the same region.
The firm currently holds 7th place on the list of the world's top eCommerce stores. Its net revenue was $28 billion in 2019. Based on market analysis, Amazon comes first, followed by Alibaba and JD in China. Hence, JD is not so far from Amazon, and the firm may close anytime soon.
Many online stores have made their mark. But these seven are the ones that are most likely to give Amz tough competition.
Tips To Help You Become One Of Amazon Competitors
Big stores like eBay, Walmart, and Alibaba are not the only ecommerce companies. Achieving success as an eCommerce store is not impossible. All you have to do is to follow certain principles for business success.
The best way to succeed in this saturated industry is to learn from those already in it.
If you want to become the next Amazon competitor, read to the end. Below are 10 quick tips to help you run a successful eCommerce business.
Avoid selling the exact same products that Amazon sells under its brand name:
To do this, you will have to create a unique strategy to attract your target audience. Successful businesses use their unique selling point as a guarantee for sales. Branding is the main reason why people pay more for a given product. Customers loyal to a brand won't go elsewhere, no matter how high the price is. So, the aim is to attract loyal customers who will stick to your brand.
Starbucks, Gucci, Adidas, and Louis Vuitton are some of the biggest brands in the world. This is a result of their distinct branding. Products sold on Amazon usually do not carry any major branding. As a result, you have a chance to stand out by creating your brand in the market.
Maintain customer loyalty by providing enticing discounts and incentives when necessary:
Consider offering discounts during holidays and weekends. Also, come up with exclusive deals and subscription-based programs. These could be part of a customer retention plan.
Your best bet at making sales is to ensure your customers come back. Compared to new customers, repeat customers spend more money and bring more conversions.
B2B eCommerce stores must invest in SEO. On-page SEO for your website has several components to help you to rank high in search engine results. This, in turn, helps you to reach a larger audience.
Some of the most important SEO components are:
Check out what keywords your competitors are ranking for, and if your product features are alike, you can certainly use similar keywords. If you ace your SEO game, you can increase your chances of gaining visibility. More visibility results in more customers and monthly sales for your brand.
Sending out emails is a great way to communicate with your customers and grow your business.
There are various ways to start email marketing. The first step to getting started is collecting as many email addresses as you can. On the way to checkout, ask for the customers' email addresses. This way, they can receive order confirmation and product updates.
Don't ask the customers to opt-in or provide card details for payment in this process. You can also give incentives to those customers who join. Offer customers a specific percentage discount or free cheat sheet as an incentive.
Make your website responsive:
To compete with Amazon, you must consider this point. This is because Amz offers a user-friendly website experience that is unmatched. Your website's loading speed, and ease of navigation will make it more user-friendly.
Also, use attractive designs to draw customers' attention. Additionally, a website's homepage is the most important. It only takes a customer a few seconds to decide whether to stay in or leave a website page. If your customers have a bad website experience, they will never return.
Maintain your price margins:
Low prices are good, but what's the point if you have to give up your profit margin? Amz can reduce its sales and still take advantage of bulk purchases. But small online sellers can't deal with the volume it deals with.
So, it is always advisable not to sacrifice your profit margin in the name of competition.
Create a conversion funnel:
It is good to use a funnel to boost sales. Creating a funnel is guiding a visitor to pay for your product. Help your customers through each step of the process and guide them to the checkout.
If your funnel is not functional at the moment, you can improve on it. All you have to do is to find where you're losing customers. Reduce the process so it can be done in a few clicks. Adding each step to the checkout process gives the customer a chance to change their mind.
Use an easy return policy:
Provide customers with a return policy that is easy and convenient. There is always a risk of not liking the product when you first see it or use it. So, make room for customers to return products that do not meet their expectations. Over 60% of customers check out the return policy while buying any product.
If customers are unhappy, they won't return to you in the future. Make the return policy efficient by not charging them for return fees. Make it quick and return their money within a few working days. If your return policies are easier, people will shop with you.
If you want to compete with Amz, you must be ready to provide prompt deliveries. Amz Prime members expect to receive their orders within two working days. You can use this as a benchmark. So if you plan to become the next Amazon competitor, your shipping time must be faster than Amz's.

Conclusion
Over the years, Amz has vastly improved the way online sales are done. Other online sellers will have to put a lot of effort into keeping up with it.
The platform has earned its fame and is way ahead of other online stores. Still, the online giant can still be taken down.
Entrepreneurs can reach Amz's level of success. The key is to optimize the process and make changes where necessary. If you put these tips to good use, you can certainly become one of the top competitor to amazon.
In the meantime, if you decide to sell on Amazon, consider investing in AMZ software to beat your competitors and increase your monthly sales. ZonBase is the best AMZ software for your business. It is an effective seller tool that offers 14 tools for business automation. These tools range from product research and keyword research tools to listing optimization tools.
With its product search and keyword search tools, you can find profitable products and high-converting keywords. It also offers a listing optimization tool to create well-optimized listings from scratch using competitor analysis. In other words, you can spy on your competitor's listings, see what keywords your competitors are ranking for, and implement them in your listings. In addition to this, ZB offers profits and sales estimator tools to help you track monthly sales and see previous monthly sales trends for potential product options.
The key to success on AMZ is to find a profitable product, generate relevant keywords and create a well-optimized product listing using software.