You've decided to sell on Amazon? Great! There's no better time to sell on Amazon than now. Even if you cannot afford to make a huge capital investment, you can opt for cost-effective Amazon business models like Retail Arbitrage.
Retail arbitrage allows you to source products in bits from physical and online retail stores. However, before now, aspiring Amazon sellers often avoid the retail arbitrage model because of how exhausting it was to confirm a product's profitability as an arbitrage seller.
Thankfully, this is no longer a challenge. With Amazon seller scanning apps, arbitrage sellers and other Amazon sellers can now scan product barcodes to ascertain demand and sales potential before making product choices.
So if you intend to sell on Amazon on a budget, an Amazon scan app is a must-have because you cannot risk losing your meager startup capital because of a wrong product choice.
Keep reading to learn all about Amazon seller scanning apps, why you should use them, and our recommendations of some of the best Amazon scan apps for 2023.
Related: Top-selling items on Amazon
What is an Amazon Scan App?
An Amazon scan app, also known as an Amazon seller scanner app is a simple product research tool that allows retail arbitrage sellers to scan product barcodes and access important product information.
Using this tool, sellers can view key product data and sales metrics like sales rank, price, profit margin, etc.
Benefits of Using an Amazon Seller Scanner App
Considering the amount of crucial data that an Amazon scan app avails you, an investment in one would definitely be a smart move as that would set you miles ahead of your competitors and increase your chances of success in the ultra-competitive marketplace.
While this is an obvious benefit, it is not the only reason why you should use an Amazon scan app. Here are some other benefits of using an Amazon seller scanner app.
Make quick product decisions
An Amazon scan app is the easiest way to find what to sell on Amazon as an arbitrage seller. It provides all the important data you need to decide whether a product is profitable or not. Using this tool, you can weigh your options before deciding to invest in sourcing and selling any product.
Confirm seller fees and costs
There are fees involved in selling on Amazon and the majority of them depend on the size and dimensions of your products. Most Amazon seller scanner apps come with an FBA calculator feature that allows you to calculate the costs and FBA fees involved in selling a product before you even source it.
Obtain an accurate estimate of your profit margin
Most Amazon scanner apps allow you to enter your product costs, shipping costs, and other important costs, to obtain an accurate estimate of your profit margin and decide if the product is worth selling.
Create listings directly from the app
Some seller scanner apps allow you to create product listings directly from the app once you find a product you're interested in selling.
Top 6 Amazon Scan Apps to Use in 2023
ZonScanner
ZonScanner, also known as ZonBase retail arbitrage mobile app, is one of ZonBase's latest additions.
It is another great tool for retail arbitrage sellers who want to streamline their product research operations. This mobile app offers a range of unique features that simplify product scanning, provide real-time data insights, and enhance profitability analysis.
How it works
ZonScanner's robust algorithm instantly fetches real-time data from Amazon's vast product catalog, providing a comprehensive overview of each item.
Provides real-time insights and data-driven analytics. Upon scanning a product, sellers gain access to vital information such as the product's title, category, sales rank, and pricing. The app goes beyond the basics, offering historical sales rank data that helps sellers assess a product's performance over time. Armed with this knowledge, sellers can make informed decisions about sourcing, pricing, and inventory management, maximizing their chances of success.
ZonScanner comes with a built-in profit calculator that takes into account various factors, including Amazon fees, shipping costs, and seller-specific expenses, to provide accurate net profit estimations.
Unique Features
User-Friendly Interface
Barcode scanning feature
Profit calculator
Compatibility
ZonScanner is compatible with iOS and Android devices and is available for download on the App Store and Google Play.
Amazon Seller App
The Amazon Seller App is the most easily accessible Amazon Seller scanner app. As you can already tell from the name of this tool, it is Amazon's mobile app.
Like all the other apps on this list, this tool allows you to scan products and view important data before making a product choice.
How it works
Provides crucial product details like BSR, current selling price, estimated profit, and product condition.
Direct listing creation option
Quickly scans product barcodes to uncover information
Unique Features
Easy-to-use camera scanning feature
Listing creation feature
FBA calculator for estimating profit margins excluding hidden fees
Compatibility
The Amazon Seller app is compatible with iOS and Android.

Keepa
Keepa is one of the most popular Amazon price-tracking tools. Although the software only previously existed as a Chrome web extension, it now exists as a mobile app. The tool allows sellers to search for product options and access important product data while at it.
How it works
Generates clear and easy-to-understand price history charts
Generates clear sales history charts
Displays various information, including new offers, product ratings, the number of reviews, and whether Amazon is listed on the listing.
View past data going back to when the product first hit the market.
Unique Features
Barcode scanner for discovering profitable products
Can uncover great deals on Amazon
Compatibility
The app is compatible with both iOS and Android devices.
Scoutify
Scoutify also allows you to scan product barcodes using your device's camera. It then displays the product's selling price, estimated profit margin, ranking position, and other important details that you will require to make a great product choice.
However, these are basic features and you will need to sign up for the paid version of this tool to unlock more advanced features including quicker product scanning and more precise estimates of your profit margin.
How it works
Basic scanning feature
Uncovers key product metrics — estimated profit, selling price, ranking, etc.
Unique Features
Can be integrated with price-tracking tools
Shows new and used offers
You can compare prices from Google and eBay
Compatibility
Scoutify is compatible with iOs and Android devices.
Scoutly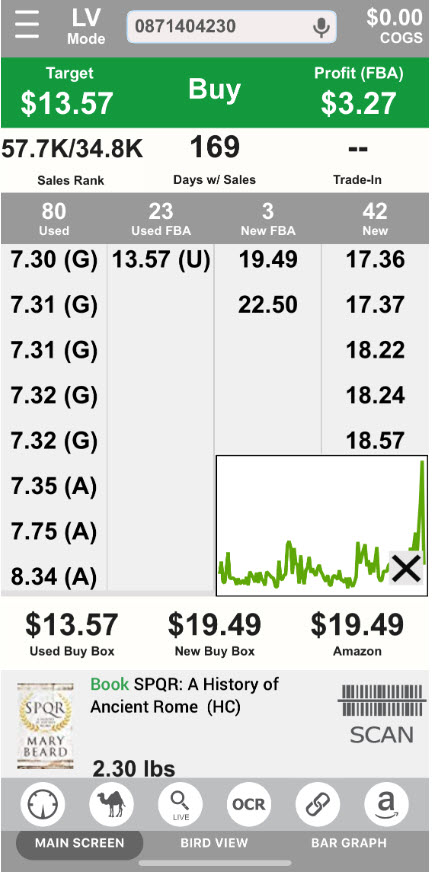 Scoutly, formerly known as FBA Scan is a seller scanner app that is specifically designed to help sellers discover the best products to sell.
Sellers can scan the barcode of any potential product option and view important data like sales history, current price, number of sellers, etc.
The app's robust algorithm analyzes the gathered data to identify potentially lucrative products, enabling sellers to make informed sourcing decisions while on the go.
With Scoutly, users can streamline their retail arbitrage efforts, save time, and maximize their chances of success in the competitive Amazon marketplace.
How it works
Quickly scans product barcodes and finds the exact product matches
Provides accurate product and sales data – sales history, BSR, monthly estimated sales, and monthly estimated revenue
Displays important product details including size and weight
Calculates an estimate of the FBA fees and profit margin
Unique Features
Accurate profit margin estimations
Easy-to-use FBA calculator integrated into the tool
Compatibility
Scoutly is compatible with both iOS and Android mobile devices.
Profit Bandit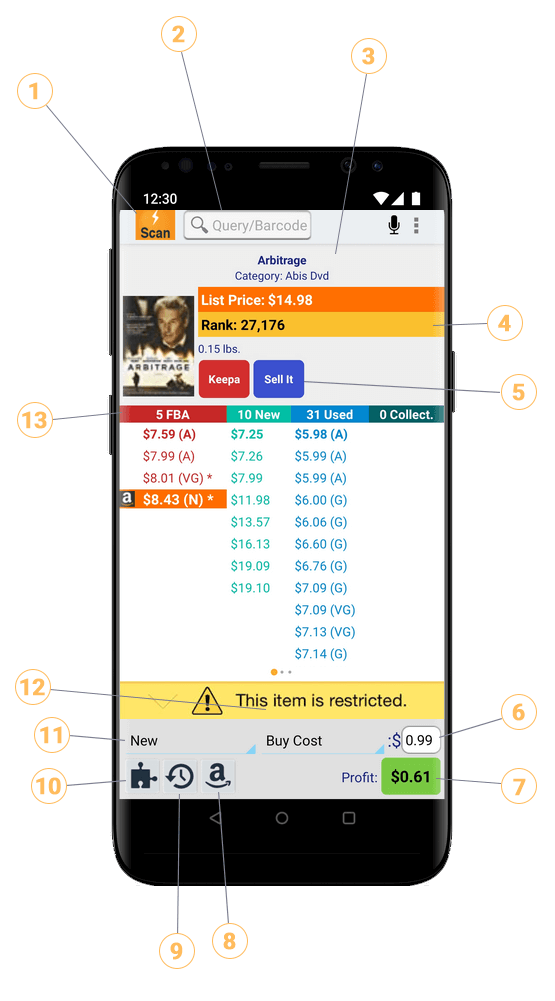 Profit Bandit is another popular mobile app designed for arbitrage sellers and Amazon sellers in general. Like other Amazon scan apps, it offers features that help sellers quickly evaluate product profitability by scanning barcodes and accessing real-time data from Amazon's product catalog.
The app retrieves key information such as the product's title, category, rank, pricing, and historical sales data. This data allows sellers to assess the potential profitability of a product and make informed decisions about whether to source and sell it on Amazon.
How it works
Sellers can use their device's camera or a Bluetooth barcode scanner to scan product barcodes.
Provides estimated net profit for any product
Evaluates the financial viability of any product
Unique Features
It also features a profit calculator that factors in various fees, shipping costs, and seller expenses to estimate the net profit.
Integration with third-party scouting apps
Compatibility
It is compatible with iOS and Android devices.
FAQs about Amazon Seller Scanner Apps
Can I Use an Amazon Scan App if I don't sell on Amazon?
Although most Amazon scan apps only work for Amazon, there are some others that are compatible with multiple marketplaces.
When is the Best Time to Use an Amazon Scan App?
You can use an Amazon scan app at any time of the year, but it particularly comes in handy during sales periods like Black Friday, Prime Day, and Christmas sales.
Conclusion
Amazon scan apps are a great way to quickly evaluate product profitability, access real-time data, and make informed sourcing decisions. Whether you're a seasoned seller or a newbie, investing in an Amazon scan app can significantly enhance your profitability and give you the competitive edge needed to win in Amazon's ultra-competitive marketplace.