Finding a profitable product and creating well-optimized listings is not the be-all and end-all of starting an Amazon business. When you decide to sell on Amazon, you'll have to choose a fulfillment option.
If you're not up for the stress of picking, packing, and shipping orders yourself, using Amazon FBA will be your best bet. But here's the part you probably don't know about — Amazon has a ton of prepping and shipping requirements and as your business grows, you may find it difficult to keep up with these requirements. At some point, you may have to outsource to an Amazon FBA Prep center.
In this post, we'll tell you everything about FBA prep centers — why you should use them, and factors to consider when choosing one.
What is an Amazon FBA Prep Center?
An Amazon FBA Prep Center, also known as a Fulfillment by Amazon Prep Center, is a service provider that assists Amazon sellers in preparing their inventory for fulfillment through the FBA program.
So if you do get to a point where you're unable to keep up with Amazon's packaging, prepping, and shipping requirements, you can simply outsource these tasks to an FBA Prep center.
Preparing and shipping your inventory to an FBA fulfillment center involves a lot of work. You'll have to create an FBA shipment and label it with an FNSKU barcode according to Amazon's guidelines. By outsourcing the prep work to a prep center, you can save time, reduce stress, and focus on other aspects of your business.
Amazon FBA Prep centers typically provide the following services — product inspection, labeling, poly-bagging, bundling, and repackaging.
They ensure that the products are accurately labeled with Amazon's barcodes, packaged securely to prevent damage during transit, and compliant with Amazon's packaging guidelines.
Here's more detailed information about the services that FBA prep centers offer.
What Services Do FBA Prep Centers Offer?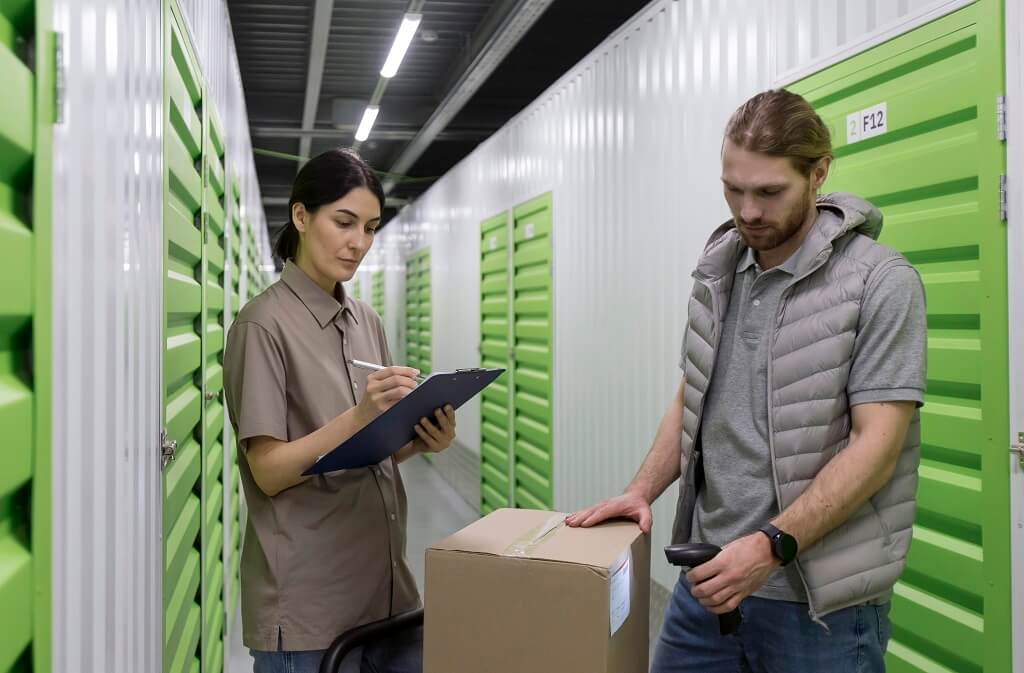 Any FBA Prep center you decide to outsource your product prepping and packaging to will primarily be responsible for wrapping your goods with the correct packaging materials. But beyond that, prep centers handle a variety of tasks. Some of them include:
Product Inspection: FBA prep centers conduct thorough inspections of your inventory to ensure that products meet Amazon's quality standards. They check for any damages, defects, or discrepancies, helping you maintain a reputation for delivering high-quality products to customers.
FNSKU Labeling: Amazon requires products to have proper labeling and barcodes for easy tracking. Prep centers handle this task efficiently, ensuring that each item is correctly labeled with an FNSKU (Fulfillment Network Stock Keeping Unit) barcode.
Product Bundling: If you offer bundled or multipack products, FBA prep centers can assemble and package them according to Amazon's guidelines. They ensure that the bundled items are correctly grouped, labeled, and ready for fulfillment, saving you time and effort in the process.
Packaging and Poly-Bagging: FBA prep centers expertly package items, using appropriate materials and techniques to safeguard them from any potential damage. They may also provide poly-bagging services to protect individual items and prevent them from getting damaged in transit.
Now that you know what services Amazon FBA prep centers offer, why should you consider using them?
Benefits of Using an Amazon FBA Prep Center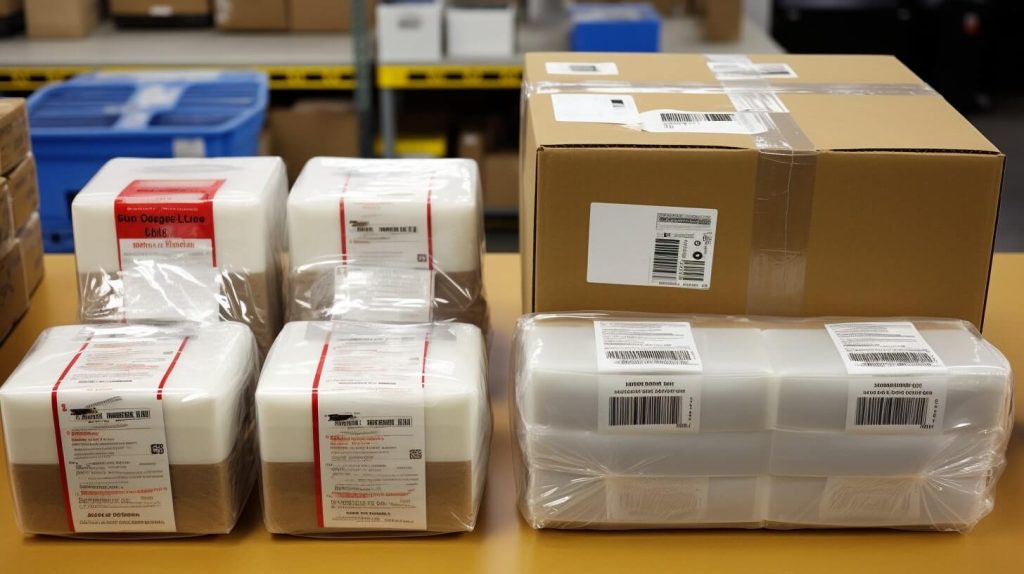 The time-saving benefit is the most obvious perk of outsourcing product prepping and packaging to an Amazon FBA prep center since they take most tasks off your plate. But what other benefits make the service worth your coins? Here are a few of them:
Easy way to store products: Need a better way to warehouse products without sending them to a fulfillment center? Use an FBA prep center instead. This works even better for wholesalers or arbitrage sellers who do not have enough storage space at home.
Faster shipping process: One of the advantages of working with a prep center is their ability to process inventory quickly. With turnaround times ranging from 24 to 48 hours, your products will be ready for sale on Amazon in no time. This saves you the time and effort it would take to process and ship everything yourself, especially if you're working alone.
Some prep centers are strategically located in states without sales taxes. By using their address for your inventory, you may be able to save money on sales tax, further optimizing your business expenses.
Ease of product bundling: If you sell bundled products on Amazon, a prep center can assist you in ensuring that your products are correctly packaged and labeled. They have the expertise to handle bundling and ensure compliance with Amazon's requirements.
Greater scalability: Using FBA prep centers allows sellers to scale their business more easily. As order volumes increase, the prep center can handle higher quantities of inventory and ensure that products are processed and shipped in a timely manner. This scalability eliminates the need for you to invest in additional storage space or hire additional staff to handle the growing workload.
Strict compliance with Amazon's requirements: Amazon has strict guidelines for packaging, labeling, and quality control. FBA prep centers are well-versed in these requirements and ensure that products meet the necessary standards. This helps sellers avoid potential penalties, customer complaints, and negative impacts on their seller metrics.
If you're already considering using an Amazon FBA prep center, then you're probably wondering how much it costs.
How Much Does it Cost to Use an Amazon FBA Prep Center?
There are many Amazon FBA prep centers and most of them are independent entities. So, the rates are likely to vary from provider to provider, but on average, most prep centers charge between $1 – $2 per unit.
As with most Amazon fees, the charge depends on the size of your products and the volume of the inventory you send for prepping.
So how do you calculate the exact costs of using a prep center? Some FBA or FBM calculators will allow you to obtain an estimate of your total costs including prep expenses.
Factors to Consider When Choosing an Amazon Prep Center
Now that you know why you should use an Amazon FBA prep center and how much it would cost to use one, let's discuss the factors you should consider when trying to choose a prep center.
Experience and reputation: Consider the experience and reputation of the prep center. Look for reviews, testimonials, or references from other sellers who have used their services. A reputable prep center with a track record of success is more likely to deliver quality services and meet customer expectations.
Location and shipping capabilities: A strategically located prep center can help reduce shipping costs and transit times. Additionally, ask relevant questions to help you confirm their shipping capabilities. Also, find out if they have established partnerships with reliable carriers and can handle international shipping if required.
Pricing structure: Pricing is an essential factor to consider before deciding to use any prep center. Some may charge on a per-item basis, while others may have flat monthly fees or a combination of both, so be sure to confirm before you get into the process. Ensure that the rates align with your budget and that the services they offer are commensurate to their rates. Also, ask about any additional fees, such as storage fees or handling charges, to avoid surprise fees that may end up eating into your profit margin.
Turnaround time: Go for prep centers that guarantee a quick turnaround time of about 24-48 hours. This ensures that your products are swiftly prepared for shipment and can start generating sales on Amazon without unnecessary delays. Time is of the essence in the competitive marketplace, and a fast and efficient prep center will help you stay ahead of the game.
Sales-tax-free state: If you decide to resell products on Amazon, one thing you need to do is find a way to cut down taxes, or else your profit margin will only get narrower. A simple tip is to work with FBA prep centers that are located in states that do not charge sales taxes. If you ship products from overseas, consider using prep centers located in states like Delaware, Alaska, Montana, New Hampshire, or Oregon, this way you can save money on taxes.
One thing you should keep in mind when you decide to use Amazon prep centers as a reseller is that you're more likely to save money when you sell fast-moving, small, and lightweight products. 

The question is how do you find small and lightweight products to resell on Amazon? This is where ZonBase reseller tools come in.
Related: Tips for Starting an Amazon Resale Business.
How ZonBase Tools Can Help Resellers Find High Demand & Low Competition Products
ZonBase recently launched a collection of tools for wholesalers and arbitrage sellers. Using these tools, you can find profitable products and discover reliable suppliers to source them. Here's a brief overview of the tools.
Zon Scanner: Zon Scanner is a mobile app that allows you to scan any product's barcode and access crucial product and sales information in minutes. So, if you walk into a retail store and find a product you're interested in selling, all you have to do is scan the barcode and you'll be able to view all the information you need to confirm its profitability.
The best part is that the app also allows you to enter your costs and obtain an estimated profit margin for any product you intend to sell.
The app is compatible with both iOs and Android devices and is available for download on Google Play Store and App Store.
Zon Grading: Zon Grading is quite similar to Zon Scanner, only that it is not an app and is best suited for wholesalers. You can upload your wholesale product options on the app and confirm their profitability. 
Supplier: The supplier tool provides access to an extensive list of authentic suppliers in any product category. It also provides all the details you need to confirm the authenticity of any supplier you choose to use — from contact numbers, to email addresses and website addresses.
You can try out these tools for free for 7 days when you sign up for a free trial of ZonBase.
Final Words
When you decide to become a reseller on Amazon, the first step is to find a profitable product and then an authentic supplier to source it. If you decide to use an Amazon FBA prep center, be sure to choose based on the factors we discussed in this post.