Today, the internet is a significant part of businesses. Big or small, businesses of all sizes are benefiting from eCommerce. As opportunities to sell online are growing, a new generation of business people is evolving: the Internet or Online Entrepreneurs. We are not being sarcastic; it is what the availability of so many tools and resources has made possible.
If you plan to be an online seller, you can leverage the existing online platforms to start selling immediately. Instead of investing in your eCommerce site, you can set up a store on Amazon, the undisputed giant online selling platform. Tools such as the Amazon profitability calculator help you set the roadmap for business growth.
If you are not already aware of the reach that Amz has, let us walk you through it. In 2022, Amz accounted for 37.8% of all eCommerce Retail sales, and analysts expect its revenue to double by 2026 (Source: Spglobal). 55% of AMZN's total sales come from third-party sellers (Source: Statista). As a solo internet entrepreneur, you must utilize the tremendous reach and influence of Amazon to your advantage.
Why use the Amazon profitability calculator?
If you decide to become an FBA seller on Amazon, there are a few things about pricing an item you must know. For every sale you make, you pay Amazon seller fees. While the fees vary depending on the category and item, the four primary seller fees are seller account fees, sale-related fees, shipping costs, and Amazon FBA fees.
It can get tedious to calculate the final listing price of the item after accounting for all the fees involved.
The solution? Use the Amazon profitability calculator. 
Why Should I Use the Amazon Profitability Calculator?
It gives a price idea of how much profit a seller will make on each item and sale. Amazon FBA profit calculator calculates the fee you will pay for each sale depending on the product category. It includes all costs such as shipment charges based on size, weight, and volume, fulfillment fee, pick and pack fee, and storage charges if applicable.
It helps you understand the price break-up by showing selling fees, fulfillment costs, and the final net profit margin.
Sellers can fix a suitable sale price for items using the Amazon profitability calculator without any extended calculations or errors.
As a seller, you can better plan your business strategy for profit and growth using the Amazon FBA profitability calculator. Still, you must know how profit margin calculations work.  
How To Calculate Amazon Profit: The Right Approach
Undoubtedly, selling on Amazon can be immensely profitable. Yet, some people fail to turn a profit because they reduce the prices so much that no profit margin exists.
It is essential to understand the associated fees and get a clear picture of the costs you will incur on every order. You can use the Amazon Profitability Calculator to get the numbers, but we recommend learning to calculate your Amazon profit margin first.
Even the most organized sellers miss out on hidden costs that affect their bottom line. If you want to take hold of the market and become profitable, you must be able to figure out all costs in your financial model. These costs include:
Direct Costs: The acquisition cost per SKU, including the shipping charges.
Indirect or Overhead Costs: Every other cost involved in making the item available to the customer. It includes warehouse costs, utilities, business tax, payrolls and benefits, packaging costs, etc.
Fees: This is an important aspect you must pay attention to. Usually, the fees per order include sales commission, FBA fees, FBA inbound shipping fees, storage costs, commission on returned products, return shipping costs, and return disposal costs.
Handling Costs: This is the cost incurred in handling the items returned.
All these listed costs decide your end profit which is the profit margin.
Related: How to use the Amazon FBA calculator.
How To Calculate Your Profit Margin
Your profit margin is the difference between the revenues from sales and the cost of operating your business. The profit margin KPI is the first metric that every seller must master.
There is no easy way to calculate profit. You can get a rough idea of how profitable your business can be by calculating how valuable an item is. This is known as calculating Gross Profit Margin. You'll also have to calculate your net profit margin and your ROI. We'll show you how to calculate each of these criteria in this section.
Calculating Amazon Gross Profit Margin
Gross Profit Margin (%) = (Net sales – Cost of items sold) / Net sales x 100%
You can use this FBA profitability calculator equation to determine your business's overall health.
While gross profit margin is helpful for sellers to determine the overall trajectory of their business profits, it is not as comprehensive as the Net Profit Margin equation.
Calculating Amazon Net Profit Margin
By including other costs in the equation, the net profit margin equation helps you understand how sustainable your business can be in the long run.
Net Profit Margin (%) = (Net sales – Cost of goods sold – All other costs) / Net sales x 100
Amazon FBA sellers must calculate the net profit margin as it incorporates costs like inbound/outbound shipping, Amazon seller fees, and product costs. The net profit margin is a much more accurate figure. It helps estimate the total business costs that the gross profit margin overlooks.
As an Amazon seller, use both gross profit margin and net profit margin to optimize your store's profit forecast.
Calculating the Return on Investment (ROI)
Another KPI for FBA sellers to know is the Return on Investment. It is the simplified ratio between the return/profit and the cost of the investment you make.
Here is the ROI equation:
ROI (%) = (Net sales – Direct cost) / Direct cost x 100%
Here net sale is the revenue of your business. The direct costs include shipping costs (to you and Amazon), prices of goods, and order processing costs. Return on investment analysis helps determine what products offer high profit resell value. It further determines how short-term costs impact profitability.
Any calculator you might use will use these KPIs or Key Performance Indicators. But we intend to teach you how to calculate profit on a deeper level such that your basics are strong.
Let's put these KPIs to work in an example. Suppose we are selling a product on Amazon for double its price, i.e., 2x the cost of the product.
We listed our product for $100 (implying the cost of the product is $50). Among other expenses are the Amz fee (we keep it at 15% of the Amazon selling price, so it's $15) and the shipping and processing cost of $5.
First, we calculate the potential profit:
Profit ($) = (MSRP – COGS – $5 – $15)
MSRP = Manufacturer-suggested retail price
COGS = Cost of goods sold
Profit ($) = ($100 – $50 – $5 – $15) = $30
If we sell 50 units of the product, we will profit $150. Next, let's calculate the profit margin:
Gross Profit Margin (%) = ($100 – $50) / $100 * 100% = 50%
Net Profit Margin (%) = ($100 – $50 – $5 – $15) / $100 * 100% = 30%
As an FBA seller, your focus must be on Net Profit Margin. Here, the gross profit margin yields 20% higher profits than the net profit margin. It is a substantial difference that can skew the business expense estimates badly.
Next is the Return on Investment.
In this example, our investment is the direct product cost ($50) and shipping and process fee ($10). The Amazon fees are not part of this investment as they incur after the sale.
Let's put the numbers in the ROI equation:
ROI (%) = ($100 – $50 – $5) / 50 * 100% = 90%
Remember that: Your business will thrive long-term when you keep tracking these KPIs and regularly make short-term and long-term adjustments. As per the Amazon Reseller guidelines, a product with a minimum of 30% ROI and a 15% profit margin is ideal. However, it might be hard to find a product that might perform well when getting started.
Everything You Should Know About the Amazon Profitability Calculator
Amazon has provided a handy Fulfilment by Amazon Revenue calculator in its Seller Central. This tool gives you a close estimate of what will be your ROI and net profit margin. The FBA profit calculator is beneficial for researching and analyzing potentially profitable products.
You can search for your product in the calculator directly by product name, UPC, EAN, ASIN, or ISBN. Once you locate your product, you can enter its price to compare it to the shipping, storage, and other variable costs to calculate your KPIs.
Since Amazon is a global eCommerce giant, the fees and costs vary depending on the seller's location. It would be best if you use the region-specific calculator. Below are some of the region-specific Amazon calculator links.
Americas Amazon Profitability Calculator
Europe Amazon Profitability Calculator
Germany FBA Revenue Calculator
Asia Amazon Profitability Calculator
Figuring out your Amazon store's profitability is one of the critical business admin tasks. Determining whether a product is profitable or not is essential for your business' success.
How to Use the Amazon Profitability Calculator
The Amazon FBA calculator is quite easy to use, all you have to do is follow the steps listed below.
Open the Amazon FBA calculator for your marketplace. In the search box, type in the name of your product or the UPC, ASIN, EAN, or ISBN of a similar item and select the closest match from the search results on Amazon.

In the right-hand column of the calculator, enter the price of the item, the cost of shipping the item to Amazon's warehouse, and the total product costs. Once this information is entered, press the 'Calculate' button.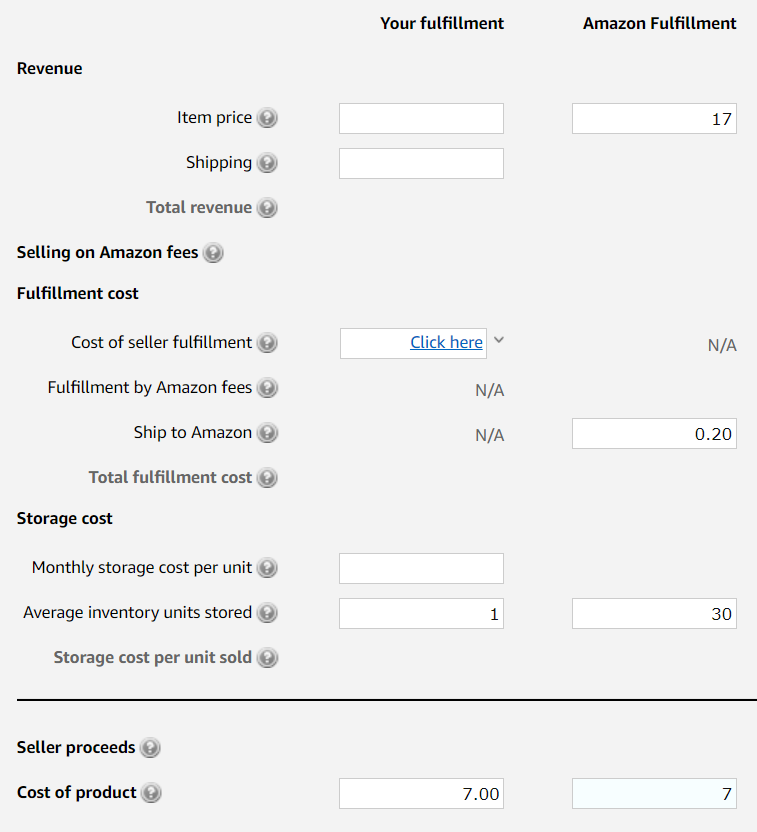 In the right-hand column of the calculator, enter the product price, the shipping cost to Amazon's warehouse, and the total product costs. Then press the 'Calculate' button.
The FBA profit calculator is a useful tool to help you evaluate your FBA fees. However, it should be noted that the results provided by the calculator are only approximate and should not be regarded as completely accurate. Amazon advises that you carry out your own independent assessment of the figures to ensure accuracy.
What Fees Does The Amazon Profit Calculator Cover?
The profitability calculator takes a number of factors into consideration before providing an estimate of your potential profit. A few of the costs are highlighted below.
Selling plan fees: This depends on the type of seller account you use. If you opt for an individual account, you'll have to pay $0.99 per sale and if you opt for a professional account, you'll have to pay $39.99 monthly.
Referral fees: This is a commission-based fee that Amazon deducts from every sale you make. Referral fees vary based on product category but typically range from 8% – 45%, often between the 8% – 15% mark.
Variable closing fee: This fee only applies if you sell products in the media category, and it usually amounts to about $1.80 per item.
FBA Fees: The calculator also factors in the regular FBA fees if you use the FBA fulfillment option. These fees include inventory storage fees, fulfillment fees, and any other fees you incur.
Multi-channel fulfillment fees: This fee applies to only sellers who sell on other marketplaces but use the FBA fulfillment channel to store and ship their inventory.
Learn more about Amazon FBA fees.

Are There Other FBA Calculators Apart From the One Amazon Offers?
Yes, most Amazon software providers offer a profit calculator alongside other seller tools. Although the majority of these third-party profit calculators are not free, you can still check them out if you want. We have listed a few of them below.
Three unique Alternative FBA calculators 
AMZScout FBA Fees Calculator
AMZScout has an assortment of tools to help sellers earn that profit. Their FBA fee calculator is an excellent alternative to Amazon's revenue calculator. AMZScout FBA Fees Calculator lets sellers do all the calculations while staying on the product page. It is also available as a Google Chrome extension which is free to use.
SellerApp FBA Calculator
The second comprehensive calculator tool you can use for research and analysis. SellerApp FBA Calculator offers all the functionalities of AMZ's revenue calculator. But, it also allows sellers to check the profit and compare potential costs between FBA and FBM. You can use this calculator for the net profit estimate report, product margins overview, and fulfillment modes comparison.
AMZSELLER.CLUB FBA Fee Calculator
Another one that has all the features for accurate calculations. This tool is very comprehensive, allowing you to input all fields necessary to calculate the per SKU profitability summary and total order profitability summary.
Becoming Profitable on Amazon with Zonbase
Selling on Amazon can be a very profitable venture if you have a winning strategy. Your business's success depends on finding the right products, researching the KPIs, and using the insights to make business decisions. It can be too extensive and laborious to do all the calculations. Tools like the profitability calculator and ZonResearch can help you put your store's growth on top of the ladder.
Zonbase has 20+ tools and services to help you become a successful seller on Amazon. Our tools aid you at every step of the journey. Product research, listing keyword research, listing optimization, photo enhancer, and many more tools in Zonbase's arsenal help you succeed on Amazon.