There is no denying the massive reach that Amazon has. With over 310 million active users and over 200 million Prime members worldwide, Amazon is easily one of the biggest online marketplaces in the world. Selling on the platform is lucrative, so building a profitable online business by becoming an Amazon FBA Seller is something that many third-party sellers aim for. 
What's more amazing is that Amazon has made it easier for businesses and individuals to sell products to its enormous customer base through the FBA program. As an Amazon FBA seller, you get to leverage AMZN's world-class infrastructure and services for your business's success.
Have you always dreamt of being your own boss by starting and running an online business? Then becoming an FBA seller is one way to make this dream a reality. Let's help you get started in the right direction. We'll show you how to become a seller (and a profitable one at that) with this mini-course.
Let's get started.
Who is an FBA Seller?
An FBA seller is a third-party seller on the marketplace who relies on the Fulfillment by Amazon (FBA) service to fulfill customers' orders. 
So, the next question is, "what is Amazon FBA?"
FBA is short for Fulfillment by Amazon. The service allows third-party sellers to outsource inventory storage, order fulfillment, and customer service to AMZN. In other words, AMZN helps sellers store their inventory, pack and ship orders to customers, and provide customer service. These services are available for a fee, and you can see how much the FBA program costs on AMZN's help page.
View the breakdown of FBA Fees
This model is the opposite of the FBM (Fulfillment by Merchant) model. Under FBM, sellers maintain inventory, fulfill customers' orders, and provide customer service by themselves.
Becoming an FBA seller means that you won't have to worry about storage space for your inventory. Order fulfillment, customer service, and return management will also be the least of your worries. AMZN handles all this for you so that you can focus on more important aspects of your business.

How does FBA Work?
The process of selling on AMZN through FBA is quite straightforward. Here's how it works:
You prepare and package your products according to AMZN's requirements and send your inventory to a designated fulfillment center.
AMZN receives your inventory in their fulfillment centers, then sorts and stores your inventory with a tracking code.
When a buyer orders your product, AMZN processes the order and updates your inventory.
Amazon will pick up, pack, and deliver your product to the customer.
After the transaction, they'll also handle customer support queries, returns, refunds, and exchanges on your behalf.
Every two weeks, AMZN deducts selling fees and FBA fees and sends the remaining funds to your bank account.
Related: How much does FBA cost?
How to Become an FBA Seller: 5 Simple Steps
Nothing is difficult when there's a guide to follow, which applies to setting up an FBA business. Here's a detailed breakdown of the steps to take if you want to become an FBA seller in 2023.
Step 1: Find Profitable Product Options
Before you set up your account, you'll have to decide what to sell on Amazon FBA. There are about 32 product categories and over 12 million products listed on AMZN, so you need to find the best-selling items if you're starting. If you pick a random product without any background information, you will be setting yourself up to make losses. Success on AMZN begins with finding the right product for your store.
The ideal way to choose a niche is to consider the areas in which you are most enthusiastic, make a list of them, and then reduce that list down to 3 to 5 distinct niches.
You can begin product research when you've decided on a niche. Even if you are enthusiastic about your niche and products, making a profit might be challenging, so product research is important. Here's how to find the most profitable products using ZonBase's ZonResearch tool.
Open the ZonResearch tool from the dashboard
Select your preferred categories and filters, then click the 'Search' button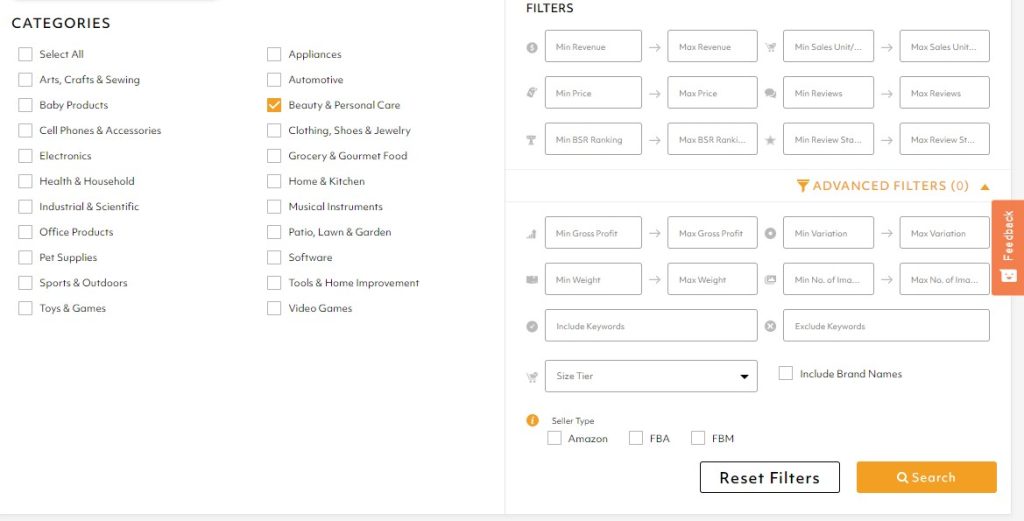 You'll get access to a list of the most profitable product options in your selected categories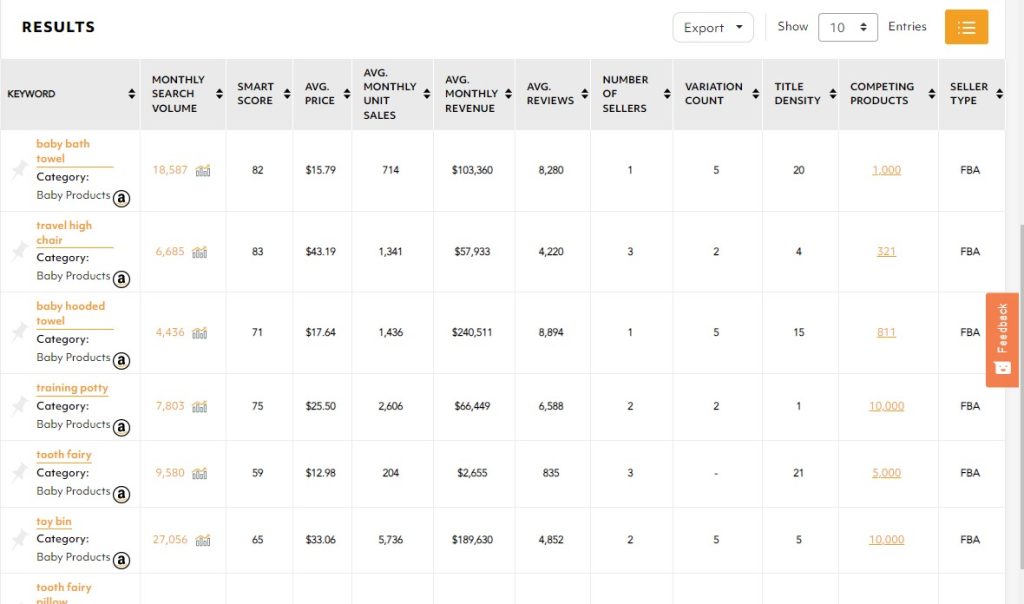 Step 2: Find a Supplier
When you find a profitable product to sell, the next step is to find a supplier to source the product. Product sourcing is one of the most difficult aspects of starting an AMZN business, and if you don't know how to go about it, you may struggle a little bit. Most sellers source their products from overseas suppliers and local manufacturers.
Usually, websites like AliExpress and Alibaba are the go-to for product sourcing. But, you can use the ZonBase Hot Products tool to find product suppliers for your preferred product. Here's all you have to do:
Open the Hot Products tool from the dashboard
Open the ZonResearch tool from the dashboard
Select your preferred categories and filters, then click the 'Search' button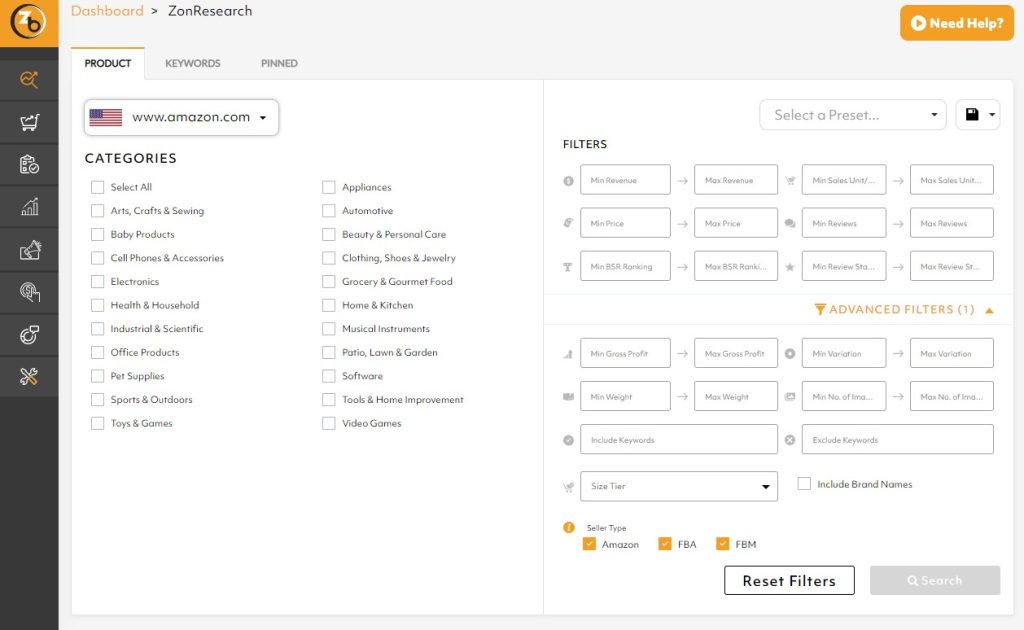 You'll get access to a list of different product options in your niche. The tool shows the monthly revenue, star rating, BSR, and sales history for each product option.
Click on the 'Choose a supplier' button to see authentic supplier options.
After finding a supplier, the next step is to order samples and try out the products. See how they work, and if they live up to your expectations, you can go ahead and stock up.
Step 3: Create a Seller Account and Set-up FBA
An Amazon seller account is your pass to list your products for sale on the platform. To create a seller account, you'll have to meet up with some requirements.
Some of the requirements needed to create a seller account are:
A government-issued identification card
Tax information
Credit card (this will be used to charge you)
Active bank account and bank routing number (this is where AMZN will send your money)
Phone number
Visit amazon.com, click 'Sign up, then fill in the necessary information.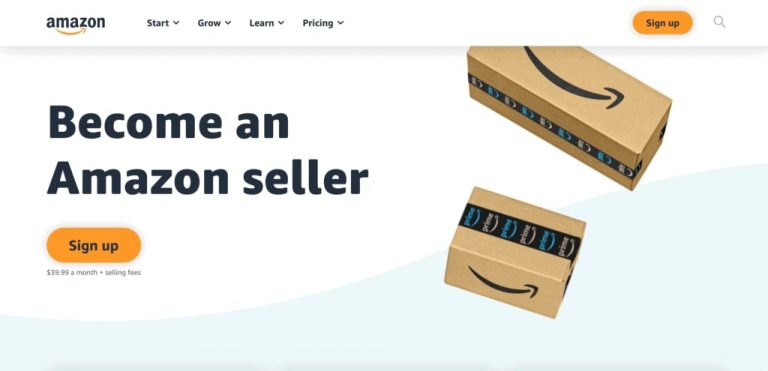 Next, you'll have to choose a selling plan. AMZN offers two selling plans: Individual and professional plans.
Individual Plan: This one is free to create, but Amazon will charge you a commission of $0.99 per sold unit. This is a good starting plan if you are still unsure about what to sell and are still testing the waters.
Professional Plan: With this plan, you have to pay a monthly fee of $39.99. But it also opens up more opportunities and marketing tools to you, such as access to restricted categories and AMZN's PPC (pay-per-click) advertisement.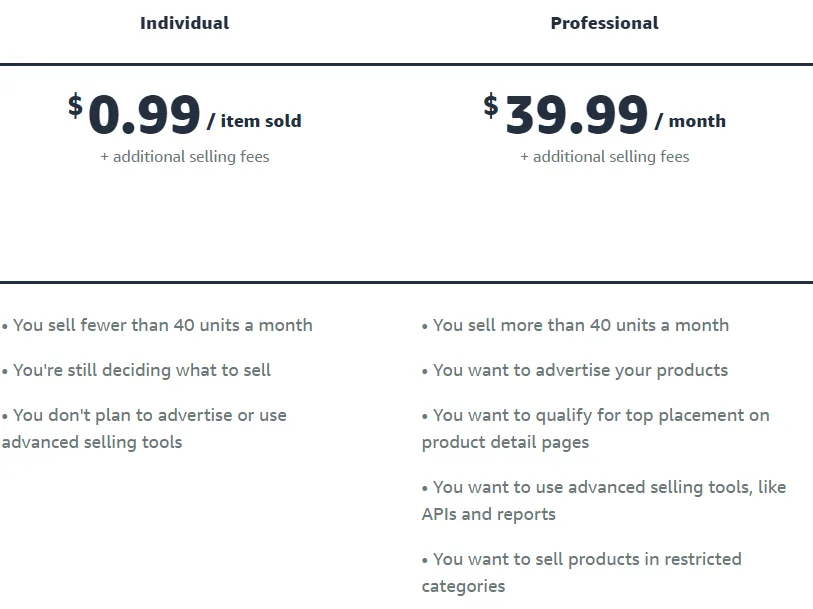 Step 4: Create your listings
Your product listings are essential if you want to make sales on AMZN. You'll need to create your listing after you've got your merchandise. The quality of your listing will have a significant impact on how well you rank in searches and how many people buy your goods. So make sure to follow the listing optimization guidelines below to create well-optimized listings:
Use clear, attractive product images in your listings
Use keywords in titles and product descriptions
Add reviews to your listings
Focus on selling the benefits of your products not the features
Use bullet points in your descriptions to improve readability
Keywords play a major role in listing optimization. So if you want to create well-optimized listings, you must first take the time to research relevant keywords. Keyword research and listing optimization can be time-consuming and stressful, but if you use AMZN software, you can get the best keywords and create well-optimized listings in no time.
ZonBase keywords tool will help you find the most profitable keywords in your niche, and you can create well-optimized listings from scratch using the AI Listify tool.
The AI Listify tool is an artificial intelligence tool that allows you to create optimized listings in minutes by simply setting rules as to how you want your listings to be. The tool then checks out your competitors' listings and the keywords they rank for, and uses this data to draft new, well-optimized listings for your products.
Step 5: Prepare and Ship Your Products to FBA Fulfillment Centers
If you're selling through FBA, you will have to prepare and ship your products to AMZN's warehouses. Label and package your items properly according to AMZN's prepping and packaging requirements, and then ensure they are protected from damage before shipping. You can enlist the help of reputable freight forwarding firms to ship your products to fulfillment centers.
Step 6: Run Promotional Campaigns
Now that your products are up on the marketplace and in fulfillment centers, you must focus on increasing your reach. If you want to improve your conversions and make more sales, you should run promotional campaigns for your products.
Promote your products using sponsored ads, PPC campaigns, social media, and other methods. PPC campaigns are the go-to option for most FBA sellers, but not everyone knows how to get them running. If you don't, you can sign up for ZonBase's PPC Automation services; Page One and PPC Autopilot.
Through these services, you'll gain access to a team of professionals who will optimize your listings, set up your PPC campaigns, and manage them from scratch till finish.
Benefits of Becoming an FBA Seller
Now that you know how to become a seller, you're probably wondering if going through those processes is worth it. Is Amazon FBA worth it? Absolutely. Yes, the service may be costly, but it offers great value.
If you're trying to weigh your options and decide if you should sign up for FBA or not, here are a few benefits to have in mind:
Reduced workload: Fulfillment is the most taxing aspect of being a seller, and FBA takes that huge burden off you. AMZN does all the heavy lifting by picking, packing, and shipping orders, allowing you to focus on other key aspects of your FBA business.
Minimized costs: With FBA, you do not need to spend upfront costs on renting a warehouse for storing your inventory. The business model uses a pay-as-you-go approach, which means fees are taken out after fulfilled orders. You also spend less on shipping costs because the costs you incur when you fulfill orders yourself are higher than the costs covered by your fulfillment fee.
Free shipping: Using FBA makes your products eligible to carry the Prime badge. This means you can offer free one or two-day shipping on eligible orders to Prime customers. You also get to offer free shipping to other customers on eligible orders. Customers love free shipping, giving you an advantage over FBM sellers.
Leveraging Amazon's brand credibility: Using FBA means that your products are stated to be fulfilled by Amazon. And AMZN is one of the world's most reputable and trusted brands. AMZN customers trust that they will receive their orders on time and can easily return items if there are any issues. Customers are, therefore, more likely to purchase your item than an item fulfilled by the seller.
Customer Service and Returns: With FBA, you don't have to worry about managing customer service and returns. AMZN's experienced customer service team handles refunds, and exchanges on your behalf, so you can be sure your customers will be satisfied. You won't have to worry about the Amazon FBA seller return policy anymore because the customer service team will handle it for you.
Amazon FBA Seller Salary
You might ask yourself, "How much do FBA sellers make?" or "how much does the average person make selling on Amazon"?
A Junglescout survey shows that about 44% of FBA sellers make around $1000-25,000/month. The top sellers (6%) make around $250,000 upwards each month, which gives them around $3 million in annual sales. Yes, an Amazon business is profitable, but not all of this income is profit. If you use FBA, you will have to pay some fees, and whatever you're left with is your net income.
Related: Easy breakdown of Amazon's return policy
Amazon FBA Fees
There are different fees that Amazon FBA sellers need to take into consideration. To make sure that you are making money on your sales, you need to carefully track all these FBA Fees. Listed below are some of them:
Inventory Storage Fees
Sellers send their inventory directly to Amazon's fulfillment centers. And because you are using up space in their warehouse, AMZN will charge you a monthly storage fee to store your items.
The amount you have to pay will vary depending on the size and category of the item you are selling. Storage fees can also go up during peak shopping seasons such as Black Friday, Christmas, and Cyber Monday.
This AMZ inventory storage fee chart can help you estimate how much your monthly storage fee might be.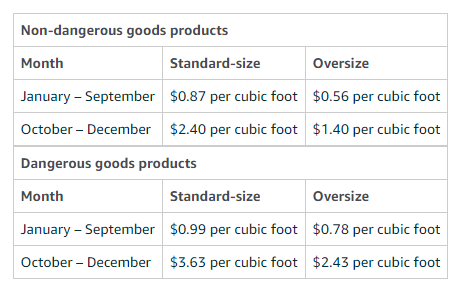 Fulfillment Fees
FBA also covers the shipping, delivery, and tracking of your sales. Since AMZN takes care of shipping and delivering your items to your customers, you also need to pay them a fee. livery, and tracking of all your sales. Since AMZ takes care of shipping and delivering your items to your customers, you also need to pay them a fee.
Like FBA storage and referral fees, the shipping fees also depend on your item's category, size, and weight. Items that are heavy and fragile might, and those that fall under special cases such as lithium batteries or large television screens, might also require additional handling fees.
Here is an Amazon FBA shipping fee chart that can help you estimate how much you are going to pay to ship your items.
Other Selling Fees
Referral Fees
Aside from the monthly storage fees you have to pay to use Amazon's fulfillment centers, you also have to pay a certain amount every time you make a sale. In other words, for every product sold on their website, AMZN takes a small percentage cut.
This fee, also known as the referral fee, is different from the selling plan fees that you must also pay upon creating your seller account.
Just like FBA storage fees, the referral fees also vary depending on the category of your item. Devices and accessories such as the Amazon Echo have quite a high referral fee percentage (45%), while items such as appliances can be around 6-8%.
Check out this Amazon Referral Fee chart that you can use to see under what category your product is in.
Variable Closing Fees
Whenever a unit of books, DVDs, music, computers, video games, game consoles, or accessories is sold, Amazon also charges a variable closing fee. This amount is equal to $1.80 per unit sold in these categories.
How does Amazon pay FBA Sellers?
When you first open an Amazon FBA seller account, AMZN asks you for your bank information. The reason for this is so that they can transfer the money from the sales you made to your account.
So how does Amazon pay FBA sellers? It's simple. When all of the Amazon FBA Fees on your seller account are settled and you still net a positive balance on your account, AMZN will send your money through electronic funds transfer. Sometimes, ACH (Automated Clearing House) is also used.
The payment schedule is available on your Seller Central account under Statement View > Payment Reports.
Once AMZN sends you the payment, it might take 3 to 5 banking days to process the transaction. Once the processing is completed, you'll receive the money in your bank account. Take note that AMZ doesn't send payments to credit cards or online wallets such as Paypal.

How to Successfully Sell on Amazon FBA
Streamlining your business is essential. This will help you keep your store flowing smoothly. Below is a guide and checklist that you need to remember:
Make sure you always have products in stock: One of the biggest mistakes that beginners make is not stocking enough products in their inventory. When you sell using FBA, remember that it might take a few days before your item arrives at the fulfillment center. You can lose out on sales, especially during peak season, if you don't have enough stock in your inventory. Aside from that, your competitors are also getting your customers and raking in reviews while you wait for your products to arrive. Don't make this novice mistake, always ensure that you have enough stocks.
Always allot extra money to purchase your inventory: Remember that the amount of time for the money to be deposited in your bank account might take 3-5 banking days. This means that you always need to have extra money outside of your balance to purchase the next batch of inventory to keep your warehouse stocked. Relying only on your payments for your business costs is a mistake that many beginners often make.
Pay Attention To Customer Reviews and Questions: Getting a boost of positive customer ratings can push your product to the top of AMZN's recommendations. Similarly, answering customer questions on your product page can also drive traffic to your products. Make sure to pay attention to reviews and questions. These two things will help you streamline and improve your products even more.
Consider getting a Virtual Assistant: If you don't have the tech-savvy or expertise to deal with product and inventory management, consider getting an Amazon FBA Virtual Assistant to help you out. This will allow you to focus on the other important parts of your business, such as marketing and manufacturing.
FAQs
Is it free to be an Amazon seller?
Selling on Amazon is not completely free. You will have to pay selling plan fees as well as some other seller fees outlined above.
What is the best product to sell on Amazon?
There are many product options to choose from when you set up your Amazon business, however, you should look out for products that have high demand and low competition, as well as a substantial profit margin. The best way to find bestselling products is to use the Amazon Bestsellers list and invest in Amazon software like ZonBase.
Final Thoughts
Becoming a third-party seller on Amazon is not easy. But with the help of this Amazon FBA seller guide, hopefully, we have simplified the process.
So, is Amazon FBA worth it? In our opinion, yes, it is worth it. As a beginner, you might not have enough experience in shipping, tracking, and inventory management. You might not have enough resources to hire your customer service team. There might be a lot of new, uncharted territory that you have to cross, and it can be quite intimidating to do everything on your own. As an FBA seller, you can take advantage of Amazon's expertise.
As an FBA seller, you can take advantage of AMZN's expertise. Are you a beginner who wants to have a smooth-sailing experience? Use ZonBase. ZB can help you build a thriving store by helping you make data-driven business decisions that will give you a leg up on your competitors. With the ZB suite, you can handle complex tasks seamlessly. The tools are designed for product research, keyword research, and listing optimization.