When it comes to product research, demand is one of the most critical factors that you have to consider. Even the most innovative, aesthetically-pleasing product won't sell like pancakes if there is no demand.
Just take Apple products, like iPhone, for example.
Months before a new iPhone is released, people talk about it on social media even before an initial prototype is shown. Because of the massive demand for the iPhone, people are willing to pay premium prices.
High-demand products have massive hype around them. And when it comes to selling on Amazon, in-demand products can generate lots of sales for your ecommerce store.
If you are running out of ideas on what the best products to sell online (on Amazon to be precise) are, then this article is for you. In this article, we'll talk about how to find high-demand products on Amazon. We'll also share five practical tips that can help you pinpoint the characteristics of a high-demand product.
Ready to start? Then let's jump right in.
What Are High-Demand Products?
There are many different definitions of what a high-demand product is. It could be based on the number of sales, or it could also be the number of searches that a product generates.
While the number of sales generally translates into demand, the actual number of sales your product needs to generate before it can be considered "high in demand" could vary.
For example, a large retailer might consider 10,000 units sold as a measuring stick before considering a product high in demand. A smaller retailer could settle for just around 2000 units sold every month.
When it comes to AMZN, the average retailer might consider a product "high in demand" if it can sell around 300 to 500 units per month. With this amount of sales generated, an average seller can build a profitable business in AMZN.
Why Is Demand An Important Factor In Product Research?
In product research, there are many metrics that you have to consider. Acquisition costs, search volume, delivery charge, product source, size, and material are all critical for choosing the best Amazon FBA products.
Demand is an essential factor because it directly affects sales and profits. Even if you invest thousands of dollars in the latest, most innovative product, it doesn't matter if the people are not interested in purchasing it.
When people want something badly enough, nothing can stop them from wanting to get it. Demand drives the prices of products up, which means higher profit margins for sellers.
Demand is the single, most important factor driving purchases. Without great demand, generating sales and your profit margins would be difficult to achieve. For this simple reason, determining demand should be one of the critical components of your product research.
What Factors Can Influence Demand?
Demand for a product can be affected by several external factors. Let's talk about them in the next section:
Season
When it comes to online shopping, buyers are likely to buy based on need. Hence, demand for certain products is usually higher in some periods. In other words, the seasonality of a product dramatically affects the demand for it. If a product is selling well for a few months and suddenly stops making sales, the product is seasonal.
Examples of seasonal products are Halloween costumes, Christmas trees, Valentine's day gifts,  corporate gifts, etc. The demand for these products shoots through the roof during its season. However, it would be hard to sell these products when they are out of season.
For this reason, seasonal products could be a hit-or-miss proposition. So, it's not wise to put all your eggs in one basket and sell only seasonal products in your ecommerce store. Otherwise, you won't be making any money during the "dead months" when your product is out of season.
Price
Of course, price influences demand significantly. The cheaper the product is, the more likely people will prefer it over other products.
With prices of commodities increasing in the past few years, a cheaper product seems to be the more intelligent choice for most. Yes, some people might prefer a product's "premium" feel compared to more affordable alternatives.
However, on average, most people will prefer to purchase a cheaper product with almost the same quality as the more expensive brand. So, if you decide to sell online, you cannot focus solely on choosing in-demand products, you must also fix competitive prices.
Recency
It's a no-brainer that people will almost always prefer the newest product version. Whether software or a smartphone, the latest product will have a higher demand.
Just take the Apple iPhone, for example.
No matter how many times they release a new iPhone model, it almost seems like an automatic "demand magnet."
Every year, a new iPhone model is released. And guess what? People still watch the iPhone launch and line up to get the latest model on release day. That is the kind of demand that a product can create.
Hype
Hype is a modern term used to describe the "buzz" around a product. This term is especially prevalent in the fashion industry, where trends come and go in a flash.
The demand for a product can suddenly shoot up simply due to its hype. For example, rapper Kanye West released a pair of limited-edition shoes years ago called the "Air Yeezy," Its hype was so immense.
The hype behind it was so huge that the product sold out within seconds of being released online. Because of this, the demand for the product shot above the roof.
From an initial retail price of around $190, these Yeezy shoes were resold for a minimum of $4000. This is proof that when a product creates enough hype, the demand for it can push its price above the ceiling.
Image via David Lezcano, Unsplash
How To Find Products With High Demand On Amazon?
Finding high-demand products starts within the Amazon platform. There are ways to help you find these products, and some of them are listed below:
Check Out The Amazon Best Sellers List
To help beginners find the products in great demand, AMZN has its own Best Sellers list. The AMZN Best Sellers List contains all the top 100 products in different niches and categories. They are sorted and arranged according to the number of units they have sold within the past hour.
What I love about this the AMZ Best Sellers List is the easy-to-view categories. If I am looking for a specific niche or product, I can browse on the left side of the page. There, I can find all the different categories arranged alphabetically.
And the best thing about this? It's free! And highly accurate too! AMZN pulls the information they provide on their Best Sellers List directly from their sales data. AMZN doesn't share this information with anyone, so you can only find it by browsing this page.
What I want to say is pretty simple. AMZN is already telling you which products have had massive demand in the last few hours. What you do with this information is entirely up to you. However, ignoring this information is unwise, especially if you are a new seller.
Check Our The BSR (Amazon Bestsellers Rank)
While the Best Sellers List is a great source of information, the data it provides is quite limited. The Best Sellers List only provides you with the top 100 products in the last hour. If you are looking for a more robust list of products that are selling well for longer periods, your only option is the AMZN Bestsellers Rank.
Every product sold on AMZN has its own BSR. This can be found on the Product Detail page which is located at the bottom of the product page.
The BSR represents where exactly a product sits within the relevant category or sub-category in terms of overall sales. Since AMZN doesn't exactly reveal the number of units sold, the BSR can help you estimate the demand that a product has in its niche or category.
Of course, not all BSRs are created the same. Some categories are more competitive than others, while some are less so.
Products that sit within the top 1000 of a very competitive niche like "Home Improvement" have massive demand and can generate lots of sales daily. However, an obscure niche with less competition doesn't always translate to the same number of sales, even with the same BSR Ranking.
Use Google Trends
The Google trends tool is one of the most underestimated product research tools you'll ever come across. Using this tool, you can find trending products online and stock up on the trending products before everyone else. Here's how to use the google trends tool to find in-demand products to sell online.
Enter a product or niche that you're interested in
Look at the graph to see the search trends throughout the year
Click on "Related queries" for more ideas
Make a list based on your findings
Follow Social Media Trends
Social media will definitely come in handy when you decide to start your own online store. Apart from the fact that you can drive traffic from your social media platforms to your Amazon listings, you can also get trending product ideas on social media. For instance, by running polls on your social media pages, you can discover which products your audience and potential customers are interested in.
Use Product Research Tools
Product research tools are an easy way to find high-demand products and save time while doing that. If you invest in a reliable software tool, you can access accurate data to help you make incredible product choices.
ZonBase provides a wide range of 13+ tools for listing improvement, keyword research, and product research. The software provides a Chrome extension, a tool for estimating sales, and two tools for researching products. For sellers who are unsure of their decisions and would like to have their product possibilities assessed by a team of specialists, it also provides a done-for-you product validator service.
Here's how to locate your next best-selling product using ZonResearch, one of ZonBase's research tools.
Open the ZonResearch tool from your ZonBase dashboard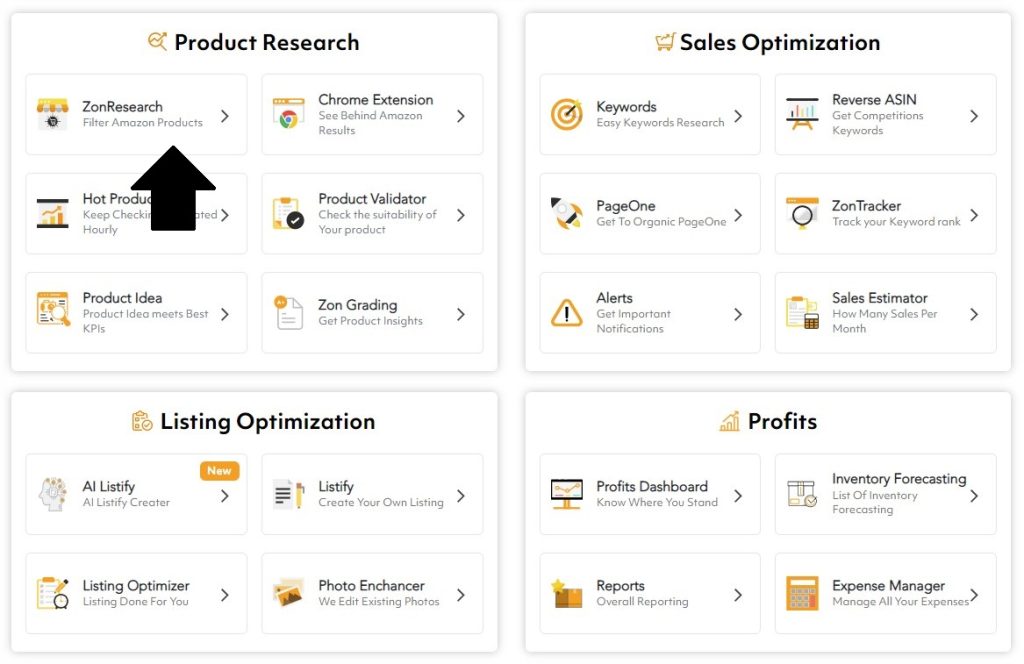 Pick your marketplace and your preferred categories, then set the filters based on your product preferences – size, number of reviews, and revenue.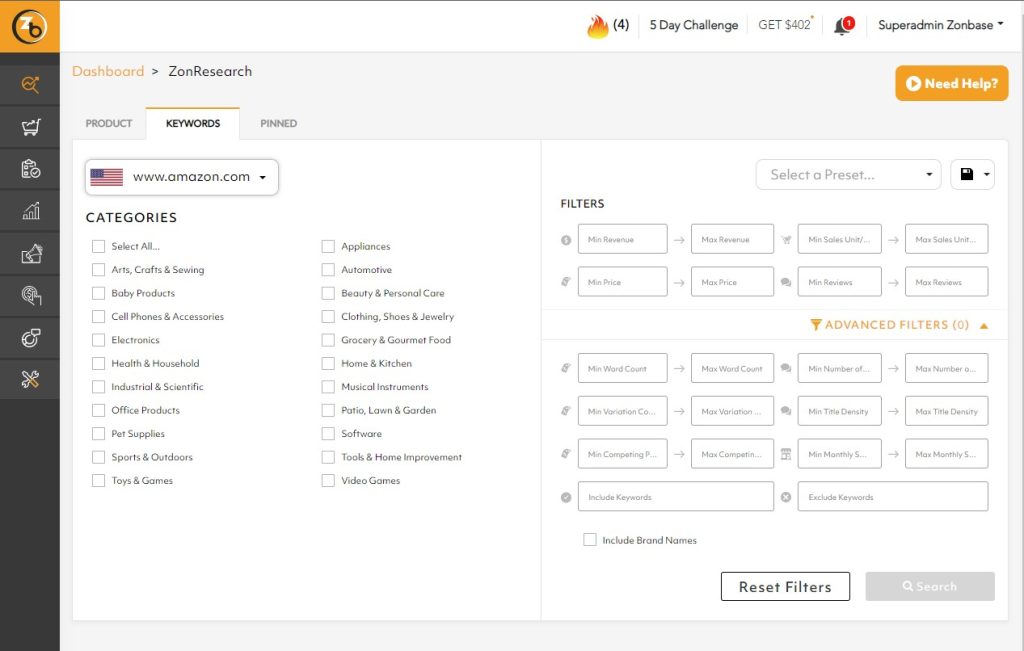 Click the "Search" button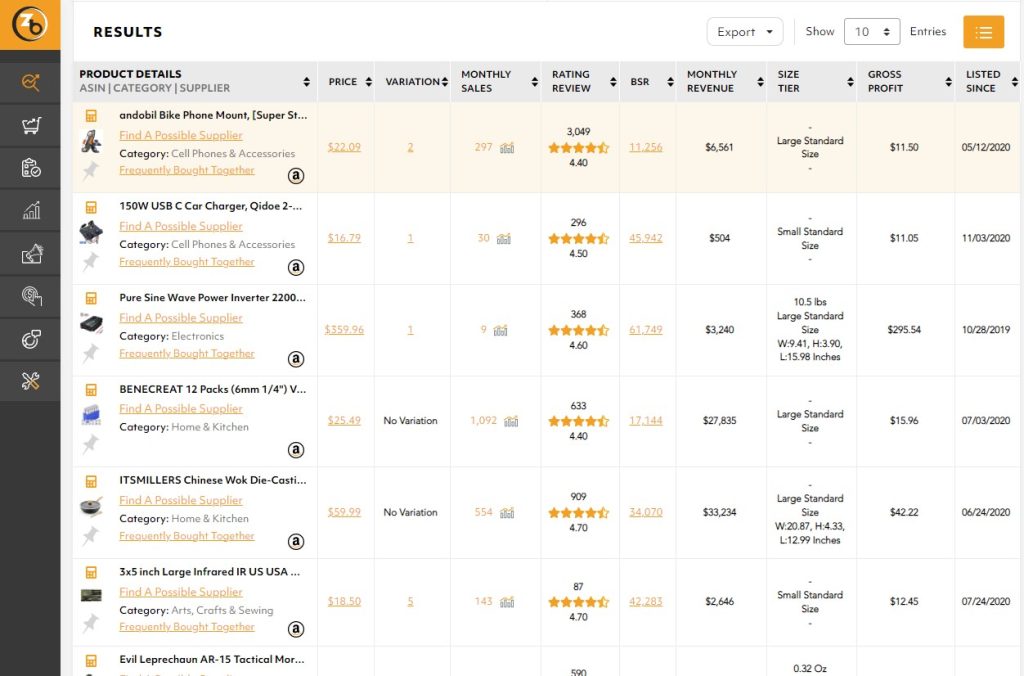 ZonResearch dives deep into Amazon's vast product catalog to pull up a comprehensive list of lucrative product concepts. For access to reliable supplier possibilities to source your items, you can also select the "Find a possible supplier" button.
ZonBase also offers a Chrome extension tool to help validate your product options and provide more hidden product information.
All ZonBase tools are available for FREE for 7 days when you sign up for a free trial of the software.
Top 5 Best-Selling Categories On AMZN
Not all categories on AMZN are built the same. Some categories just attract more demand and attention from customers.
Here are some of the top-selling or in-demand categories (not in particular order) for your reference:
Home and Kitchen
One of the most popular categories on AMZN is the Home and Kitchen category. Due to the pandemic's recent lockdown, many people decided to stay at home and cook for themselves. This resulted in the sudden "boom" and demand for Home and Kitchen products in the last few years.
Another reason why this category has massive demand is because of FBA sellers. Many products in this category come from Alibaba and Aliexpress, two well-known sources for cheap dropshipped products. If you are looking for a niche where you can sell dropshipping products from China, the Home and Kitchen category has plenty of them lying around.
Beauty and Personal Care
This category doesn't need any more introduction. And rightly so. Everyone wants to look good, and many people are willing to spend money to achieve their goals. From beauty cream to men's hair care, this category is filled with plenty of products that are in demand.
Women spend a lot of money to be beautiful, but did you know that men are big spenders too? The market value of men's personal care products in 2021 has reached over 157.5 billion US dollars. This means that men are also willing to splurge out when it comes to their personal care routine. (Source: Statista)
Home Improvement
The DIY (do-it-yourself) revolution has gained traction over the past few years. And with the lockdowns caused by the recent pandemic, people were obligated to do their own home improvement projects.
Some of the best-sellers in this category include decking beams, garage door panels, electric drills, etc.
Sports and Outdoors
Glamping (short for glamorous camping), as well as other outdoor activities like hiking, camping, and trekking, have created a huge demand for the Sports and Outdoors category. Young people love going out to explore the world these days. Having the best gear like hiking shoes, camping tents, outdoor cooking sets, etc, is important for the safety of people.

Cameras
The Camera category has always been in high demand. People want to take good photos when they travel. New gadgets like drones and action cameras drive the demand for this category to the roof.
The thing about the Camera category is that there are so many add-ons and additional gadgets that people buy for their cameras. Aside from the lens, people also buy chargers, batteries, tripods, rain covers, and power banks. Because of this, the demand stays high for products under this category.
Related: Top-selling items on Amazon
Conclusion
Finding high-demand products on Amazon isn't easy, but it is also not that difficult if you know where to look. Many factors can influence the demand for a product. You should consider these factors when choosing products to sell online.
Hopefully, the tips that I have shared in this article were able to give you an idea and point you in the right direction. Remember — demand drives prices up. The higher the demand for your products, the more money you can make off of the AMZN platform.
When it comes to finding the best products to sell online (on Amazon), Zonbase is the all-in-one tool that you need. With its product research and keyword research tools, finding your winning product on Amazon is just a click away.
Want to see Zonbase in action? Sign up for a free trial of Zonbase today and see what Zonbase can do for your business.