There are lots of hurdles that you will face as an Amazon seller. And the question "how to sell my product on Amazon" is something that many newbies often ask. So here's a beginner's guide to help you, especially if you are a new third party seller on Amazon. From learning to create an Amazon listing and Amazon seller page to managing your Amazon personal account, this article will help FBA sellers understand how to succeed on Amazon.
In the first quarter of 2021 alone, over 283,000 new sellers signed up to sell on Amazon (Source: Oberlo). Amazon's domination of the eCommerce world is not going to end anytime soon, and there is always an opportunity for more sellers to join the marketplace.
Selling on Amazon is not difficult. But, as a beginner, you need to be armed with all the right information before you can start and run an Amazon business successfully. And that's what we are here for, to teach you how to sell on Amazon. This is a beginner's guide, so we will take you through the process of creating an Amazon account, finding a wholesale supplier on Alibaba, listing your products, and more.
Let's get started.
How to Start an Amazon Business: 8 Simple Steps
Create Your Amazon Seller Account
Before you start selling on Amazon, the first step, of course, is to create a seller account. If you already have an Amazon customer account, you can use it to sign up. If you don't, you can create a new Amazon seller account with your business email address.
Source: Amazon Seller Central
But first, you'll have to make sure that you can access certain required information and documents. Here are the documents you need for registration on AMZ:
Phone number
Bank account number and bank routing number
Internationally chargeable credit card
Proof of identity, such as Government issued national ID. You can also use your driver's license or national passport.
Tax information
After creating your account, provide all the required information and set up your account profile. The information you include in your seller profile will be visible to buyers. Some of the visible information includes:
Display Name
Business Name for companies, or personal name for individuals
Business address
Public contact information (email and phone number)
You can also include a bio and upload a logo for your business under your seller profile.
Choose your Selling Plan
Amazon offers two selling plans, and you can choose either one depending on the scale of your business. They are:
Individual Selling Plan
Professional Selling Plan.
The professional selling plan is better suited for large businesses, especially those looking to expand their operations. If you plan to sell more than 40 products per month, opt for the professional plan. The individual selling plan is better suited for small businesses with a small inventory as they are not likely to sell up to 40 product items in a month.
The individual seller account is charged per sale and costs $0.99 for every item sold, while the professional seller account is charged at a flat monthly rate and costs $39.99 no matter how many items you sell.
As a beginner who has no idea what to sell, you can opt for the individual selling plan. Besides, Amazon allows you to change plans at any time, so you can always upgrade to a professional seller account.

Choose between Amazon FBA and FBM
Now that you have set up your account, you have to choose a fulfillment option. This will determine how you will deliver goods to customers. Sellers can either use the Fulfilment-by-Merchant (FBM) or Fulfilment-by-Amazon (FBA) option.
Under the FBM model, you are solely responsible for your business operations. For example, storing your inventory, packaging and shipping orders, and customer service.
Under the FBA model, you send your inventory to Amazon's fulfillment center. Then, Amazon handles picking, packing, shipping, and customer service for you. Amazon also pays you available funds every two weeks. Because of the Amazon fulfillment guarantee, Prime members love to shop from FBA sellers.
Although the FBA program involves more selling fees, it is still preferable for new sellers, as it offers many benefits, including:
You can leverage Amazon's excellent customer service
They handle returns for you
It is cost-effective as you don't have to worry about storage space and shipping logistics
Your products are automatically Prime-eligible. This means your customers enjoy free Two-Day Shipping.
Higher chances of winning Buy Box
Frees up time for you to focus on scaling your business
FBA can take the burden of managing your business off of you. But, it is not a free service; you have to pay selling fees. The major selling fees are:
Fulfillment fees. This covers packaging, shipping and, customer service, and product returns).
Inventory storage fees. (Usually for all items stored in the Amazon fulfillment center. It also depends on the volume of your inventory)
If you decide to use Amazon FBA, all you have to do is log in to your seller central account and set up FBA. Using FBA is also a great way to cut down on storage and shipping costs, especially if you are on a budget.
While it may seem like the best thing for sellers, you still bear the responsibility of handling some core processes. These processes include product sourcing, listing creation and optimization, and advertising. But not to worry, there is tons of FBA software available, such as Zonbase, that can help you with these tasks.
With Amazon software like ZonBase, you get access to product research, keyword research, and listing optimization tools to help you handle major business tasks in less time and with less effort.
Decide on a Profitable Product to Sell on Amazon
Trying to start an online business without any products to sell on Amazon seems pretty pointless, right? Before you can start selling on Amazon, you need to have products to sell. But beyond getting a profitable product to sell, you also have to put in extra work to actually turn a profit. So, it's not surprising that one of the most common questions for new sellers is "how do I sell my product on Amazon?"
To be honest, the answer is to find a product with high demand but low competition. This is where extensive product research is important. So the next step is for you to decide what products you want to sell on Amazon. You should sell products with high demand, low competition, and high profitability. Also, choose products with a high-profit margin. In carrying out your product research, you need to check the following:
Potential profit (Revenue minus Costs and Fees)
Customer needs (the level of demand for products)
Market competition (sellers offering similar products and their reviews)
Current product trends.
Size and weight of potential products.
The ease of sourcing products from manufacturers/suppliers.
How marketable the product is.
Related: How to find products to sell on Amazon
With the ZonResearch tool, you can find your first winning product. You get to choose from more than 20 million products in Zonbase's database.
Here's what it looks like: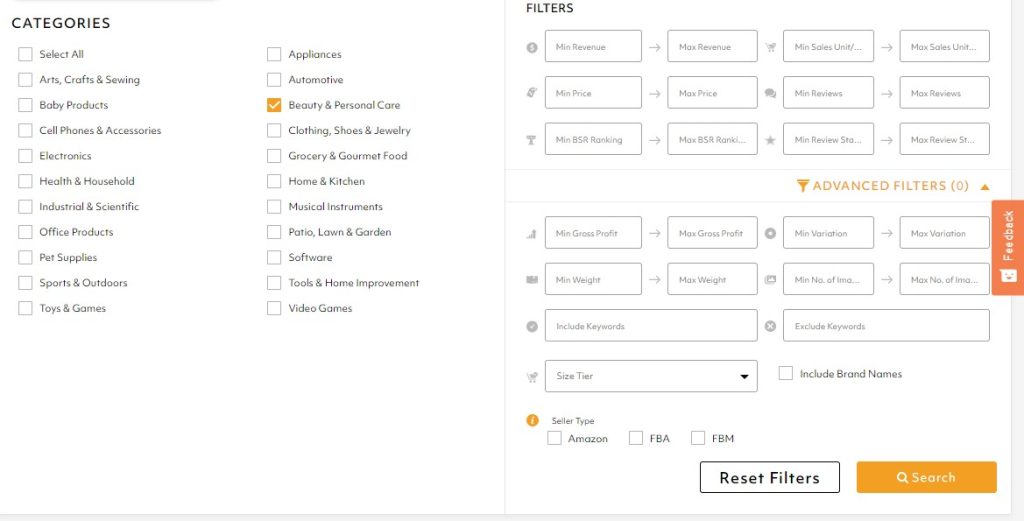 You can also carry out your product research on Amazon.com, all you need is Zonbase's Chrome Extension tool.
Zonbase's Chrome Extension is an Amazon Analysis tool that allows you to see page one product data such as average monthly revenues, sales, unit price, and reviews. This data is useful in assessing potential winning products, and you can also use it to check possible prices and potential profits to be made.
Other important considerations in finding and choosing a winning product are:
Intellectual property concerns:
You cannot sell a product on which there is an existing patent. Also, ensure that your product name or logo does not violate another company or brand's trademark. This also applies to private-label sellers.
Check whether your preferred product falls under Amazon's restricted product categories, then find out what approvals you need to get or what rules and regulations you need to follow. If you don't have to, try as much as possible to avoid selling products in restricted categories.
Find a Supplier
After choosing a product or list of products to sell on Amazon, it's time to find an authentic supplier for your products. There are scores of manufacturers that produce all kinds of products all over the globe, and there are tons of low-quality, counterfeit products in the market. If you want your customers to keep coming back, you should sell good-quality products. To do this, you'll need to source and sell products from authentic suppliers. This way, you get high-quality products at a fair price.
There are several ways to find potential suppliers; it could be as simple as searching on Google, or you could locate wholesale stores and local manufacturers. Still, your best bet is to find wholesale suppliers overseas. You can then order products in bulk and import them into the country. Alibaba is unarguably the best online marketplace to find suppliers overseas. It is the largest business-to-business platform for the wholesale of goods globally. On Alibaba, you gain access to a large base of manufacturers.
The manufacturing costs are also much lower than in the U.S. Here's the beginner's guide you've been looking for. In this guide, we'll show you how to find suppliers on Alibaba.
Step 1: Create an Alibaba account and search for suppliers using a product keyword or set of keywords.
Step 2: The last thing you want is to fall into the hands of scammers, so you need to filter the search results on Alibaba. This will help you to find reputable and trustworthy suppliers. Also, look out for trade assurance suppliers and verified suppliers. Trade Assurance is a verification program by Alibaba. It aims to establish trust between suppliers and buyers. You are covered by Trade Assurance suppliers if your products are not shipped on time or your products do not meet quality standards. Verified suppliers are suppliers whose profiles and operations have undergone assessment and verification. This assessment is usually carried out by third-party institutions.
Would you like to use these features? Go to the left side of the search results page, then click on the "Trade Assurance" and "Verified Supplier" buttons on the left side of the search results page.
Here's what it looks like:
Step 3: After narrowing down your list of suppliers, do further verification by carrying out a background check on them. It's as simple as searching for the company's name on Google or checking out its website. Look for information like the company's business license, certifications, and experience. You can also search for client reviews and testimonials.
Step 4: Reach out to the suppliers that you have shortlisted. You can do this through the contact information on Alibaba, or you can contact them by email. Describe the specifications of the product you're sourcing for, include an estimate of the purchase volume, and request photos of sample products and their factory. Also, ask questions about the cost of the product per unit and production time. Find out about their Least Order Quantities (LOQs), and payment terms. And finally, ask how much it will cost to order a sample and have it shipped.
Step 5: Order samples of the product for inspection to enable you to run a check on the products. This way, you will be sure of product quality before investing a large amount of money. Be sure to request samples from 3 to 4 suppliers so you can compare quality, price, shipping times, and communication. This will guide you to choose the best option. Inspect the samples and examine whether the product matches the required features and specifications. You should also examine the product quality and packaging quality.
Step 6: Negotiate price and payment terms with your preferred suppliers. Your negotiation strategy should be "win-win". Remember, the goal is to find a trustworthy supplier, then build a long-lasting relationship.
Step 7: After weighing your options and choosing the best supplier, place an order with them.
Step 8: Engage the services of a third-party inspection company. They can assess the quality of your product better than you can. They'll also ensure correct packaging and labeling when it is time to ship your inventory.
Create your Product Listing on Amazon
Now that your products have gotten your products, you have to make sure potential customers can find and buy your product. So the next step is to create a product listing. With FBA, your listing has to go up before your shipment arrives at the Amazon fulfillment center. And you can set this up on your Amazon seller page by logging on to your Amazon personal account.
If the product does not yet exist on Amazon, you will have to create a new product listing. But if another seller already sells the same product, you can match their listing. Also, if you're using the individual seller account, you can only list your products once. In contrast, professional sellers can list their products in large batches.
After all is said and done, you'll need to create a product listing. Product listings are a crucial part of your business, so you must take note of the things to include in your listings. A product listing must have the following:
Product ID (such as UPC or GTIN). If you do not have a UPC, you should buy one before listing your product
Product SKU code
Offer details such as price, quantity, condition, etc.
Product title
Product description and bullet points
Product images
Search terms and relevant keywords
Here are some tips to note before creating your product listing:
Keywords are important because this is how customers find your products. Research for keywords to include in your listing. You can use Amazon keyword rank tracker tools like Zonbase Keywords Tool.
Use a simple, compelling, and well-punctuated title with target keywords.
Include all relevant information about your product in your listings. Use bullet points. Also include product features, uses, and unique selling points. Don't forget to include other relevant keywords.
Your listing description should be short and to the point.
Include many high-quality product images. Product images must be at least 500 x 500 pixels and set against a plain white background. But for high-quality listings, consider increasing the size to 1,000 x 1,000.
You can use Zonbase's Photo Enhancer tool to increase the quality of your product images.
To create your product listing, take the following steps:
Log into your Amazon seller central account. Click the drop-down menu for Inventory, then select "Add product"
Select "create a new product listing"
Choose the category of products you want to sell on Amazon
Fill in all required information within the tabs provided. This information includes Product ID, Product Name, Manufacturer, etc.
Upload your images
Choose the "Advanced View" option to include extra information about your product. You can add your bullet points, description, backend keywords, and search terms.
Once completed, click "save changes" to complete the listing process,
Ship Your Inventory to Amazon Fulfilment Center
Before you can start selling on Amazon FBA, you need to send your products to the Amazon warehouse. You'll have to prepare and package them according to Amazon's Packaging and Prep Requirements or your supplier can package and prepare the products for you. Another alternative is to use a third-party logistics company to prepare the products.
If you are unable to properly package and label your products, AMZN will do it for you for a small fee. After packaging and preparing your products, you must create a shipping plan and print Amazon shipment ID labels. Then, Amazon will decide on the fulfillment center you are sending your inventory to and provide you with the address. You can then send the inventory yourself, or third-party FBA freight forwarders can help you with this.

Promote your Product
There's only one reason why anyone wants to start selling on Amazon: to make sales. Huge sales. And to do that, you need to make your products visible so customers can start making purchases. Here are some effective ways to promote and market your product:
Everyone loves freebies and discounts, even those who are crazy rich. So make sure you incentivize new customers to buy your products. You can offer discounts, deals, and coupons.
Amazon Pay-Per-Click (PPC) advertising:
PPC or "sponsored ads" is an advertising model on Amazon. You pay Amazon when a consumer clicks your sponsored content.
How does it work? When a buyer searches for a product on Amazon. Your sponsored ad will appear on the first page of search results, usually at the top. They can also appear within, alongside search results, and on product pages. Once the buyer clicks the ad, Amz will direct them to your product listing.
Here's how sponsored ads look:
Amazon PPC ads are the most effective way of promoting your product. This is because they target Amazon customers. But, Individual Sellers cannot use PPC ads, only Professional Sellers can.
As a new seller on Amazon, you should jump on the PPC ad campaign train. They are a surefire way to increase your product's visibility and drive traffic to your product page. And, in the long run, boost sales.
Platforms, like Instagram or Facebook, are cost-effective. They are also an engaging way to advertise your products to potential customers. You can pay small influencers to promote your product. You can also open your brand's Facebook/Instagram/Pinterest account. Then get your family and friends to share your pages. This helps to build brand awareness and drive traffic to your page.
If you're a new seller, you don't have to use Facebook or Google ads, especially if you're on a budget. But you can resort to them as your business grows.
Once you start getting orders, you'll have to be on top of your inventory management game so that you don't run out of stock. You can use inventory management tools for this if you do not have enough time to monitor your inventory level. ZonBase offers a profits tool that comes with an inventory forecast or inventory management feature; this tool will come in handy if you're trying to avoid stockouts and manage your inventory better.
Focus on Product Listing Optimization
Now that you have launched your product and have started making your first sales, you can relax. Wrong. You need to focus on increasing your conversions and ranking to gain more sales. And one of the most effective ways to achieve this is by optimizing your product listings.
We have already discussed the importance of keyword research in your product listing. As a new Amazon seller, it may seem daunting but there's good news – there are many Amazon software tools to help you.
ZonBase can help you navigate keyword research and listing optimization and scale your business. Zonbase is an Amazon FBA software with the following listing tools: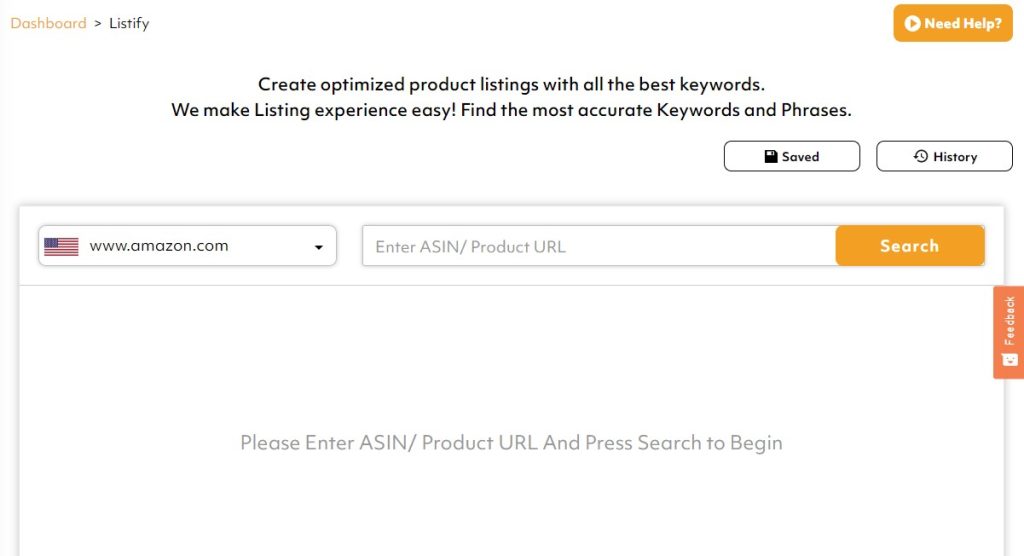 Conclusion
Selling on Amazon can seem complex and confusing when you are a beginner. But the journey is a lot easier when you have a guide. Now that we have shown you how to sell on Amazon, it's time to take the first step. We showed you how to become a seller on Amazon now; go out there and make those sales.