With the sudden surge in consumers' online shopping behaviors, selling on Amazon suddenly looks attractive. With over 300 million registered customers as of 2021, the website is considered the biggest B2C (business-to-consumer) platform in the world today. Because of this, many vendors and sellers are suddenly looking to make their own Amazon stores.
If you want to list your items for sale on Amazon, Amazon requires you to have a product ID, also known as GTIN. GTINs (Product IDs) are important because Amazon uses them to track inventory as items are moved in and out of Amazon Fulfillment Centers.
However, there are instances when you cannot get a GTIN for your products. You will need to apply for the Amazon GTIN exemption before you can list such products. For example, there are times when your product doesn't have a UPC, ISBN, or EAN code. This is where you need to apply for an exemption before you can start selling.
In this article, we'll discuss the requirements for a GTIN exemption and the process for applying for a GTIN exemption. We'll also discuss some important elements that affect exemption application and how to make the process as simple as possible.
Let's dive in.
What is a GTIN?
GTIN stands for Global Trade Identification Number. A GTIN is a unique set of numbers used to identify individual products. Just like other product identifiers that Amazon uses such as ASIN, this is an important aspect when selling online. You can usually find the GTIN beneath the barcode on a product's packaging. It is often located and placed in areas where it can be easily seen and scanned when needed.
There are various types of GTINs used in AMZ, some of which are listed below:
Universal Product Code (UPC)
A Universal Product Code (UPC) is a unique code placed on commercial packaging that helps identify a certain product. UPC consists of two different parts – a machine-readable code and a unique 12-digit number.
The machine-readable barcode is comprised of a series of unique horizontal black bars, some are thick while some are things. These bars can only be read by machines, which means you need a bar code scanner for them.
There are times when the bar code scanner doesn't work properly or the bar code can't be scanned. When this happens, humans need to enter the bar code manually. Using a unique 12-digit number written underneath the corresponding barcode, you can identify a product's UPC.
European Article Number (EAN)
EAN firmly stands for "European Article Number" which was introduced as the predecessor of today's GS1 Number. EAN aims to provide all European products with unique article numbers. However, in 2009, the European Article Number was discarded. It was then replaced by the now widely-accepted Global Trade Item Number (GTIN).
International Standard Book Number (ISBN)
ISBN is the acronym for "International Standard Book Number". Since books have different genres, categories, and specifications, they need a special identifier for them. The ISBN was then introduced as a unique identifier barcode used for all books. In AMZ, ISBN is also used even in eBooks that are sold for Kindle readers and other digital reading platforms.
ISBN codes contain a combination that uniquely identifies the metadata of a single book. However, it is interesting to note that ISBNs that were released after January 2007 only have 13 digits. Meanwhile, the ISBNs that were assigned before January 2007 only have 10 digits.
ISBNs are often printed at the back of a book's cover. Some rare instances occur when a book cannot have prints on the outside because of a protective jacket. When this happens, the ISBN is printed inside the book's cover.

GTIN-14
GTIN-14, also known as EAN/UCC-14 or ITF-14 is a kind of GTIN structure. GTIN-14 is comprised of a 14-digit number which is used to identify unique trade items at different packaging levels.
UPCs are the most common type of GTIN. Having a UPC for your product depends on the product category you sell in and the product brand. In most cases, you are required to have a UPC. However, you can list your products even if your product does not have a UPC by applying for an exemption.
You can find out the product categories that require UPCs and the ones that allow for Amazon GTIN exemption and exceptions here.
Why do you need a GTIN Exemption?
A UPC number, which is one of the most commonly used GTINs when selling on Amazon, isn't always required. Not all sellers use GTIN for their products, and it sometimes depends on what products they sell. It can also depend on factors such as what categories they are selling in. Thus, there might be times when a seller needs an exemption.
Remember though that having a GTIN can make it easier for your product to be found. Some people will type a product's ISBN, UPC, or EAN when using search engines such as Google. For these people, looking for that specific product is important and can be a deal-breaker before making a purchase. Having a GTIN on your product listings can help your search engine visibility. It can help you get traffic from interested people who are already willing to buy. Thus, it can improve your conversion rates.
When it comes to product listing optimization, having a set of experts to look at your listings can help a lot. Access to third-party software that can help you generate amazing listings is great assistance too. Zonbase, with its Listify tool, can help you uncover the best keywords to use in your product listings. If you don't want to do product listings on your own, Zonbase also offers a service also known as Listing Optimizer. Under this service, you'll have a team of experienced Zonbase experts who does the product listing for you.
If you are interested in learning more about the services and tools offered by Zonbase, simply click this link.
Things to remember before requesting an exemption
Before you request an exemption, make sure that you qualify for exclusions first. Below are some instances when you can apply for a possible Amazon GTIN exemption:
You want to sell items that do not have a default GTIN provided by the manufacturer or publisher.
You are the manufacturer or publisher, but you don't have a bar code for your products yet.
You want to start selling items where no GTIN is provided such as small car parts, nails, screws, accessories, etc.
You are repacking a combined set of products into one bundle pack
When can I apply for the Amazon GTIN exemption?
There are specific circumstances in which a seller can apply for an exemption, as follows:
The manufacturer, the brand, or the publisher does not provide a GTIN for the products you want to sell. For example, handmade products or private label products
The products you want to sell do not have barcodes and you are the manufacturer, the brand, or the publisher. For example, handmade products or private-label products.
You intend to list product parts and those parts do not have a GTIN.
You want to sell a package that includes more than one product. For instance, a pack containing a sketch pad and watercolours.
The seller is offering a handmade or custom-made product that would not require a GTIN.
Amazon has provided a list of brands that require a GTIN to list their products on the platform. These brands have already supplied GS1 approved barcodes for their products, so, GTIN exemptions are not available for products under these brands. If you list products under these brands without a GTIN, your listing will be suppressed. The list can be accessed here.
How to Apply For An Amazon GTIN Exemption
Many beginners often think that applying for the Amazon GTIN exemption is a complicated, back-breaking process. In reality, it doesn't have to be like that. With just a few clicks of a button, you can start applying for an exemption.
You can apply for the Amazon GTIN exemption within Seller Central. However, before you begin the application process, you should have your product name and a selection of product images handy.
Furthermore, you should have a minimum of 2 and a maximum of 9 images showing all sides of the product and its packaging. AMZ also lays down some guidelines your product name and images should adhere to.
During the application process, the brand name you enter must be an exact match to the one on the product and/or packaging.
The product images should be real-world pictures of the product or packaging. This means you have to hold the product and packaging in your hand or place them on a table when taking the picture.
The product branding should be permanently attached to the packaging or product.
There should be no GS1 approved barcode on the product or its packaging.
Once you have this information, you can begin your application for the Amazon GTIN exemption by taking the following steps:
Steps To Apply For GTIN Exemption
Open the 'Apply for a GTIN exemption' page within Seller Central. It will lead you to this page (screenshotted above) once you sign in.
In the Product Category field, click the Select button and select the appropriate product category from the pop-up list.
In the Brand/Publisher field, enter the brand/publisher name. You are required to enter "Generic" in this field if the items are unbranded. You can apply for up to 10 exemptions. All you have to do is click the "+ Add more brands/publishers" button.
Next, click the 'check for eligibility' button at the bottom of the page.
Amazon will provide an eligibility summary. If your product is eligible for an exemption, you will see a checkmark in the Status column. However, if your product is not eligible for an exemption, you will not be able to proceed.
If your product is deemed eligible for exemption, click the "continue to submit proof" button.
On the Provide Proof page, AMZ will inquire if you have a supporting letter from the brand owner, manufacturer, or publisher. If your product is a private label or handmade, choose "No".
Next, input the Product Name and upload product images showing all angles of the product.
Afterward, click the Submit request button. they will contact you within 48 hours to confirm whether your request for GTIN exemption has been approved or denied. The status of your request can also be seen in the case log.
How to List Products on Amazon After Getting a GTIN Exemption
If your GTIN Exemption was approved, it is best to wait for 24 hours before going ahead to create your listings. Also ensure you use the exact capital or lowercase letters, extra spaces, or characters else the system will not accept your exemption.
Go to the catalog tab and click on "Add products"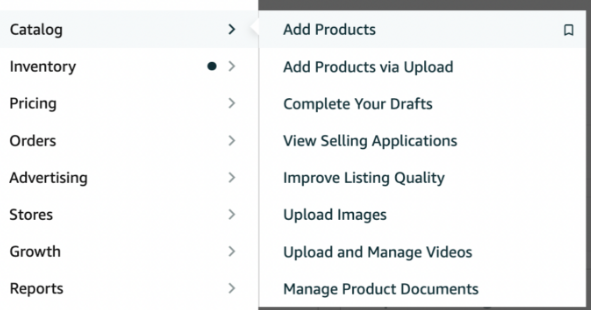 Next, click on adding a product not sold on Amazon. Then, select the exact category you were approved for and choose the subcategory that best suits you.
Afterward, you will be prompted to fill in your product information.
Input your product name or title, specify the manufacturer or brand name; make sure it is the same way it was submitted for the GTIN exemption. In other words, enter the same name that was approved. Since you have obtained a GTIN exemption, you will not be required to provide a UPC or EAN.
You will be redirected to the 'offer' tab. Choose FBA as the fulfillment channel if that's what you want to use.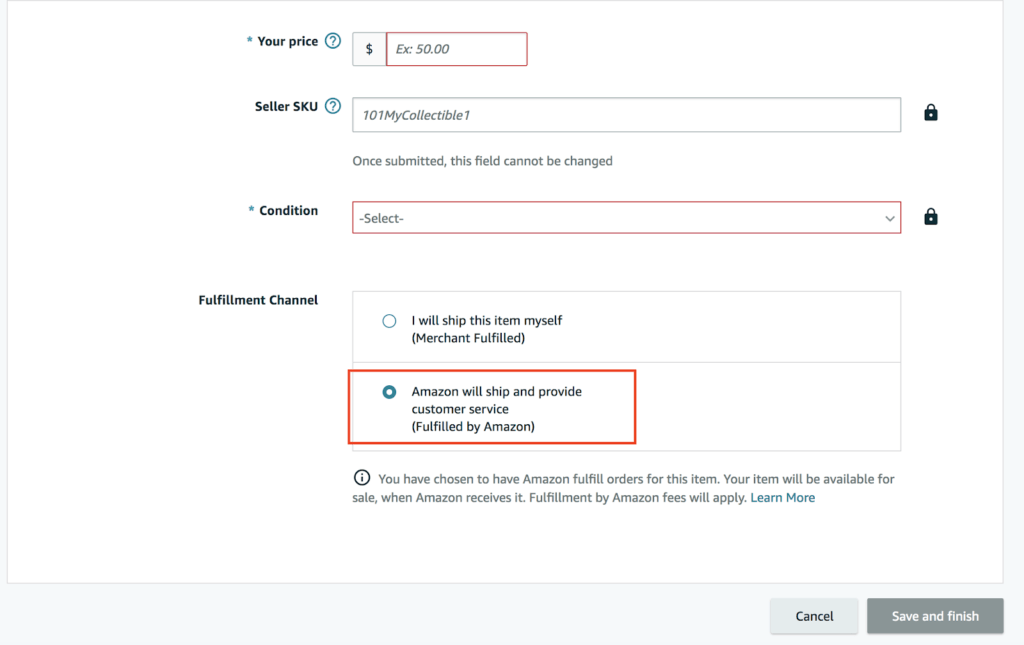 Hit the 'Save and finish' button after filling in all the necessary fields. Your item will appear under the 'manage inventory' tab after about 15 minutes. Once you're redirected to the 'select barcode' page, pick the FNSKU Amazon barcode option.
What if I am not eligible for the Amazon GTIN exemption?
If the product category or brand is not eligible for a GTIN exemption, your only option is to buy a UPC. Formerly, you could buy UPCs from third-party vendors. However, Amazon now requires that all UPCs be bought from GS1. For U.S sellers, you can purchase your GTINs and UPC barcodes from GS1US.
And even if you obtain an Amazon GTIN exemption, you should still plan to purchase a GS1 barcode in the long run. With a GS1 barcode, you can build a sustainable business, such as selling your products on other online marketplaces and brick-and-mortar retail outlets.

Conclusion
If you are an Amazon FBA seller, using GTINs for your products is always a good thing. It makes your products look more credible, and it makes it easier for customers to search for your items. However, there are times when you cannot obtain GTINs for your product. If you are a private label seller or a custom handmade product creator, this might often be the case. In these rare instances, you can apply for an Amazon GTIN exemption by following the steps discussed above.
Your FBA business can only be seamless and successful with FBA tools like Zonbase. Voted as the number 1 most reliable, best-value software tool today, Zonbase can help you with many tasks. From product research, keyword research, competitor reverse ASIN spying, and even listing optimization, Zonbase can give you the edge.
Zonbase will help you find winning products and high-performing keywords, as well as optimize your listings and track competitors. Sign up for a free trial.