Are you interested in starting an Amazon business with little capital? Selling through online or retail arbitrage is the easiest way around it. The online arbitrage model allows you to source products from wholesalers online and then resell them on Amazon. If you decide to use this business model, you'll have to find the best retail bargains to maximize your profit.
ZonBase and Tactical Arbitrage are two tools you should know how to use if you intend to go into reselling on Amazon. We'll compare both tools in this Tactical Arbitrage vs ZonBase review to see which one works best.
Ready? Let's get right into it.
Related: Getting started with Retail Arbitrage
Overview: Tactical Arbitrage
Tactical Arbitrage is an online arbitrage product sourcing tool that helps arbitrage sellers discover the most profitable products to resell. Not all products are suitable for reselling on Amazon. Some products offer a very slim profit margin, and reselling them on Amazon will only put you at risk of making losses. Using this tool, you can scan through thousands of product options on different retail websites to choose the most profitable ones for your store.
When you sign up for the software, you access a search feature that allows you to scan through different third-party websites. It also allows you to compare product prices on these websites, so you can select the items selling at a lower price than they are on AMZN.
With Tactical Arbitrage, you can also stay on top of bargaining opportunities since the tool constantly brings you opportunities to buy low and sell high. You can scan through entire websites or restrict your search to selected categories using filters. Product research is where this tool shines, but it also has other features.
Overview: ZonBase
ZonBase is an Amazon software that offers a complete set of tools that help sellers automate crucial business processes. ZonBase offers an effective set of product research, keyword research, and listing optimization tools. In addition to these tools, the software also offers a photo enhancement service, sales estimation, and a profit tool.
Unlike Tactical Arbitrage, ZonBase can work for every Amazon business model. Tactical arbitrage offers mainly product sourcing features, but it doesn't tell whether or not the product options will sell well on Amazon. In contrast, with ZonBase, you get access to a list of products guaranteed to sell on AMZN. You also get access to a list of authentic and affordable suppliers to source them from.

Tactical Arbitrage vs ZonBase: Unique Features
Tactical Arbitrage Features
Although its search feature is its most talked-about feature, the software also offers other useful features. Some of these are listed below:
Wholesale search: The Tactical arbitrage wholesale feature allows you to scan different wholesale offers to find profitable product options.
Vast Database: Tactical Arbitrage has an extensive database of reliable retail websites like eBay, Costco, and Walmart for you to search through.
Reverse Search: This method allows you to look through a list of products (from categories or ASIN CSV files) to locate items that are priced lower than they may be on Amazon. You'll be shown where to acquire the item, which you can then buy and sell on Amazon for a profit.
ROI Forecast: With this feature, you can access the potential profitability of any product you decide to sell. In other words, you'll be able to calculate the return on your investment for any item you choose.
Review Existing Inventory: Tactical Arbitrage integrates with your existing shop and helps you locate profitable items from your current or previous inventory. Look for them and rapidly source things that are already selling well for you.
Amazon Flips: This strategy is scouring Amazon for things that are cheap enough to acquire, then relisting them at a higher price to make a profit.
Related: Tactical Arbitrage Review
ZonBase Features
Retail arbitrage product research and FBA calculator app: ZonBase recently launched a retail arbitrage mobile app that allows sellers to scan product barcodes and access important product and sales information before making product decisions. The tool also serves as an FBA calculator that helps sellers to calculate and obtain accurate profit estimations without much stress.
Download the Zonscanner Mobile App.
Product Research tools: ZonBase product research tools dive deep into Amazon's database to bring you the most profitable product options for your business. The software offers two main product research tools: ZonResearch and Hot Products. These tools bring you the best-selling products on Amazon at the snap of a finger. You'll also gain access to a list of authentic suppliers to source them. 
Keyword Research Tools: In addition to product research tools, ZonBase also offers a set of keyword research tools to help you generate relevant keywords for your listings. 
Listing Optimization Tools: Using ZonBase listing optimization tools, you can get the algorithm on your side. Thus, increasing your visibility and by extension, your conversions. 
Inventory forecasting and profit tracking tools: ZonBase offers a profit tracking tool that doubles as an inventory forecast tool. With this tool, you can keep track of your profit margin and maintain your inventory without having to log in to your seller central dashboard.
Photo Enhancement: Product images go a long way on Amazon. Even if you have the best products in stock, if your images are unattractive, you'll lose quite a number of sales.
Reverse search: ZonBase offers a Reverse ASIN tool that allows you to get into the back end of your competitors' listings. Using this tool, you can see what keywords your competitors are ranking for.
What crosses your mind when you encounter a Tactical Arbitrage vs. ZonBase review? It is most likely that these tools are very distinct. Yes, they are, but they also have some features in common. However, while one focuses on arbitrage product research, the other focuses on all aspects of your Amazon business.
Is tactical arbitrage worth it? Is ZonBase better than Tactical Arbitrage? You'll be able to decide shortly. However, the best software for you depends on your business goals and needs.
Tactical arbitrage is unarguably one of the best arbitrage websites in 2022. But business needs and goals differ from seller to seller, so you have to define your goals and weigh your options before settling for either tool.
Pros and cons are essential factors when weighing your options and choosing between different high-performing software. This Tactical Arbitrage vs ZonBase review aims to help you make an informed choice. So, we'll consider the pros and cons of both tools to help you choose the best one for your business.
Pros And Cons
Here are the pros and cons of using Tactical Arbitrage and ZonBase:
The Pros of Using Tactical Arbitrage
Seamless product research: Using this tool, you can save time on your product research process. All you have to do is to enter a website name into tactical arbitrage and it will generate a list of the best products for you to resell.
Makes the online arbitrage model easy to set up: Since you'll no longer have to spend so much time combing the internet for the best deals, you can set up your business with ease.
Vast product database: Tactical Arbitrage has a vast product database from over 1000 marketplaces and allows you to find the best products in one place.
The Pros of Using ZonBase
Availability of a mobile app: ZonBase offers an easy-to-use mobile app that makes product sourcing for retail arbitrage a breeze. Sellers no longer have to spend long hours behind a laptop before being able to make product decisions.
Unique Assortment of Tools: ZonBase offers an excellent assortment of tools that sets you up for success on Amazon. Every area of your business will be fully automated, and you will not have to worry about anything. 
Pocket-friendly prices and flexible plans: The software offers three paid plans; the Standard plan at $37/month, the Legendary plan at $67/month, and the Diamond Plan at $132/Month. And that plans give you access to all the tools. Also, there's a 7-day free trial available for sellers who want to explore the features of both plans before settling for one.
Outsourcing option: There are so many processes involved in scaling an Amazon business, and beginners may find these tasks overwhelming. ZonBase offers done-for-you services that allow sellers to outsource major business processes to a team of experts.
The Cons of Using Tactical Arbitrage
Cost: Even the most basic package costs $50 per month, which is quite expensive. Plus, you can't even utilize the product search feature with it. You'll have to pay $70 a month to gain access to this. It will cost you $95 per month to use all of the tools.
The affordable plans don't cover product research: Tactical arbitrage is mainly a product research tool, but the most affordable plans do not give access to its product research feature. If you want to use the tool for product research, you'll have to sign up for the most advanced plan.
It needs an Amazon seller account to run: You must have an Amazon seller account in order to use Tactical Arbitrage. This implies that even if you want to enjoy the free trial, you must first create an Amazon account.
It doesn't do product research: The tool can show you where to get the most affordable deals for the products you want to sell. But it cannot tell you if they'll sell well on AMZN. To identify best-selling items on Amazon, you'll need to use an Amazon product research tool, preferably one that can check competitor performance and sales trends.
The Cons of Using ZonBase
All the regular features are available on the paid plans, but if you want to access the done-for-you services, you'll have to pay additional fees.
ZonBase provides minimal options to handle the subsequent sales process, despite having a multitude of tools to assist you with product research, keyword research, optimization, and launch.
Tactical Arbitrage vs ZonBase: Pricing
Tactical arbitrage and ZonBase are undoubtedly great tools for researching products for your arbitrage business. But neither of them is free, so before you get too excited, you should first know the cost.
Tactical Arbitrage Cost
Tactical arbitrage offers five paid plans that range from about $50 – $95.
Here is a list of their many packages and their prices:
Flip Plan: The plan only gives you access to the Amazon Flip and library search tools.
Wholesale Plan: On this plan, you only get access to the wholesale database that allows you to sort through different wholesale offers.
Online Arbitrage: This plan gives you access to the product search and reverse search features so you can scan for products on other websites.
Online Arbitrage + Wholesale: As the name implies, this plan gives you access to both the online arbitrage and wholesale search features.
Full Suite: This is the most expensive plan, for obvious reasons. On this plan, you get access to tactical arbitrage's complete set of tools.
Tactical arbitrage also offers a 7-day free trial for sellers who would like to explore the different features before choosing a paid plan.
ZonBase Cost
ZonBase offers two paid plans and a 7-day free trial. Here's what you get on either plan.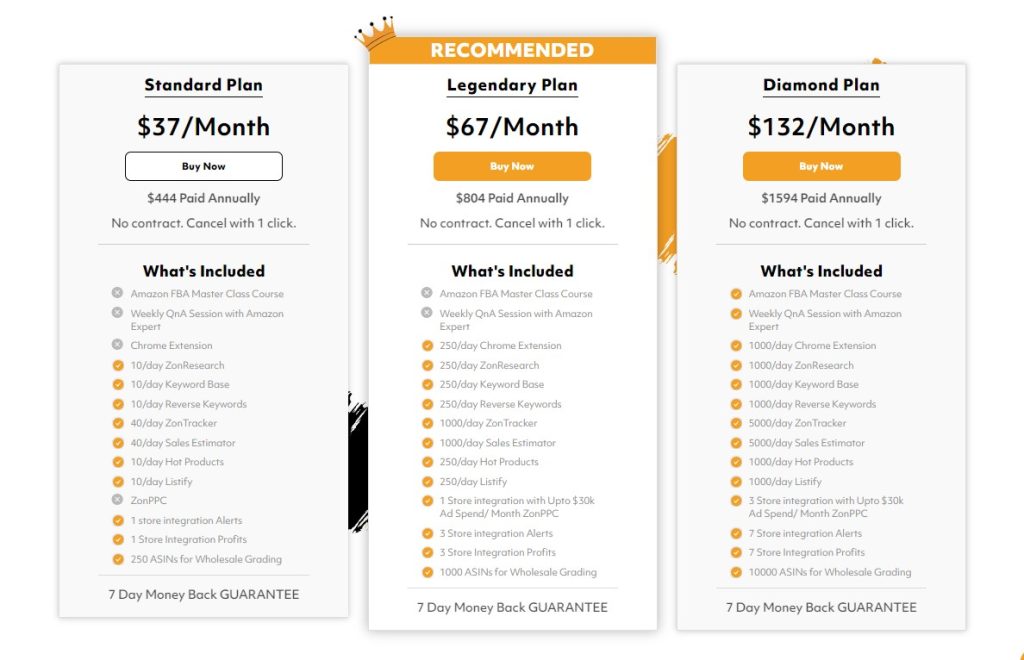 Standard plan: This plan costs $37/month and gives you limited access to all ZonBase tools apart from the PPC automation tools.
Legendary plan: This plan costs $67/month and gives you unrestricted access to all ZonBase tools.
Diamond plan: This plan costs $132/month and gives you unrestricted access to all ZonBase tools along with Amazon FBA Master Class Course and Weekly QnA Session with Amazon Expert.
Is Tactical Arbitrage Worth It?
So, is tactical arbitrage worth it? That depends on your budget and business needs. If you need a wholesale or flip tool, you can sign up for any of those plans. But if what you need is a tool that shows you where to get the best arbitrage deals, you'll have to sign up for the most expensive plan at $95. And if you're on a budget, you may not be able to afford it. This is where tactical arbitrage alternatives come in.
ZonBase is an affordable alternative to tactical arbitrage. The software shows you the best product options for your store, but it also shows you a list of suppliers from which to source your product. If what you want is a tool that caters to every aspect of your Amazon business, then ZonBase is a worthy alternative.
How ZonBase Can Help You Find the Best-Selling Products on Amazon
Using ZonBase's ZonResearch and Hot Products tools, you can access a list of profitable product options. Plus, the tools come with different filters that you can use to narrow down your search. You can also access a list of authentic suppliers to source your products.
Here's how to find the best-selling products on Amazon using ZonResearch and Hot Products.
Open the ZonResearch or Hot Products tool.
Select your preferred product categories, then choose a preset or fill in the filters.
Click on the "Find a possible supplier" button to access different supplier options.
ZonBase vs Tactical Arbitrage Review: Which One is Better?
Online arbitrage is a great way to make money from a large marketplace like Amazon. The business model is easy to set up and scale, even easier when you have the help of high-tech tools like ZonBase and Tactical Arbitrage.
Both tools are great to have in your arsenal. However, tactical arbitrage focuses more on product sourcing outside of Amazon, thereby leaving other aspects of scaling your business to chance.
Successful sellers know that nothing should be left to chance when building a profitable business. Unlike Tactical Arbitrage, ZonBase doesn't only help you find and source profitable products, it also provides tools that cut across all other areas of an Amazon business. With ZonBase, you can rest assured that all aspects of your business are covered.
In terms of the overall analysis, ZonBase is a better option compared to Tactical Arbitrage. However, it is up to you to decide what is best for your business.
Conclusion
Have you been struggling to choose software for your arbitrage business? If you read this Tactical Arbitrage vs ZonBase review to this point, the decision should be easier.
Be sure to weigh your options well and choose the best one for your business.