With so many products and sellers competing on the platform, it can be difficult to stand out in Amazon's marketplace. Lots of experienced brands and sellers are competing with you every day. This means that you need an ace up in your sleeves to succeed.
With that being said, the Amazon Choice badge is a feature added by Amazon to help level the playing field for everyone. Even if you sell the same product as others, having this can help push your listing in front of customers.
So what is Amazon's Choice and how can it help you succeed in the competitive marketplace? Read this article to find out more about this amazing feature.
What Is the Amazon Choice Badge?
Amazon Choice is a tag provided to any product when it has the best match for a particular keyword. It is provided by AMZ and is considered brand recognition. It appears at the top left corner of the product image or just below the product description.
Amazon first introduced this feature back in 2015. It was an alternative to Alexa because of the difficulty of filtering browser search results via voice. To simplify and filter the product search results and display the most appropriate products, this was implemented. Simply put, it means that the products holding this mark are those that have the most relevance and best keyword rankings.
Today, in addition to the voice search feature, Amazon's Choice is a way to quickly assist in sorting out search problems. Searching for the most relevant products on mobile and desktop browsers is now easier with this icon.
Amazon choice Vs. Best Seller Badge
In addition to Amazon's choice badge, AMZ also displays the Best Seller emblem on the product display page. Many people believe that they are the same thing, but they are not. Amazon's Choice badge and bestseller badge have different uses and functions, although they help push conversion rates up.
The best Seller icon is given to the product that has sold the most units per hour in its respective category. This means that a product that is trending up when it comes to sales is more likely to have the Bestseller badge.
Conversely, AMZ Choice is more related to product search and specific keyword-matching features. If the AMZ algorithm thinks that your product is most relevant to a keyword search, you'll get the icon.
Technically speaking, Choice is an SEO-based algorithm for matching keyword search results. Meanwhile, the Best Seller icon is a nod to the hottest products with the highest trending sales in the past few hours.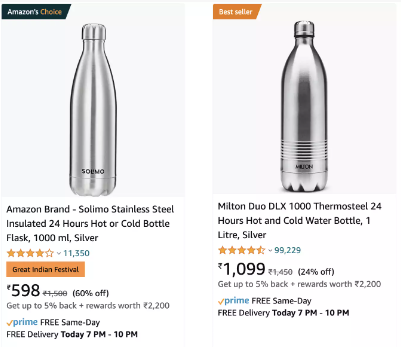 So what is the key takeaway from this? The product with the best-selling metrics gets the Best Seller icon. And products with more relevant keywords will get Amazon's choice badge.
In some cases, it may also be possible that the same product may get both badges. If a product fulfills both conditions with lots of sales and keyword relevancy, this product can get both badges. The product with the most relevant keywords may sell the most in quantity. That, however, can be possible only if you change your product search keywords.

What Does Getting The Amazon Choice Badge Mean?
Amazon's choice is a simple logo to look at, but it has huge importance for sellers. Various winning performances are associated with this icon, and it can push your sales to the top. If you are the owner of this badge, it can surely boost your sales revenue and conversion ratio.
The bottom line is, that the products with this icon receive twice the traffic as other products. Compared to a similar product in the same category without it, having the badge makes a huge difference.
Now that you are clear that this is directly proportional to increasing sales quantity, the next step is how to get it. But is there an easy way to get this without investing time and resources? Well, it is not that easy.
Had it been easy, every seller would have it on their products, right? Various articles are promising you to give the sure-shot answer to get the badge isn't always telling the truth. But to help you out, we have highlighted some things you can follow to increase your chances.
Why Having The Choice Badge Matters
In the following sections, we'll tell you steps that can help you regarding how you can get the badge. It is not simple, but it is also not that impossible. For example, if you are a best seller with all other perfect performance variables, you might have a chance to get it. Believe us, there is no Amazon choice badge hack.
When you focus on being a great seller, you surely will take care about having a well-optimized product listing. This means you prioritize aspects of your listing, such as the product image, descriptions, product titles, and featured bullet points. If you master the product listing, you have already performed all the tasks to win the badge. When you rank high on the first page of search results, you are already on AMZ's most relevant product for any search term.
You may be curious to know how AMZ provides this icon to various products. There is no way that this can be looked after manually. Do you think that Jeff Bezos or his assistants will look at these products closely and provide the icon individually? No way! It's impossible to be done.
Amazon has an algorithm to choose the product for the badge. This algorithm selects the products automatically depending upon various factors. The most important factor among them is the conversion, and the number of clicks on the given keywords search result page.
What are the benefits of having an Amazon's Choice Badge?
At the end of the day, most sellers only have one goal: to sell more products and make more money. And regarding this, having the chosen badge in your product listings can do wonders for your conversion rates.
Here are some of the most important benefits of having the badge in your listings:
Improved Voice Search Sales
Did you know that according to a study, almost 85% of customers who use voice search trust Amazon's recommendation (Source: VoiceBot). So what does it mean? It means that when your listing contains the badge, you are more likely to make more sales. The continuous growth of the voice search feature, especially in e-commerce, makes the badge very important. If you can win the badge in your product listings, your sales might double or even triple quickly.
Better Search Result Rankings
One of the most important benefits of having this badge is that you are more likely to land at the top of search rankings. And for third-party sellers who are in a very competitive market, this could be a game-changer.
Imagine getting your product in front of millions of people just because of a single black badge on your product listing. That is the kind of power that having the choice badge can give. More traffic means more revenue and sales, which means better business and more money.
No Need To Sell A Lot To Be On Top
It has been a notion in the AMZ e-commerce space that you must sell many items first. Before the algorithm notices your listing, you must become a top seller first. While this might be true when it comes to the BSR (Best Seller Rank) feature, it doesn't apply to the Amazon's Choice badge.
As long as you are nailing the right factors in your listing, you can still get this badge without selling hundreds of products. And for beginners who don't have lots of products sold yet, this is a very important feature to have.
How Can You Get the Amazon choice badge?
The number of clicks and conversions are the most important factors in getting the badge. Along with these two important factors, other factors must be taken into consideration for increasing your chances of getting the badge.
Note that, these factors only increase your chances of winning the badge. They are also not surefire ways to get it, but they will help increase your chances. Let's look into these factors to supplement your ability to win the Amazon Choice badge:
Be an Amazon FBA Seller
Amazon FBA is favored by Amazon for selling goods on its website. This makes it easy for customers to buy your products on Amazon. They also prioritize products that are easy to buy and sell. This means that selling products using the FBA fulfillment method can help you win this coveted badge.
All these things make it mandatory to sell the products under Amazon FBA if you want to win the choice badge. To increase your chances of winning the Amazon choice badge, using FBA as your fulfillment option is key.
To make some profit, Amazon also needs to fulfill the selling process. It needs to list more sellers, and add more products to its platform. It needs to connect more customers with the sellers and increase conversions.
To be able to convert customers and sell your products fast, you must apply to be an FBA seller. Similarly, being an Amazon FBA seller and having enough inventory are also important factors to winning the Amazon Buy Box. If you win the Buy Box, you can sell more and convert more traffic into paying customers.
Follow all these tips and you can be closer to winning the badge.
Enrich Your Product Listing With Highly Relevant Keywords.
Many sellers generally understand what a keyword is and what it can do to your listings. But they don't know the exact ways to incorporate the relevant search terms or keywords to improve their listings. Amazon SEO is difficult to understand, and one can easily divert from using the high search volume keywords.
There may be times when there may be a lower search volume for any particular keyword. But as long as they are the most relevant search terms for a given product, they can still get you traffic. That is why the selection of a specific keyword should always be driven by the search intent. Besides, some lower search volumes may have a better chance of a conversion. If your listing contains the most specific keywords for a given product, winning the badge is a lot easier.
A keyword in your search term's result is the most valuable factor to help your product convert. So, Amazon focuses on adding a long-tail keyword for product listing targets. If done correctly, you can get to the top of the product page, increase sales, and ultimately get the badge.
But don't think that having only one specific keyword will get the job done. It can do good, but why not go the extra mile? Include multiple keywords by including phrases that are semantically related to your main keywords. Use the keywords and phrases in a different format and work on alternate phrasing in your listings.
Maximize Sales Velocity and Reviews
There may be times when you have done all the things on your part, but you are still unable to get this coveted badge. You have strengthened the product listing, included the keywords and done all the listing optimization jobs. But, still, you haven't got the badge? Why? You don't have enough sales and reviews for your products to qualify for the badge.
High sales and product reviews are already considered good variables for a booming Amazon FBA business. But what most sellers fail to understand is that it also has a huge effect on the product listing SEO.
If you want a positive impact on your product listing, you must improve your product rating. If you have the best-priced products with a good rating, you can easily get the best SEO that will pay off. It's easy to control the product pricing based on the competitor, but you can't quite get hold of your product reviews. There are various seller tools in the market to solicit your product reviews legally without crossing Amazon's guidelines for product reviews.
Also, keep in mind to minimize your product return rate. If the return rate increases along with your sales, your efforts will go in vain. Check your return rate in your Seller Central account and ensure it remains low.

Be Eligible For Prime
Aside from opening up your products to Prime subscribers, getting eligible for Prime also has another perk. You can also boost and improve your chances of winning Amazon's choice if you are Prime-eligible. Being eligible for Prime plays a heavy influence on getting Amazon's Choice, too.
If you sell to prime subscribers though, you will have to provide fast and reliable shipping; most times, same-day or two-day shipping for free. This may be difficult for sellers who do not use Amazon FBA and cannot afford to ship immediately.
Fix Competitive Prices
Pricing is another strategy for getting the choice badge for your products. The choice badge is basically a tag that shows that a product is a great deal, so if you fix prices that pass this message across, then you'll be more likely to earn the badge.
However, product prices are constantly fluctuating on Amazon so the only way to maintain competitive prices is to make frequent price adjustments. An easy way to do this is to use a repricing tool. Using a repricing tool, you can set pricing rules and the tool will automatically implement them when there is a corresponding fluctuation.
ZonRepricer is an easy-to-use repricing tool that allows you to make swift price adjustments without having to make manual efforts.
How to Get the Amazon Choice Badge by Optimizing Your Listings
As we mentioned earlier, optimizing your listings with keywords and maximizing sales velocity is one of the strategies for getting the choice badge. Yes, you cannot predict the outcome of your listing optimization efforts, but optimizing your listings can significantly increase your chances of getting the choice badge.
If you want to get the best results from your listing optimization efforts, it's important to carefully review your listing elements from time to time. One of the best ways to optimize your listings is to use Amazon software. Whether your goal is to create an optimized listing from scratch or optimize an existing listing, a listing optimization tool will come in handy.
ZonBase offers two listing optimization tools — AI Listify, Listify, and one listing optimization service — Listing Optimizer. Listify and AI Listify are quite similar, the only difference is that one (AI Listify) is an AI-driven tool and the other (Listify) isn't. Of course, AI Listify is a much better option because the AI feature helps you to optimize your listings in less time.
Listing Optimizer, on the other hand, is a personalized service that allows you to outsource your listing optimization needs to a team of experts who will carry out in-depth keyword research and optimize your listings from start to finish.

With AI Listify, you can create optimized listings from scratch. All you have to do is to provide a seed keyword, once you do this, the tool will pull up the top-ranking keywords from your competitors' listings and then create a unique, well-optimized listing for you using these keywords. The tool creates a complete listing — descriptions, images, and titles included to help you increase your chances of conversion. You can try out the AI Listify tool for free when you sign up for a 7-day free trial of ZonBase.
Sign up for a free trial of ZonBase.
Conclusion
The summary of this discussion is this: getting the badge is not a myth. It is not easy to win the badge in your listings, but it will pay off if you get it. Just try and be the best seller, comply with all the guidelines, and follow the tips we have given you. You'll not only get the Amazon choice badge. You might also win the Best Seller badge as well.
So, are you serious about getting this badge for your product listings? Then you need access to a tool to help improve your product listings. Zonbase, voted as the best Amazon seller tool today, can help you accomplish this feat. With over 13+ tools and services, including product listing optimization, winning that coveted badge has never been easier.
Use ZonBase listing tools to increase your chances of winning the Amazon choice badge! Sign up for a free trial.