Selling on Amazon is a great way to make money if you're able to navigate the complexities involved. Keywords are a core element of every Amazon business and keyword research is one of the complex processes you'll have to undertake.
As important as keywords are, they seem to be the holy grail that only a few sellers have been able to find. However, keywords make a world of difference when it comes to selling on Amazon. Thus, to build a successful business, keywords must be part of your visibility strategy.
With random Google searches, you can make wild guesses. But if your goal is to go from having no sales to record-breaking sales, then you must know how to find keywords with high search volume. So, if you are having trouble developing a relevant keyword mix for your products, you should use an Amazon suggestion expander. You'll learn all about this mystery tool in this post.
When customers shop on Amazon, they often search for products using certain search terms. Using keywords, Amazon's search engine delivers products relevant to a particular search category. The search engine sometimes suggests better ways to search for the product. It does this by bringing up different search suggestions using the autocomplete feature. Here's what it looks like: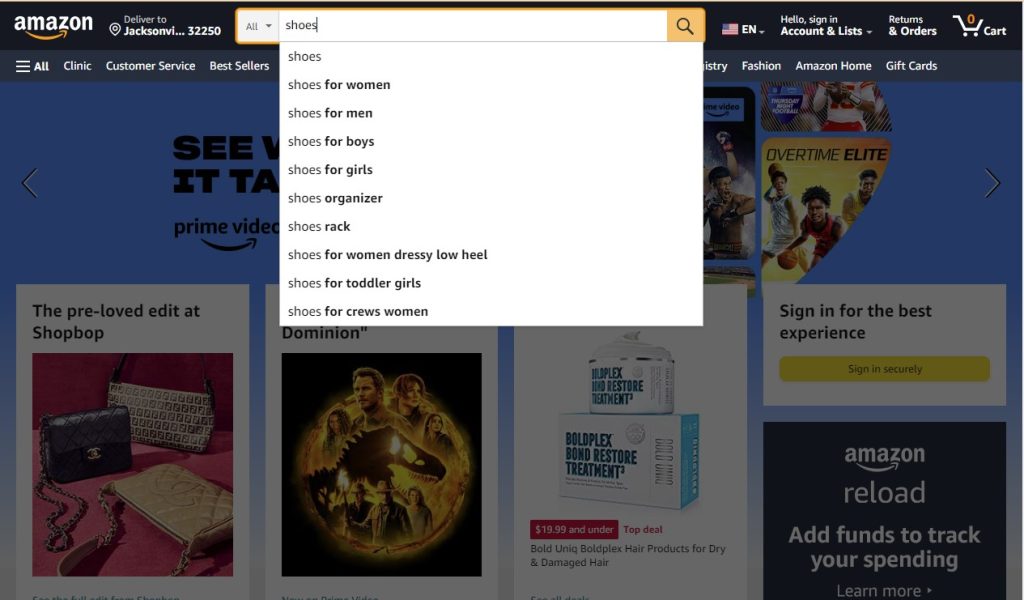 These keyword combinations make it easier for shoppers to find desired items. Thankfully, the algorithm is not created for only shoppers, so sellers can also use this feature. That's where an Amazon suggestion expander comes in.
As a seller, most of your research is done on the back-end, so you'll have to input keywords while creating your listings. A best practice is to use a varied combination of relevant keywords in your listings. The question is, how do you discover the perfect mix of keywords with high search volume to include in your listings for optimal conversions? Use an Amazon suggestion expander.
Related: Best Amazon Chrome Extensions For Sellers
What Is An Amazon Suggestion Expander?
An Amazon suggestion expander is a chrome extension tool for Amazon sellers. This Chrome extension predicts the algorithm's search suggestions and shows you which words the algorithm will likely place before and after your root keyword.
There are more than 12 million products on Amazon (Source: BigCommerce). But the majority of them belong in the same category or sub-category. For instance, if we navigate to the 'Baby' category on Amazon, several subcategories pop up. Under the apparel and accessories subcategory, there are several products. The majority of them belong to the same brand but have different sellers. Some of these products even have similar titles with only little tweaks.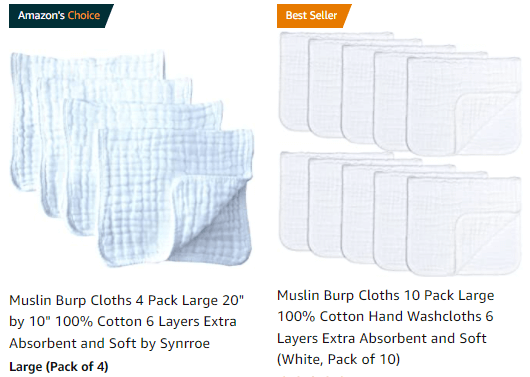 There's a good chance that these products are from sellers who used a suggestion expander. What the search suggestions do is show you the best ways to combine keywords.
To optimize your listings, you'll have to use product-related keyword combinations. It is almost impossible to come up with a reliable keyword mix off the top of your head. So a suggestion expander is a no-stress way to uncover streamlined keyword mixes with great search volume. Here's something like what you'll get if you use a suggestion expander and you sell board games.
From the search suggestions that the Chrome extension tool will provide, choose the keyword mix that is most suitable. Now that you know what an expander does, why should you use one?
Why You Should Use A Suggestion Expander
Regardless of the business model you use, you will have to find and include keywords with high search volume in your listings. This means that any seller can use an Amazon suggestion expander. Now that you know what an Amazon suggestion expander does, why should you use one?
Access To A Vast Set Of Search Suggestions
Most suggestion expanders are chrome extensions. So they work even while you're typing in Amazon's search bar. All you have to do is type in a root keyword in the search bar, and the Chrome extension will pull up a vast collection of keywords.

Easier and More Effective Keyword Search Process
Having access to this large collection of keywords cuts down research time considerably. Use different keyword combinations or mixes in your listings. Take out keywords that are not converting. Then replace them with new ones without having to run another test.
All you'll have to do is to download keyword suggestions into a spreadsheet. So you can go back to the spreadsheet at intervals to reshuffle or select a new set. These keywords also make it easy for you to delve into new niches on Amazon.
Better Visibility and Improved Conversions
Keywords are important, especially if you want to gain more visibility. With hundreds of keywords at your disposal, your visibility will go right over the roof. Don't underestimate the power of suggestion expanders. Select the right keywords and watch your visibility skyrocket.
Best Amazon Suggestion Expanders For Sellers In 2023
It may be hard to choose one from the many suggestion expanders available. Even worse if you haven't used one before. There are many options, and they all claim to be the best. Here are a few that have caught our attention.
This Chrome extension tool expands the search suggestions by showing the possible keyword combinations. It also allows you to download these keyword or search suggestions into a spreadsheet.
It also displays a set of common keywords just below the suggestions. It shows the search volume estimates and links to search bar results. The tool also contains a word analysis sheet that reveals how often each word appears.
This tool allows you to access hundreds of Amazon's search suggestions. You can go through this list and manually select keywords. Alternatively, you can add them all using the "Add all" button next to each keyword suggestion.
You can create a list of downloaded keywords by copying the search suggestions into a text file or to your clipboard. You can also import the downloaded keywords to the Amazon keyword list tool. This tool is a Chrome extension tool and can be downloaded from any Chrome web store. It is accessible as a free tool, although there is a pro version.
This is not a Chrome extension tool but rather an in-built system that most search engines use. If you want to use autosuggest, start by opening an incognito browser window. To do this, press Control + Shift + N. This opens a blank browser without any cached information from previous searches. As a result, you can view the data from a neutral perspective.
Navigate to any website. Next, perform a keyword search in the website's search bar. This tool works just like any regular expander that you download from the Chrome Web Store. When you start typing your seed keyword, you'll get search bar results that contain a list of terms that shoppers already use.
This keyword suggestion expander comes in handy for keyword research for FBA and KDP products. Simply start typing a keyword into the search bar, and the tool will instantly pull up a long list of suggested search keywords.
The tool also allows you to download the suggested keywords as an excel document with one click and use it for SEO research or create a keyword ad campaign.
ZonBase offers an Amazon keyword tool that allows you to uncover thousands of keyword suggestions to help you optimize your listings better. With the ZonBase keyword tool, you can enter a main keyword and access important keyword information. The tool displays estimated monthly search volume and search trends for your keywords. It also provides a smart score that shows the keyword search volume and number of competing sellers for each keyword.
How To Choose The Best Amazon Suggestion Expander In 2023
There are some factors to consider when choosing an expander. Here are two of the most important ones.
Price
There are many keyword expanders, and not all are free, but the majority are. You can use only free tools, or you can opt for paid plans if you want access to all the features or more daily searches. If you aren't using the tool often, a free tool will work great.
Reviews
Check out reviews from those who have used the Chrome extension. Before you use them, ensure they provide accurate keyword suggestions. If not, using them in your campaigns may be a waste of time and money. If the tool has many positive reviews, then it most likely works well. Negative reviews show the opposite. If most users complained about the tool or rated it less than three stars, you may want to rethink using it.
Once you get an expander that is within your budget and works great, you can jump on it. Now, how do you use the search suggestions that you get from the Chrome extension?
Related: How to get reviews on Amazon
Free Trial
Free trials allow you to explore the tool to your satisfaction before making a financial commitment. This is a great way to confirm if the tool has all it takes to aid your keyword research process.
What To Do With Your Keyword Suggestions
After getting keyword and search suggestions from your expander, what should you do next?
Create a list of keywords
The suggestion expander generates several keyword suggestions. Still, not all of them guarantee results. Whether your goal is more sales or more visibility, you'd have to carefully pick from the many options.
Selecting viable keywords from the search bar results you get may be tough, but here's one way to go about it. Copy the search suggestions into a spreadsheet and make a list of the most relevant ones. Then choose keywords from your final list for use in your listings. Next, create your listings and use your preferred keywords.
Optimize your listings and PPC campaigns
Generating keywords and just creating a list is not what gets you conversions. You have to create and optimize your listings for that to happen. One way to optimize your listings is to include keywords in titles and descriptions. Since you have a list of keywords, the trick is to select keywords from your list at intervals. Then, use them in your listings and campaigns.
Afterward, carry out a periodic check. This way, you can discover which keywords work best for your listings and which don't. Once you have discovered the keywords that do not convert, you can delete them. Only use keywords that convert in your listings and ads, else, you won't get any results.
How To Optimize Your Listings
Creating listings is not so much of an easy task, especially for beginners who have little knowledge of what it entails. Here are some best practices to help you optimize your listings.
Choose Relevant Keywords
With hundreds of keywords suggestions at your disposal, you may be tempted to choose keywords randomly. Avoid stuffing up your listings with irrelevant keywords, especially those that are not product or niche-specific.
Select Correct Product Categories
It is always best to select precise product categories. Some customers search by category, so if your listings are wrongly categorized. Hence, you should list your products under the right category to avoid missing out on sales.
Don't Duplicate Product Pages
If your product comes in different sizes and colors, don't create separate pages. Customers will find your products faster if you don't create different search results. Every product in Amazon's catalog has an indexed description. This is to prevent confusion and duplicate content.
Use Clear Titles and Descriptions
Product titles are the key to customers finding your products and receiving vital information. So, ensure they're specific and say exactly what product you're offering. Here's a guide to help you craft better product titles.
[Brand] + [Sub-Brand] + [Model Number] + [Size or Specifications] + [Product Description] + [Product Features]. Don't forget to use keywords. Your description is the part of your listing that allows you to convince buyers. You should pay attention to your descriptions and provide enough details. Be sure to include all the search suggestions or terms that relate to your products.
Also, include the product's physical and technical specifications. Don't forget to use bullet points for easy readability.
Include Product Reviews and High-quality Images
After descriptions, reviews are the next thing a potential buyer pays attention to. No one wants to buy a product that's just words and no results. When you include reviews in your listings, customers can tell that other people have used it and that it's worth it. The more reviews on your listings, the easier it is to gain customer trust.
Amazon's specification for product images is 1000 x 1000 pixels and at most 5-6 images. Use products that capture the product from all angles and show its features well.
Best AMZ Software For Listing Optimization and Keyword Research
Listing optimization is not as difficult as you may have imagined. If you don't want to bother yourself with the complexities of the process, you can use Amazon software.
ZonBase is the best software for listing optimization and keyword search. The software offers a set of listing and keyword tools. The listing tools are flexible. You can either do it yourself or outsource your listing creation process to a team of experts.
ZonBase offers two paid plans at a pocket-friendly price. But if you don't want to go all-in, you can sign up for a 7-day free trial.

Conclusion
An Amazon suggestion expander is a great tool for sellers looking to improve visibility and make more sales on AMZ. Using AMZ software alongside suggestion expanders is a perfect way to get the desired results. Now that you know what a suggestion expander is and how it can help your research process, go ahead and scale your business!