Creating an Amazon seller account is the easiest part of setting up an Amazon business. Product sourcing is the next step and is easily one of the most challenging aspects of selling online. You'll have to deal with pressure to purchase high-quality products at a price that allows you to make a profit. And if you choose the wrong Amazon suppliers, you may end up losing most, if not all, of your capital.
So, how do you find the best Amazon suppliers for your growing business? What are the things to look out for when choosing a supplier? We'll discuss all these and more in this post, keep reading!
Types of Amazon Suppliers
Just as there are different Amazon business models, there are also different types of Amazon suppliers. And many times, your business model determines the type of supplier that is best for you. So, before choosing a supplier, you should not only know the different types of suppliers but also compare them thoroughly. Also, keep in mind that in business, there are pros and cons for every decision, and making a supplier choice is not left out.
There are four different types of Amazon FBA suppliers: Wholesale suppliers, Dropship Suppliers, Manufacturers, and Closeout companies. Each option comes with its pros and cons, so it is important that you consider the options individually before settling for one. Here are the advantages and disadvantages of each of these options.
Wholesale Amazon Suppliers
Purchasing products in bulk will always be a great business idea especially if you're looking to save money. Wholesale suppliers allow you to purchase your products in large quantities and at a lesser price than if you purchased from a retailer.
Benefits
Reduced Costs: When you start sourcing products, you'll most likely be trying to save money. Buying in bulk can help you do that and wholesalers often offer substantial discounts on bulk orders. Furthermore, most wholesalers are willing to negotiate, so you can even save more money if you know how to bargain.
Straightforward process: Wholesalers usually have many product options and the product sourcing process is usually seamless.
Ease of Access: Wholesale suppliers are the most popular type of suppliers and it's easy to come across them. A single google search or a visit to product sourcing websites like Alibaba will lead you to thousands of wholesale suppliers.
Drawbacks
Huge Capital Investment: Buying in bulk requires large capital investments, and new sellers may be unable to afford them.
Storage and Inventory Management: If you buy products in large quantities, you'll have to create storage space and maintain your inventory well. This may result in extra costs in form of rent and inventory management tools. However, using Amazon FBA may reduce the need for large storage space.
Related: How to sell wholesale on Amazon
Dropship Suppliers
These suppliers are the next most popular type of suppliers. If what you need is someone to ship products directly to your customers, dropship suppliers should be your go-to.
Benefits
You won't have to maintain an inventory: The dropshipping model allows you to sell without maintaining an inventory and dropship suppliers are always ready to send products to buyers directly.
Low business costs: You won't have to pay for bulk supplies, and you won't be under any obligation to sell out quickly. Plus, you only pay the supplier when you get orders and the products are sold, this means fewer risks and lower costs.
Drawbacks
Zero Control: Running a dropshipping business leaves you at the mercy of suppliers. You'll have little control over delivery times or product quality. However, if the supplier is reliable, this should not be an issue.
Inventory Issues: Product availability will depend on your supplier, and this may be bad for business. If products are constantly out of stock, you may have to go through the stress of finding another supplier or risk losing your customers.

Manufacturers
Manufacturers produce the goods and are the most reliable product sourcing channel. Like wholesale, purchasing from manufacturers can help you save money, but they usually have a minimum order quantity. So, you'll have to make large minimum orders and this translates into more capital investment.
Benefits
Low-cost per item: Manufacturers offer a low per-item cost. Plus, you'll be cutting out the profit margins that wholesalers and dropship suppliers often add to their product prices. However, your negotiation skills may not be helpful since their prices are often fixed.
Custom-made Products: Unlike other suppliers, manufacturers can customize products to suit your brand. So, if you intend to sell private label products on Amazon, sourcing from manufacturers is your best bet.
Drawbacks
Large Minimum Order Quantity: Since manufacturers usually have a fixed minimum order quantity, you cannot buy less than a stipulated number of products. So, this may not be your best option if you're just testing the water. You'll also have to make some upfront investments which can be a lot if you're on a tight budget.
Manufacturers are often unwilling to work with small businesses. This is because established brands have a higher capacity and can purchase more items.
Closeout Companies
Closeout companies specialize in clearance deals. In other words, they buy the last set of products from manufacturers who are trying to clear out their stores. Closeout companies usually get massive price slashes since manufacturers often want to sell off the items quickly. As a result, sellers are more likely to get high-quality products are reasonable prices.
Benefits
Since closeout companies get their products at highly discounted rates, sellers can also get the products at lower prices.
Drawbacks
Closeout companies are not the most reliable type of suppliers because it's not all the time manufacturers clear out their stores. Plus, they often have limited product options.
Now that you know the different types of suppliers, how do you choose the best option for your business?
Related: Ultimate guide to selling on Amazon
Things to Consider When Choosing Suppliers
Choosing a supplier is a major business decision and the wrong choice can lead to losses so it's not something you want to gamble with. Your final choice will depend on three factors:
Order Quantity: What's the quantity of products you're looking to buy?
Variation: How many different products are you looking to add to your store?
Budget: Can you afford to make huge upfront payments? Do you have enough storage space and can you manage to ship your products?
Always consider your budget and the resources available when choosing Amazon suppliers. If you are on a tight budget, you'll be better off sourcing products from closeout companies. If your budget is a bit more flexible and you have enough storage space, wholesale suppliers and manufacturers will be a great option for you. Dropship suppliers are a great alternative if you have minimal resources and limited storage space.
Your order quantity is another important factor to consider. Manufacturers can offer you large quantities, whereas distributors and wholesalers often have limited inventory. Closeout companies also have extremely limited inventory and will only sell you what they have left. Apart from your budget and order quantity, you should also consider the flexibility of the sourcing process, pricing, and the quality of the products.
Once you have decided on the type of supplier to use, the next step is to contact and compare different suppliers. Product sourcing goes beyond just making payments and buying products from any supplier. If you intend to sell on Amazon, you will have to make sure the products you're listing for sale are authentic. And the only way to be sure they are is to source products directly from manufacturers or authorized distributors.
So, when carrying out supplier research for your FBA business, you'll have to ask questions and compare based on different factors. Here are a few questions you should ask before settling on a supplier:
What is the product shipping duration?
What is the minimum order quantity?
How do they track your shipment?
What is the mode of shipping? (What logistic company do they use)?
Do they have a flexible return policy?
Do they have a liability insurance certificate?
What is the cost of expedited shipping?
What happens if the product doesn't arrive?
Do they have proof of authorization and other necessary documentation?
Are there references or reviews from other sellers who have worked with them?
How to Find Amazon Suppliers for Your Business
Supplier research does not begin and end with deciding on the type of supplier to use. You'll have to do the work and find a reliable supplier to order the products from, and this is not always a breeze. However, there are a few channels you can try if you're trying to find suppliers for your business. A few of them are listed below:
Order from China
China is one of the largest markets in the world, so it's quite easy to find product manufacturers and wholesalers there. And you don't even have to travel, you can simply check out Chinese online marketplaces like Alibaba and Aliexpress.
Alibaba is usually the first place new sellers check when trying to find Amazon suppliers because it is the largest marketplace in China. Plus, there are manufacturers listed on the platform and you can buy directly from them which makes it easier to get products at fairly affordable prices. As a result of the low prices though, these manufacturers tend to deal with only large orders. But if you check the platform well and ask questions, you may be able to find a supplier that's willing to work on your terms.
If you don't find a supplier on Alibaba, be sure to check out other marketplaces like TaoBao, Global sources, DHgate.com, Banggood, Aliexpress, and Made-in-China. You'll have access to many supplier options, but choosing an authentic one can be tricky so remember to ask questions.
Check out Wholesale Directories
Imagine how easy your supplier research process would be if you could access a list of Amazon-approved wholesalers. Wholesale directories give you access to a reliable list of Amazon FBA wholesale suppliers.
One of the most popular wholesale directories, Worldwide Brands, lists thousands of wholesalers and millions of products. Worldwide brands compiles a list of reliable suppliers from different trade shows, then visits their warehouses to confirm the quality of their products before adding them to the directory.
SaleHoo and Inventory source are also good wholesale directories that you can sign up for. The majority of these wholesale directories vet the suppliers before adding them, however, not all of them do. So, be sure of the vetting process before signing up for any of them.

Use an Amazon Seller Tool
Contrary to the idea that you may have had, Amazon software can also be used for supplier research. So, when you find the right product, you also get access to a list of genuine suppliers to buy it from. ZonBase is one of the few seller tools that offer a supplier research feature. Using ZonBase's Hot Products tool, you can access a list of authentic suppliers for any product you decide to sell on Amazon. Here's how to find a supplier using the Hot Products tool:
Open the Hot Products tool in your ZonBase dashboard.
Select your preferred product categories and narrow down your search using the filters.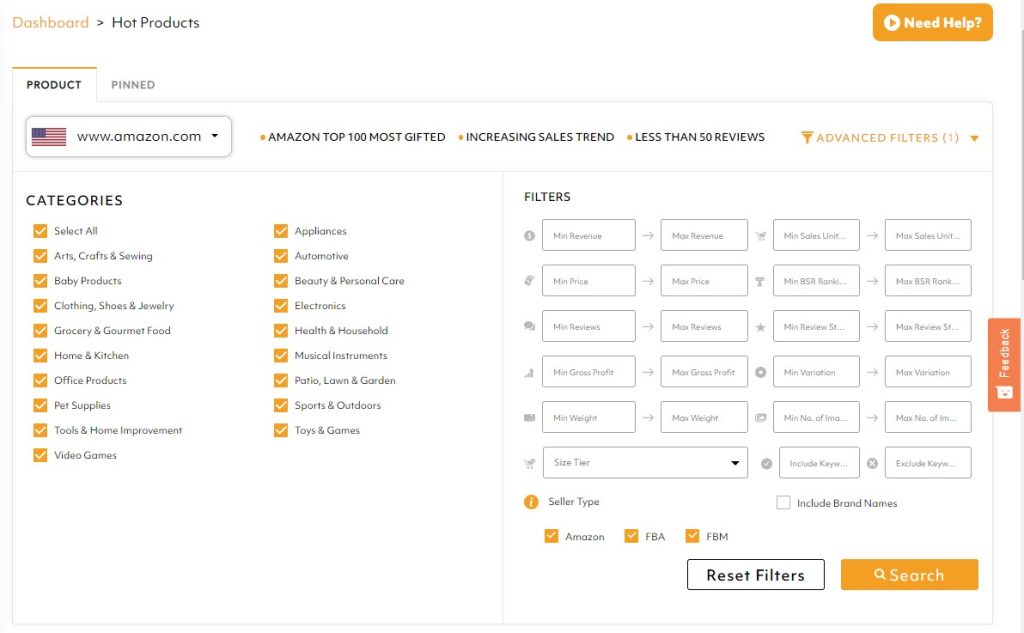 The tool will generate a list of profitable products in each of the selected categories.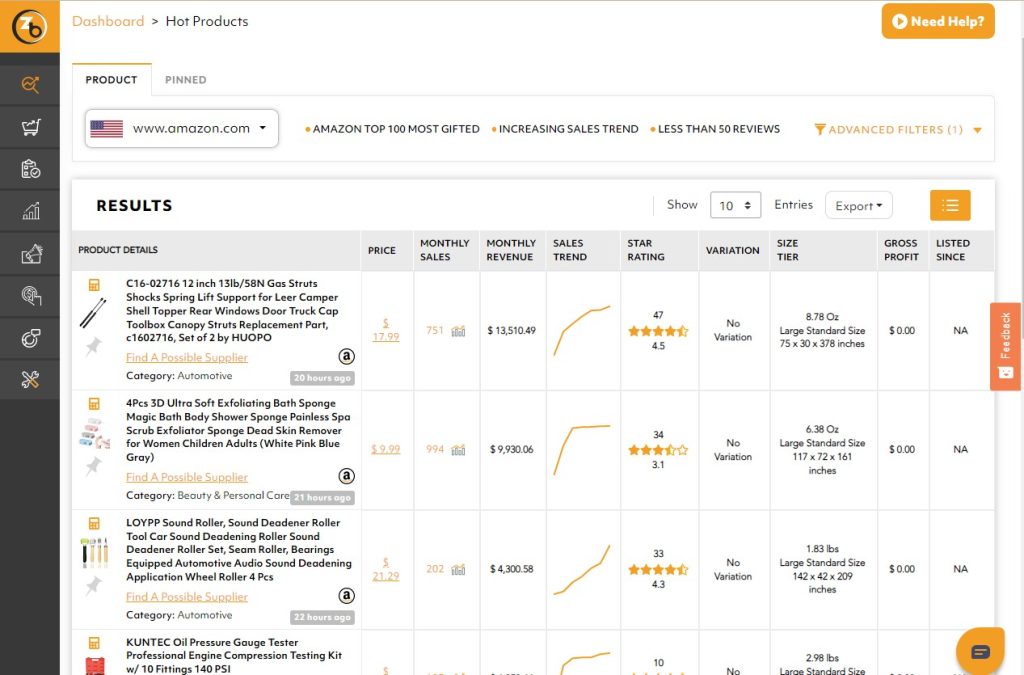 Click on the "Find a possible supplier" button to access a list of suppliers for any of the products.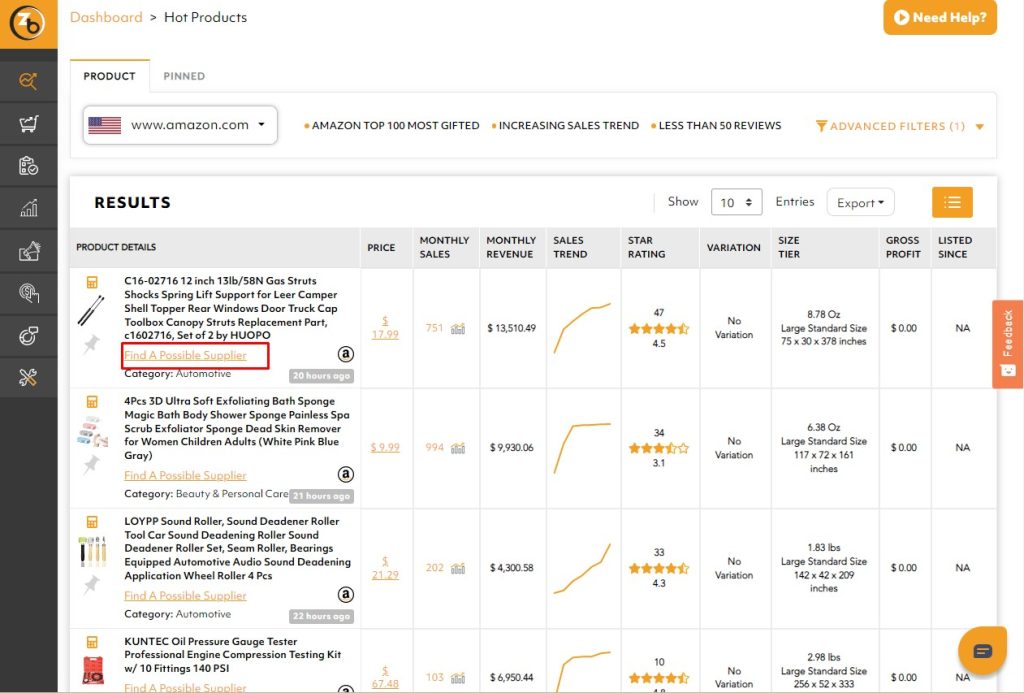 You'll be redirected to a list of reliable suppliers
ZonBase also offers different product research tools to help you find the most profitable products for your store. Apart from product research and supplier research, you can also use ZonBase for listing optimization and keyword research. The software also offers photo enhancement services as well as a sales estimator and profit tool to help you track your sales and manage your expenses.
Attend Trade Shows
Trade shows are a great way to find reliable Amazon suppliers. Trade show organizers often liaise with manufacturers and wholesalers so if you attend in person, you may be able to talk to suppliers directly. If you can't attend trade shows in person, you can attend virtually and then reach out to wholesalers and manufacturers at the end of the event.
Search Engines and Facebook Groups
Almost everything can be found online these days if you know how to use keyword-specific search phrases. You can get spreadsheets online if you use keywords like "industry" + "inventory" and mix them with "CSV" and "xls."
Facebook groups are a great alternative if you don't want to run random online searches. If you join relevant Facebook groups, you can get reliable supplier recommendations and even get reviews from other sellers.
Conclusion
Finding Amazon suppliers is not a day's job, it can be an overwhelming process especially if you keep coming across fraudulent people. But if you maximize the information provided in this post, you'll be able to find reliable suppliers for your next product quickly.
Also, remember to weigh your options before choosing a supplier and ask questions when necessary.