Selling online is one of the easiest ways to earn passively, and Amazon is undoubtedly the best online marketplace to sell on. The marketplace has more than 300,000 active sellers and 2.5 million active customers, and it has continued to grow exponentially. AMZN provides an enormous income boost to new sellers every quarter, about 44% of sellers earn between $1000 – $25,000 monthly. (Source: Jungle scout)
Hence, prospective and existing entrepreneurs love the AMZ marketplace. This is because it is an easy business model compared to managing physical stores.
There are two related yet different types of accounts or channels for sellers.
However, the question prospective sellers often have is, "What is the best channel to sell on?" Thus, the seller central vs vendor central comparison is one every seller is familiar with.
If selling on Amazon interests you, then you will have to choose between seller central vs vendor central. In this post, you will learn all you need to know about seller central and vendor central; we will consider the pros and cons of using either seller account to help you make an informed decision.
Related: How to sell on Amazon FBA for Beginners
What is Seller Central?
Seller Central is AMZN's dashboard for third-party sellers. In other words, any independent seller who wants to sell on Amazon must create a seller central account to enable them to manage their inventory and execute other business tasks. With seller central, anyone can start an Amazon business without having to worry about things like payment processing, website design, and return processing.
Seller Central Benefits and Disadvantages
Benefits
Sellers have control over their inventory and prices
Independent sellers have pricing control. In other words, they get to fix their product's retail prices. So, if a seller chooses to sell on several marketplaces, they can regulate their product prices. Price changes can also be implemented swiftly, especially in a competitive market.
However, independent or third-party sellers who want to succeed in the Amazon marketplace must be able to adapt to changes in customer needs. This is even more important for sellers who are on a budget and want to avoid losses. Since independent sellers are in control of their inventory, it is easier for them to do this.
Sellers can access data to scale their businesses
AMZ provides large amounts of consumer data for free to sellers, and independent sellers can easily access this data through their seller central dashboard. Usually, this data includes trending products and customer information and can serve as a template for major business decisions like choosing a logistics firm or deciding which Amazon warehouse to use.
Flexible logistic options
Independent sellers can either opt for Fulfillment by Amazon (Amazon FBA) or Fulfillment by Merchant (FBM). Both options avail sellers the opportunity to be in control of their branding to a large extent. But, sellers who use the FBM option may incur extra costs on storage and shipping.
Access to a large customer base
Vendors sell directly to AMZN, so if there is no demand from AMZ, they're not likely to make sales. In contrast, third-party sellers have access to AMZ's customer base of over 300 million shoppers, this guarantees a relatively stable demand for their products. Moreover, third-party sellers can use Amazon advertising as a strategy to expand their audience and make more sales.
With ads like sponsored brand ads, sponsored products, and display ads, online sellers can increase their chances of showing up in search results.
Disadvantages
AMZ expects third-party sellers to take control of their business. A large part of an AMZ business depends on technical processes. These processes take time and may be overwhelming for new sellers. Thankfully, AMZ seller tools can help to relieve some of the work. Also, sellers can outsource packaging, shipping, and customer service to AMZN via fulfillment by Amazon.
To make sales, sellers must conduct product research, keyword research, inventory management, and listing optimization. These processes may be exhausting and time-consuming. However, sellers can automate them using FBA software. There are many AMZ software options available, keep reading to discover the most effective one for your business needs.
FBM sellers have to bear storage and shipping costs apart from the selling fees that all third-party sellers are required to pay. FBA sellers are not left out, they will also have to pay a number of FBA fees; mostly fulfillment, inventory storage, and referral fees.
Related: Are Amazon FBA Fees worth the cost?
No Advantage over competitors
The competition on the Amazon marketplace is stiff, and third-party sellers often compete against each other to win the buy box and make more sales. However, most successful FBA sellers use Amazon advertising, or AMS, as a strategy to show up in search results and make more sales.
In contrast, vendor-centered products are marked with the words "ships from and sold by Amazon," which gives them a slight advantage over their competitors. As a result, Vendor central products routinely outperform seller central goods.

How To Set Up Your Amazon Seller Central Account
Setting up a seller central account is not difficult. First, ensure you have the necessary details and information. A few of them are listed below.
Business name
Contact information (Preferably separate details; one for your customers, and the other for AMZ)
Seller's real name and address
Proposed shipping locations (Regions or countries you're willing to deliver to)
Bank account information
Logo and business information
Return and refund policies if you sell in a category that qualifies for return shipping.
If you have the necessary requirements, the following steps will help you set up your account.
Go to Amazon.com and click on 'Sell'. Alternatively, you can also visit services.amazon.com to create an account
Next, click on the signup button and you will be redirected to the account creation page. Input your name, email, and password.
After signing up, log in to your newly created account and you will be taken to the account configuration page, provide all the required information.
Next, you will be required to provide your details in five sections and all the sections are easy to navigate. Under the tax information section, you will have to input your tax information details and social security number.
Ensure you go over all your information before completing the configuration process. Also, note that you can only create one seller account if you intend to sell in one region.
What is Vendor Central
Vendor Central is AMZ's platform for its first-party sellers. First-party sellers, or vendors, are entrepreneurs who sell their products (wholesale) directly to Amazon. Seller central lets you sell to consumers directly (Seller central is a B2C platform), in contrast, vendor central gives you the ability to sell to AMZN as a B2B (business-to-business) company.
Using the vendor central program is based on invitation. In other words, AMZ sends exclusive invitations to sellers who are eligible to become Amazon vendors, and only those who meet the requirements can become vendors.
Here's what the process of becoming a vendor looks like.
You get an invite and wait for AMZ to request your products
Fill out the purchase order that will be sent to you
AMZ gets the goods and handles the sales aspect.
How To Get Selected For The Vendor Central Program
AMZ has put a retail team in charge of sending out invitations, so there are no clear-cut tips on how to join vendor central. Usually, these invites are sent to brands that are considered capable of handling bulk orders. Moreover, private label brands and top sellers form a large part of AMZ vendors. So, manufacturers and brand owners are AMZ's main partners. However, distributors can also work with them if they have products that are difficult to come by.
How Does Amazon Place Orders From Vendors?
On average, AMZ receives orders from vendors weekly, but high demand can result in more frequent orders. Also, you may not see a request if you post a new product unless AMZ identifies the demand for your goods. Whenever demand is high, orders are higher.
Vendor Central Benefits and Disadvantages
Pros
Vendor central products carry the tag "Sold by Amazon". This often makes customers trust and opt for these products more.
Better Advertising Opportunities
Businesses can access many options for promoting their products. Vendors can increase traffic to specific product pages by using keyword-targeted ad campaigns. Amazon Marketing services are available to sellers and vendors alike, but Vendor Central provides more powerful features for running ads through AMS.
Easier Way To Sell On AMZ
Managing your business is easier when you use Vendor Central rather than Seller Central. A vendor's main concern is to fulfill orders and fix prices. In contrast, third-party sellers bear a lot of other responsibilities. Also, it is easier to run your business when AMZ is your only customer. Managing the business may be tough for third-party sellers who have to sell to hundreds of people.
First-party sellers have access to exclusive promotional programs. For instance, they can participate in AMZ's Subscribe and Save program. Vendors can also sign up for Amazon Vine. With the vine program, vendors can get feedback from trusted reviewers. Knowing how important reviews are, the Vine program is a great investment for vendors. The reviews gotten via the program can help boost brand trust and increase revenue.
Cons
Sellers have no control over the inventory and retail price
Vendors have no control over retail pricing; they do not fix product prices, AMZN does. Hence, the prices may change at any time as AMZ deems fit and a drastic price decrease is also possible. AMZN does not strictly follow Minimum Advertised Pricing (MAP) guidelines. Thus, Amazon can make retail pricing updates at any time based on its internal algorithms. If prices go below a seller's profit margin, losses are inevitable.
Strict fulfillment procedures
The guidelines for filling AMZ's orders are stringent and specific. Vendors who have trouble maintaining stock or fulfilling orders may face unexpected chargebacks. In the long run, this can lead to a reduction in profits on Amazon.
Vendors may find it difficult to build a brand on AMZ.
Vendors' main products are trusted by Amazon's customers, but vendors have no control over them. AMZ repackages the products, and vendors lose control over their branding. As a result, most customers have no idea who the real manufacturers of these products are so they would rather buy directly from AMZ. Hence, vendors can't build a credible brand on their own.
Is Seller Central or FBA Different From Vendor Central?
FBA or Seller central and Vendor central are two different platforms. With FBA, you are an independent or third-party Amazon seller, but AMZN will handle storage, shipping, and customer service on your behalf. Vendor Central, on the other hand, is an invitation-only platform where you only get to sell your products directly to AMZN.
How to Switch from Vendor Central to Seller Central: Step-by-Step Guide
The first step is to contact your Vendor Manager to inform them of your intention to migrate your business operations to seller central.
Create and set up a seller central account. While adding your product listings, use the same ASINs, otherwise, you will have to start from scratch.
If you intend to sell restricted products, obtain the necessary approval.
Decide on the fulfillment method you would like to use, either FBA or FBM.
Recreate your ad campaigns. You should also run a few test ads on to gain an overall sense of how it works.
If you're enrolled in the Brand Registry, transfer it from Vendor Central to Seller Central.
Ensure that you can track inventory levels on seller central
Amazon Selling Plans For Third-Party Sellers
Third-party sellers who want to sell on Amazon will have to choose a selling plan. AMZ offers two selling plans; the individual plan and the professional plan. Of course, the number of products that can be sold on each plan and the cost of selling differs.
Individual Seller Account
The individual plan is best for sellers who want to sell as a hobby and do not intend to sell more than 40 items per month. You'll have access to a basic set of order management tools as part of a pay-as-you-go plan.
Sellers can create a listing by matching their product to an existing product page. They can also put up a new product page on AMZ, it all depends on choice. Also, on the individual plan, AMZ charges a flat-rate fee of $0.99 for every sale you make. This is besides the regular seller fees.
Professional Seller Account
Sellers who choose the professional plan have to pay a non-refundable monthly fee. This fee is independent of sales inflow. The professional seller account requires a monthly subscription fee of $39.99 as opposed to $0.99 per sale on the individual plan, this is alongside other regular Amazon fees.
The professional plan is best if you intend to sell on AMZ full-time and not as a one-off hobby to kill boredom. Using the professional seller account gives you access to many tools for inventory management and other business procedures. In addition, it increases your chances of winning the buy box, or selling in restricted categories. Uploading multiple product listings at once is also an added feature of the plan.
Related: Selling on Amazon – Individual vs Professional Selling Plans
Fulfillment by Amazon (FBA), Seller Fulfilled Prime (SFP), or Fulfillment by Merchant (FBM)
There are three fulfillment options available to third-party sellers on the Amazon marketplace.
Fulfillment by Amazon (FBA)
Under Seller Fulfilled Prime (SFP), sellers can sell to Prime subscribers. But, they'll have to offer free same-day or two-day delivery.
Fulfilled by Merchant (FBM) requires sellers to store and fulfill orders themselves. In other words, this fulfillment option is the opposite of FBA, and sellers who opt for it will have to bear the fulfillment cost. Due to the unpredictable nature of shipping and fulfillment costs, FBM may not be the best plan for sellers who are on a budget and want to cut costs.
Fulfilled by Amazon FBA is the most popular option. This is because sellers who use FBA can outsource major business processes to AMZ. As a result, the fulfillment option is easy to use, and most third-party sellers conclude that FBA is the best and most cost-effective option.

How Does Amazon FBA Work?
With FBA, AMZ will store products, ship orders, handle return processing, and provide 24/7 customer service on behalf of sellers. As a result, thousands of third-party sellers use this fulfillment option because it frees up time for them to focus on other important aspects.
When using FBA, your products will carry AMZ's branding and packaging. So, if you intend to build a brand through the private label model, this may not be a suitable option. However, it is a great way to build credibility as a third-party seller.
Setting up an FBA account is pretty easy, and using it is a great strategy to build a hands-free AMZ business and earn passively.
FAQs
Can I have both seller central and vendor central accounts?
Yes, you can sell on Amazon using both seller central and vendor central accounts.
What is the difference between a seller and a vendor?
People who sell directly to AMZN through the first-party platform are known as vendors while those who use the third-party platform are known as sellers.
Here's an overview of the differences between both platforms:
| | |
| --- | --- |
| Amazon Vendor | Amazon Seller |
| Seller sells to AMZ and has no direct contact with customers | You sell directly to customers |
| Amazon sells goods to customers and ships orders directly to them. | You fulfill orders either by themselves (FBM) or through Amazon (FBA) |
| The seller has no control over retail prices | You have full control over retail prices |
| The seller has less control over product launches | You have greater control over product launches |
| Greater customer trust because items are indicated to be "shipped from and sold by Amazon" | You must learn to earn customer trust |
| Less control over inventory | More control over inventory |
| Higher volume of sales | Higher profit margins |
| Access to data and insights on Retail Analytics | Access to data and insights on Brand Analytics (for sellers enrolled in Brand Registry) |
How To Scale An FBA Business with ZonBase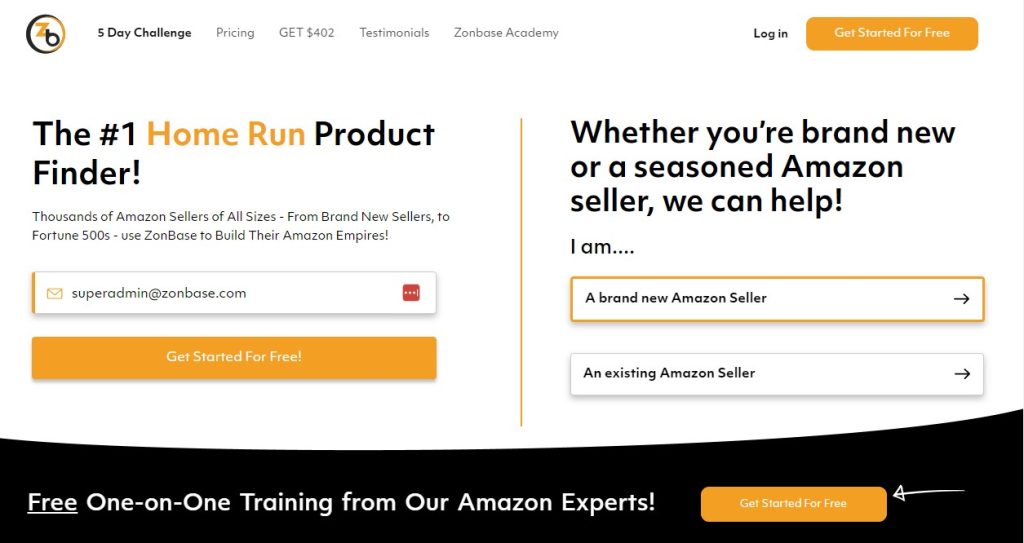 If you read to this point, your questions and comparisons related to seller central vs vendor central must have been resolved. However, if you're joining the Amazon marketplace, the chances are that you will have to start with a seller central account.
In this case, you will have to constantly develop new strategies to help you outrank your competition and succeed on Amazon. Using FBA software is your best bet to get your AMZ business off the ground in little to no time. It is recommended that you use an all-inclusive AMZ Seller tool if you are a new seller. This is because all-inclusive software gives you access to product research, keyword research, and listing optimization tools in one place.
ZonBase is the best all-inclusive software. It comes with a diversified collection of seller tools. These tools are designed to take care of all your Amazon business processes.
The processes include product research, keyword research, and listing optimization. With ZonBase, you will have access to a wide range of AMZ seller tools under one platform.
Sign up for a 7-day free trial
Conclusion
Amazon seller central vs. Vendor Central: Which is the best option for you? The conditions for determining which one of these options is the best vary. But should you take it if you get invited to become a first-party seller? It would be in your best interest to make your decision based on the dynamics of your business, making sure to consider whether you'll be able to meet up with Amazon's demands and bulk orders. Avoid making decisions based on the perceived benefits of either option.
Can you manage AMZ's demand for bulk orders? Do you mind having little or no control over your business? Then Vendor central will be a good choice. If you answered no, then you should choose seller central.
On the whole, when deciding between Amazon seller central and vendor central, ensure you weigh your options and choose what's best for you. If you opt for a seller central account, you can leverage Amazon advertising offers like Sponsored brands ads to gain visibility and improve your conversions.