The FBA cost calculator is an essential tool every seller needs. Before even launching your first product on Amazon, every seller should know the potential costs compared to the possible revenue. During the product research phase, a seller should already know if a product has the potential to generate positive revenue or not. The FBA cost calculator can help you calculate the profit margins on each of your product options when you decide to sell through Amazon FBA.
The Costs of Selling on Amazon
While selling on Amazon can be a lucrative business for third-party sellers, the cost involved is also something that you need to be wary of. Some beginner sellers often get overwhelmed because they didn't expect the cost of selling to be too high. This can get you in trouble if your profit margins aren't enough to cover the fees.
To help you out, we have listed below the different selling fees that you should be aware of. Having an FBA cost calculator is always a welcome thing when it comes to preparing for the costs of selling.
Product Capital
Every seller needs to have an inventory. Otherwise, what is there to sell? Whether you are planning to do drop shipping, reselling, or retail arbitrage, you always need an upfront investment for the initial inventory fees. This is also known as your product capital.
Marketing Costs
Product promotion is key to a successful retail business. Top brands spend billions of dollars on their marketing campaigns to ensure they are always in front of potential consumers. As a third-party seller, you also have marketing budgets to think about. Professional product photography, paid traffic, sponsored ad listings, and press release marketing is just some of the marketing costs you need to consider. Make sure that you have an FBA cost calculator ready to ensure that you take marketing costs into the equation.
Variable Costs
These are the other costs that don't fall under capital or marketing. This includes Amazon FBA costs, refunds, damaged items, storage, warehouse, insurance, taxes, and other fees. All of these fall under the category known as variable costs.

FBA Vs FBM – Which one should you choose?
Before you even worry about the FBA cost calculator, you should think about what kind of fulfillment to choose. There are mainly two types of fulfillment on Amazon, which are FBA and FBM. Listed below are the differences between each of them to help you understand the differences between the two so you can make the right choice.
Amazon FBM
FBM refers to Fulfillment by Merchant, wherein the seller handles the storage, picking, packing, shipment, and delivery of the products to the customers. This means you are just using Amazon to sell and promote your products. All the logistics needed to get the products to your customers will be handled by you.
While you can save on Amazon FBA fees if you choose the Fulfillment by Merchant model, you will also do most of the work. This selling model is likely to be more laborious since you are the one who's going to pick, pack and ship everything. It means you will require a warehouse or a storage facility to keep your inventory safe. It also means that you will be the one to handle all the customer service.
Fulfillment by Merchant is generally a great option if you own a large business with more than one employee. If you already have a brand and an established fulfillment system, using FBM will be the cheaper choice because you won't have to pay Amazon FBA fees. This means you don't need to use the calculator anymore too. If you already have an established channel or website, FBM could be the perfect fit since you already have a fulfillment method.
Amazon FBA
FBA means Fulfilled by Amazon. And as the name suggests, this selling model means that all you have to do is find a way to send your inventory over to the warehouse and sell your products. Once a customer purchases your product, they will be the one to pick, pack, ship, and deliver your product. After the purchase & they also are the ones to handle the customer service for you. Of course, AMZ requires you to pay for using this service, which is why you need an FBA cost calculator ready.
To use this service, a monthly fee is required to use warehouse storage. The cost of this varies depending on what kind of item you are selling, along with its size and weight. All the little services such as packing your products with bubble wrap also entail their fulfillment fees. The great thing about this, though, is you can leverage special delivery and shipping network. You don't have to think about anything other than keeping your inventories in stock.
Using this fulfillment program is great if you are just a one-man team. Under this system, you don't need to rent big warehouse space to keep your inventory. You don't have to worry about shipping and tracking customers' orders. And the best thing of all, you automatically get access to the FBA program, which means you can sell to Prime Members, too.
What are the different kinds of FBA Fees on Amazon?
While the FBA program is popular among third-party sellers, it is important to understand that there are costs involved in using this service. Using an FBA fee calculator can help you double-check how much these fees would be. But first, we need to know what these FBA fees are.
Storage Fees
One of the best reasons for using FBA is that you can use AMZ's countless fulfillment centers to store your products. However, you must also pay a certain fee to use this service. The price you need to pay depends on the weight, size, and category of the item you are selling. Here is an inventory for the FBA cost calculator that you can use to help you determine how much storing your items would cost.
FBA Fulfillment Fees
Aside from the storage fees, you also need to consider the FBA fulfillment fees. You need to pay a certain fulfillment cost for every service Amazon provides, such as picking, packing, and delivery.
Just like storage fees, FBA fulfillment fees also depend on the product category, size, and weight. You can use this Amazon calculator to see how much you need to pay for your product. Products containing lithium batteries or huge-screen televisions also require additional fees.
Referral Fees
Every time you make a sale, Amazon takes a percentage out of it. This is also known as the referral fee. The amount of referral fee that you need to pay usually depends on the category of your product. Depending on the product sold, it can be anywhere from 5% up to 20%. To help you understand how much you need to pay, you can check out this Amazon FBA cost calculator for referral fees.
Although these are the major FBA fees you're likely to incur, it is also possible for you to incur additional fees in some situations.
These additional Amazon FBA fees often include return processing fees and FBA removal order fees, among others. The Amazon calculator may factor in other fixed costs and leave out these additional fees. So, to be safe, ensure you make room for unexpected expenses if you decide to use the FBA service.
Furthermore, Amazon sellers who choose to use the FBA multi-channel fulfillment option will have to pay for domestic and international orders. The FBA or Amazon fulfillment calculator will also come in handy for Amazon sellers who want a close estimate of their multi-channel fulfillment fees.
What FBA fees does the FBA calculator factor in?
All the fees related to utilizing the FBA Service are factored into the FBA cost calculator. These include;
Cost of fulfillment
Shipping fees
Inventory storage fees
Order handling, picking, and packing fees
Removal and disposal fees
Refund administration fees
Since the sole aim of the FBA calculator is to help you foresee your expenses and gain a good idea or accurate estimate of your profit margin, it is imperative that the tool factors in all the fees related to your Amazon FBA business.
Why should you use the FBA cost calculator?
Using the FBA cost calculator is very important for third-party sellers. Not only does it help you mentally prepare for the possible costs you need to pay, but it also gives you an idea of how much you will earn from your store. Without an FBA cost calculator, it is quite easy to get confused with your Amazon FBA fees, and not being prepared can eat away at your profits.
To Find the Right Products: Every seller wants to know if their chosen product is profitable. But without using the FBA cost estimator, it's almost impossible to calculate FBA fees and accurately check how much your net profit might be before even launching your first product. Using an Amazon FBA fee calculator, you can compare your product with the other products in your category.
You can see if the product has potential or not based on previously estimated sales, you can also see if you need to find a cheaper manufacturer or not. There are so many decisions that hang in the balance, and using the Amazon FBA fee calculator can help you make the right decisions.
To Pick The Right Fulfillment Model: As we have discussed earlier in this article, there are two different kinds of fulfillment methods: FBA and FBM. Both fulfillment models have different advantages and disadvantages, and the cost of choosing one over the other can be the difference between making money on AMZ and not. If you are not sure yet which model is right for you, then you can use the Amazon FBA fee calculator to help you see which fulfillment model gives you more profits.
How to use the Amazon FBA calculator
Using the FBA revenue calculator is straightforward. All you need to do is enter the information about the items you are selling; this information includes dimensions and unit weight. After that, AMZ will display the potential cost of your product fulfillment if you use FBA.
Here are the steps to use the Amazon cost estimator:
In the search field, enter an ASIN or a keyword of a product that closely resembles the one that you are planning on selling.
A new chart will pop up, asking you for the information needed to calculate your Amazon FBA fees. You need to fill up the right side only. After filling up the information required, click on 'calculate'.


Item Price – how much you want to sell your products per piece.
Ship to Amazon – how much it will cost you as a whole to ship your inventory to the warehouse? (For example, if you are shipping 1000 items to the warehouse and the shipping fee from your manufacturer in China to Amazon costs $1000, then the Ship to Amazon cost is $1)
Average Inventory Stored – this is the number of units stored in your inventory per month on average.
Value of the Product – this is how much your products cost per piece when you purchase them from your manufacturer.
Amazon will now display the estimated revenue, selling fees, FBA fees, fulfillment costs, and other information on your product. With this data, you can now accurately estimate how much using the FBA model will cost you before even doing a product launch.
To compare the difference between FBM vs. FBA, you can do that by filling up the information under "Your Fulfillment". This is located on the left side of the Amazon FBA chart. With this, you can see which one among the FBA or FBM models gives you more revenue in the long run.
Lowering Your Amazon FBA Costs
If you want to use the FBA service, but you are worried about the high fees that you might incur, there are ways to help calculate FBA fees and lower them. Below are some methods you can use to keep your fulfillment charges at a minimum.
Choose Small and Light Products – The pricing tier for storing and fulfilling your products depends on three criteria: size, weight. and product category. With that in mind, choosing small and light items whenever possible is a great idea to lower your FBA charges. The FBA Small & Light program gives reduced fulfillment costs too. This means that the smaller your product is, the less that you'll have to pay. In other words, you may incur additional fees on oversize products.
AMZ has different categories of oversize products. Check out the Product size tiers for FBA to see if your product belongs to the oversize products category.
Don't Stock Too Much – Remember that your storage fees depend on the number of inventories that you have. Since you are paying for warehouse space, stocking up too much inventory that you can't sell out means, you'll also rack up storage fees. This is something you don't want to avoid.
Prepare products in advance – AMZ charges for all the little details such as bubble wrapping, bagging, barcode labeling, and so on. For every item you use these services for, you'll have to pay separate fees. These services might only cost a few cents, but they can grow really big once you start shipping thousands of them. So if you can do some of these tasks, such as bubble wrapping and bagging before sending them to the warehouse, it can help you cut down on your costs.

How To Make Profit on FBA: Amazon Pricing Strategy
It may seem as though the key to making sales on AMZ is researching profitable products, but this is not entirely so if you want to make a profit. You can have many viable product options that guarantee sales, but you still struggle to make a good profit. When selling on AMZ, making sales is not always equivalent to making a profit.
So, if your goal is to make a good profit from selling on FBA, Amazon pricing strategies are a must-have. Here are a few things to consider when creating a pricing strategy:
Cost of sourcing or manufacturing the product
Your target audience and their buying power
Your growth strategy
Competitors' prices
Putting all these into perspective will help you fix favorable, yet competitive prices and allow you to make a substantial profit.
The Amazon fulfillment calculator doubles as an Amazon FBA profit calculator. After creating a pricing strategy and fixing prices, the next thing is to use the Amazon fulfillment calculator to estimate potential costs including storage and shipping costs. Once you have arrived at a likely figure for your business costs, you can then use the FBA profit calculator to confirm your net profit.
Ensure you estimate your profitability properly before launching products. If you don't you will have to deal with avoidable losses. The FBA profit calculator will come in handy here.
FAQs about Amazon FBA cost calculator
Is the FBA calculator accurate?
If you make use of the standard product code and the correct ASIN, then you are going to obtain a reliable cost or profit margin estimate from the calculator.
What other costs are there for selling on Amazon asides from the FBA fees?
All Amazon sellers will have to pay selling plan fees as well as referral fees.
Which Amazon FBA calculators are available?
There are different FBA calculators for different Amazon marketplaces. When choosing a calculator it's better to go for one for the country you are currently selling in because the calculator will be utilizing the currency of the country you are based.
Below is a list of FBA calculators available for you to choose from:
Zonbase: Helping You Find The Best Products To Sell on Amazon
Finding the best products to sell is very important. Not only does it determine your profitability, but your estimated costs as well. We now know that some products cost less than others to sell via FBA. Finding profitable products that also cost less in FBA is important if you want your products to be fulfilled by Amazon.
Zonbase is one of the best software tools that you can use to help you find the best products to sell on Amazon. With over 20+ tools and services to help uncover the best products and create the best stores, third-party sellers will benefit a lot by having a Zonbase subscription.
Zonresearch
Zonresearch is one of Zonbase's tools that helps Amazon sellers find the bestselling products within the chosen category. Through Zonresearch, you can select a group of categories and add filters such as price, reviews, monthly sales, and revenue. Zonresearch will then use AMZ's database to display the products that fit the criteria.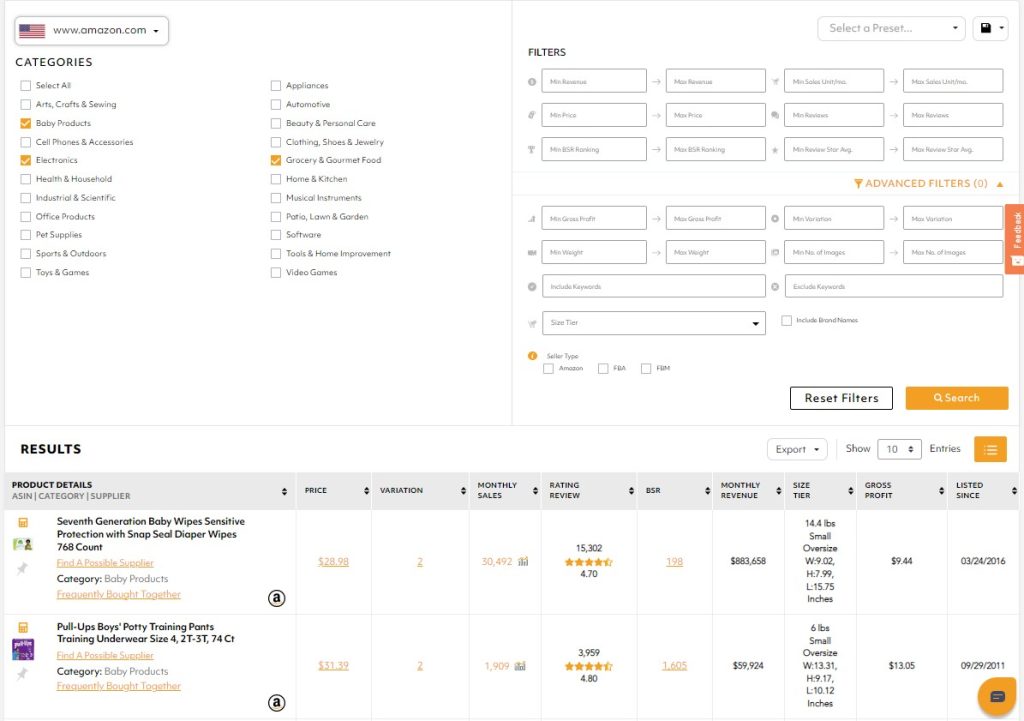 Zonbase Keyword Research
Zonbase Keyword Research tool helps Amazon sellers find out if a keyword related to the product that they plan to sell has potential or not. By entering the term in the keyword field, Zonbase will check for its profitability using its metrics and display the Smart Score for that keyword. Higher Smart Scores mean that this keyword or product has low competition but high demand. This means you can rank for this keyword if you do the necessary work.
As a seller, getting access to software tools is very important. Not only does it make product research easier for sellers, but it also gives you information that you can use to make data-driven decisions. Zonbase is voted as one of the best-value and accurate software tools on the market today.
If you want to know how Zonbase can help you start your income-generating store today, sign up for a free trial.