Selling on Amazon is incredibly lucrative if you're looking to build your own business, diversify your income streams, and attain financial freedom. However, sellers sometimes face challenges that could negatively impact their ratings and earnings. One such challenge is facing Amazon A-to-Z claims.
In this article, we will explain what Amazon A-to-Z claims are, how to address A-Z guarantee claims, and how to minimize their occurrences as a third-party seller.
What is Amazon's A-to-Z guarantee?
Amazon is the largest eCommerce company globally by a mile. The retail giant has become a household name in the world of eCommerce. And while its vast offerings of products certainly catapulted the company to the top, another factor responsible for its phenomenal success is its customer-centric approach to business.
AMZ is dedicated to its customers and constantly invents new features and services to ensure customers enjoy a seamless, hassle-free experience while shopping on the platform. Amazon's devotion to customer satisfaction has gained the company unrivaled customer trust and loyalty. As such, any third-party seller must match the company's customer-centric approach and provide excellent customer service.
In line with its customer-centricity, Amazon offers its customers an A-z guarantee. Amazon's A-z guarantee ensures that buyers are protected when purchasing goods that are sold and fulfilled by a third-party seller.
This guarantee covers two major aspects of the online shopping experience: timely delivery and item condition. With the A-z guarantee, buyers expect that they will receive their purchased goods on time and in good condition. If they do not, they can make an A-to-Z claim for a refund.
How do Amazon A-to-Z claims work?
Although the customer is king, AMZ buyers do not automatically get a refund immediately after they make a complaint about the order. AMZ has put a structure in place that a buyer and third-party seller must follow.
Here's how an A-Z Guarantee claim works:
If a buyer is not satisfied with their order, they must contact the seller to air their grievance via Buyer-Seller Messages or Return Request and wait for a response within 48 hours. On the other hand, the seller has 48 hours to respond to the complaint and resolve the issue with your buyer. This gives both parties a chance to settle the issue on their own.
If your buyer and seller are unable to resolve the issue within 48 hours, your buyer is eligible to file a guarantee claim.
After a claim has been filed, they will manually investigate the claim to get more information about the transaction and order. This will guide them in deciding whether or not to grant the Claim in favor of your buyer.
In the course of the investigation, they may contact the seller for additional relevant information about the transaction and the steps the seller took during the transaction. The seller gets a chance to relay his side of the story.
If AMZ's request for additional information is not responded to in 48 hours, they will grant the claim in favor of your buyer.
Based on the findings of their investigation, they may either grant or not grant your buyer's claim. Where a buyer's claim is granted, the amount is deducted from the seller's account. The claim will reflect in the seller's account health or Order Defect Rate (ODR) metrics.
If an A-z claim is granted in favor of your buyer, the seller can appeal to AMZ for further investigation within 30 days. If the seller fails to appeal within 30 days, They will close the claim, and the negative impact on the seller's account health cannot be undone.
If an appeal is filed, they will conduct an appeals investigation. Based on its findings, the website will make a final decision on whether or not to reverse.

When can a customer make an Amazon A-to-Z claim?
As a third-party seller, you need to know under what circumstances a buyer can file an A-to-Z claim. This will guide you in ensuring your customers have a satisfactory experience.
A buyer can file Amazon A-to-Z claims if any of the following happens:
The item was not delivered within 3 calendar days after the Latest Estimated Delivery Date (EDD) or the delivery date confirmed by a valid tracking link, whichever is sooner
The item was never delivered but tracking says it was
The item delivered to your buyer was damaged, defective, or materially different from what was ordered.
The item did not meet your buyer's expectations, for example, the item they received was different from what they thought they ordered, and your buyer requested a return, but the seller refused the request
Your buyer returned an item in line with the Return Policy and the seller did not refund them or the refund amount was wrong
The seller agreed to make a refund or replace the item but the seller did not refund, refunded the wrong amount, or failed to replace the item
The buyer wants to return an item but the seller did not provide a return address in the US, or the seller did not provide a prepaid return label, or the seller failed to offer a full refund without requesting that the item is returned
The buyer wants to return an international order but the seller did not provide a domestic return address, pre-paid label, or a full refund without requesting that the item be returned
The customer was charged additional fees that the seller ought to have covered
A customer cannot file Amazon A-to-Z claims in the following circumstances:
When the customer has filed a chargeback with their bank or payment provider
When your buyer purchases digital items or services
When the customer uses stored value instruments to purchase the item, such as vouchers and gift cards
When your buyer makes a Spot Buy
How should you react to Amazon A-to-Z claims?
Remember that Amazon A-to-Z claims don't just happen out of the blue. A buyer can only file a claim if you and the buyer have been unable to resolve the buyer's complaint. So, the first step is to do everything within your power to make sure you don't go past this first stage.
It can be frustrating and disheartening to receive a message from a buyer, complaining about the item they received. Regardless of how you feel, however, you should promptly and politely respond to the buyer as late responses increase the buyer's chances of filing a claim. To begin with, control your emotions and review the order with some objectivity, to determine whether the customer's grievance has any merit. If you realize that you are at fault, take note of what you did wrong, and draw up a plan to improve on that aspect for the good of your business.
In some cases, it may not have been your fault. For instance, the item may have been in good condition when dispatched. Then in the course of shipment or delivery, the item got damaged. The proper thing to do is refund the buyer or replace the item if the buyer is fine with that option. But if this problem occurs one too many times, you should either raise the issue with the delivery company or engage the services of another delivery company.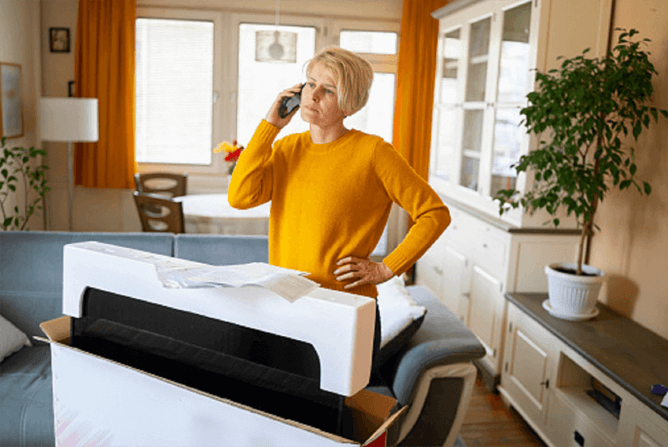 If the buyer's claim is legitimate, respond to their complaint on time and do your best to work things out with the buyer within 48 hours. Issue a sincere apology, refund the cost of the item or replace the item proactively, depending on whichever option the buyer prefers. If you do not refund the buyer at this stage and end up doing so while their investigation is in progress, this will be reflected in your ODR metrics. So, it's best to settle matters during the initial 48-hour timeframe.
After reviewing the order, you may find that you're dealing with a scam buyer. There will always be buyers who want to pull a fast one on sellers. It's up to you to weigh your options: would you rather refund the buyer or get into a claim dispute that could waste your time? If the item does not cost much, it's better to refund the buyer and move on. Because if things don't go as expected and Amazon finds in favor of the buyer, it will affect your account health and ratings negatively.
If the buyer's complaint is not legitimate, endeavor to maintain civility in your communication. A rude response will be on the record, which can hurt your account.
Responding to Amazon's request for information
If you cannot resolve issues with the buyer for any reason, the claim will be sentenced by Amazon. Amazon will most likely reach out to you for additional information to aid its investigation. So, you need to check your email frequently so that you don't miss any messages from Amazon that require you to take action on A-to-Z claims. When you receive a request for additional information, respond promptly. Make sure you provide all the relevant information that could work in your favor. While typing your comments in the text box, ensure you use measured and polite words. Your response is crucial to Amazon's decision, so you need to leave no stone unturned.
How to Appeal an Amazon A-Z Claim
Usually, the final decision is up to Amazon to make but you get a 30-day window within which you can appeal a claim. This is even more important if you have new information that you would like AMZN to consider. Here's how to file an appeal for an A-Z claim.
Go to the A-Z guarantee claims page
Navigate to the "option to appeal" tab, scroll through, find the claim then select 'appeal decision'.
Add your comments in the text box and include any new detail that you think Amazon should know.
Amazon will contact you via email if they need any additional information after your appeal is submitted. You'll need to keep an eye on your email because you'll only have 48 hours to reply Amazon's email.
Like sellers, buyers can also file an appeal if their A-Z guarantee claim is denied. To do this, they must also provide new information for Amazon's review and the appeal can only be filed within 30 days after the claim was denied.
Amazon A-to-Z Claims for Property Damage or Personal Injury
The A-to-Z guarantee has recently been expanded to cover claims of property damage or personal injury resulting from defective products sold by third-party sellers. So, if a buyer purchases a defective product on Amazon.com from you, resulting in personal injury or property damage, they can contact customer service to resolve the matter.
Amazon will work with an external, independent claims adjuster to verify the validity of the claim. And if they believe the claim is valid, not fraudulent, abusive, or frivolous, you will be informed.
How will this category of A-to-Z claims be resolved? This depends on the amount of the claim and whether you have proof of commercial liability insurance.
For claims of $1000 or less
In this instance, Amazon will resolve the claim directly with the customer through a concession. Amazon will also not require you to reimburse the moment, so long as you can provide proof of insurance. This means that, if you do not provide proof of insurance, you will have to reimburse the company for the concession granted to the customer.
While you are not directly involved in the resolution of the claim, you do have the opportunity to respond with any information that will help Amazon's review of the claim. This could be any evidence that the product you sold was not defective or did not cause any property damage or personal injury.
For claims above $1000
In this instance, you or your insurer are responsible for resolving the claim directly with the customer. Amazon will only notify you of the claim and check in regularly for status updates. If you resolve the issue with the customer, you will have to send Amazon a signed release agreement.
How can you avoid Amazon A to Z claims in the future?
Because of Amazon's dedication to customer satisfaction, Amazon claims are often resolved in favor of the buyer. So it would help if you took proactive measures to minimize or avoid being faced with Amazon A-to-Z claims.
Here are some best practices you should follow to avoid Amazon A-to-Z claims in the future.
1. Optimize your shipping process
Your customers expect timely delivery of their orders. So, when their items do not arrive on time, they are very likely to file an A-to-z claim.
As a seller, you should ship out orders on time. To avoid delay, endeavor to confirm shipments before the expected ship date.
It is also your responsibility to ensure that items are delivered before the Latest Estimated Delivery Date (EDD). If delivery is going to be delayed, don't wait for the buyer to reach out first. Be proactive and notify the buyer about the development, offer an explanation and apology, and verify that they agree to accept late delivery.
Also, ensure that you include valid tracking for your shipments. That way, buyers can view the status of their shipment without having to contact you. If you ship any order without providing tracking, they will automatically grant a buyer's claim and debit the amount from your account.
Furthermore, if a shipment is valuable, include signature confirmation for the buyer. The buyer's signature serves as proof that they received the item. If Amazon's investigation is not clear whether the buyer received the item, Amazon is more likely to grant the Claim in favor of the buyer. This is one of the most common reasons why sellers lose Amazon A-to-Z claims.
2. Package your items carefully
Another major reason buyers file Amazon A-z claims is that they received their order in damaged condition. Buyers expect to receive their order in good condition. So, you should be very careful when packaging your items. Use quality packaging materials, and add extra packaging if the item is fragile.
3. Create accurate product listings
Buyers sometimes file claims because the item they received did not match what they expected, based on the information they read on your product listing page. The most important segments of your product listing are the product descriptions and product images, so ensure that these are optimized.
Your product descriptions should contain accurate information about the product. You should not include false or exaggerated claims to get people to buy your product. Use bullet points to highlight the features and benefits of the product. This will effectively compel buyers to place an order. Don't forget to include relevant keywords so you can rank higher in search results.
Furthermore, you should ensure that your product is matched against the correct Amazon Standard Identification Number (ASIN). You should also ensure that you specify the right condition. For instance, do not state that an item is new when it has been used by someone else.
You should also update your listings regularly to remove any out-of-stock items. If a customer ends up ordering an out-of-stock item, cancel the order and email the buyer to inform them that they do not wait in vain for their items to arrive.
4. Use clear images
Your product images should also be clear so buyers can get a good idea of what they will receive. You should include multiple high-resolution images showing the product item from different angles.
Your pictures should be set against a white background and should be 1000 x 1000 pixels in size so that buyers can zoom in.
The best tool for high-quality product images is the Zonbase Photo Enhancer tool, which is used to edit photos and make them more appealing. The Photo Enhancer tool will help to highlight all the features of your product, making buyers feel confident when buying your product.
5. Have clear return policies
Your return policy should contain realistic conditions and timelines. If you cannot cover return costs, the policy should clearly state that buyers are responsible for covering the costs if they make a return request.
6. Respond promptly to buyers' messages
As mentioned before, a buyer can only file an Amazon A-to-z claim if you do not respond within 48 hours after the buyer reached out to you, or if you both could not resolve the issue within that time frame. So you should ensure that you respond promptly to buyers to enhance their customer experience.
If a buyer makes a Return Request, respond to the request within 48 hours as well. If the buyer is eligible for a return, you should provide a full refund without requesting a return.
Also, if the buyer demands a refund, you should refund the buyer promptly so that the buyer does not file an Amazon A-to-z claim against you.

Conclusion
Third-party sellers, especially those who fulfill their orders themselves under the FBM model, need to communicate effectively with customers and give them the best customer experience. Failure to do so will put the seller at risk of being faced with Amazon A-to-Z claims. This can affect the seller's ratings and revenue negatively.
While mistakes as a seller are bound to happen, you should focus on minimizing or preventing the events that could give rise to an Amazon A-z claim as much as you can.
Remember, a satisfied customer will most likely come back or give good reviews, so always put the customer first.
When it comes to finding the best products to sell on Amazon, software tools like Zonbase are necessary. Zonbase can help you find the best products with the highest potential. Having high-quality yet affordable products can help you avoid Amazon A-to-Z claims.